We are influencers and brand affiliates.  This post contains affiliate links, most which go to Amazon and are Geo-Affiliate links to nearest Amazon store.
Whether you just a casual PC user or a gamer, a good keyboard is something we can all agree on we need. Rather it is Mechanical, Ergonomical, Membrane, or gaming with RGB. Today we look at a new keyboard from Cougar. This is there 700K Evo RGB keyboard with Cherry MX  RGB mechanical keys. The 700K uses Cougar's very own UIX software to manage the RGB effects. The frame of this keyboard is made from brushed aluminum. We will get more into that in a few. First, let's take a look at packaging and contents.
Package And Contents:
The box is well done. They have the keyboard front and center for you to see what your getting. It also lists the specs and what the device is made of.
In the package, you get a user manual, keyboard, palm rest,  couple stickers and a sales brochure.
You can see the full unboxing and closer up to what is in the box below.
Check Out The Unboxing Here:
Specifications From COUGAR Gaming's Website
product Name
COUGAR 700K EVO gaming keyboard
Switches
Cherry RGB mechanical
processor
32-bit
N-key Rollover
Yes ( USB mode support )
Full key Backlight
Yes
Game Type
FPS/MMORPG/MOBA/RTS
Polling Rate
1000Hz / 1ms
Polling rate adjust
1X/2X/4X/8X
Onboard Memory
Yes
Material
Aluminum/Plastic
Software
COUGAR UIX™ System
Additional Programmable G-Keys
5
Wrist Rest
Yes
Audio Jacks
Yes
USB Pass-Through
Yes
Interface
Golden-plated USB plug
Cable Length
1.8m Braided
Dimension
250(L) X 487(W) X 40(H) mm
9.84(L) X19.17(W) X 1.57(H) in
Weight
1.3kg (2.86 lb)
COUGAR 700K EVO Palm Rest
The palm rest is very nice and made with PU leather. It is soft and is comfortable to the touch. To install the palm rest you will need to place the keyboard on a flat surface then slide the two end tabs under the keyboard and push up, which will then lock it into place. To remove the palm rest pull out one side. The palm rest gives your hands a nice place to rest when your typing or gaming for long sessions.
The COUGAR 700K EVO Gaming Keyboard Itself
The Cougar 700K EVO keyboard is built from Aluminum and plastic. The frame is made from aluminum. This makes the keyboard very durable. The rest of the keyboard is wrapped in a sturdy plastic base. The keyboard comes with Cherry MX RED RGB keys installed.  You have several media keys. They have added an NK rollover. This gives you the ability to click many keys at once with no conflict. It comes with a 32-bit ARM processor with onboard memory. This means you can use the macros keys without the software and this also allows you to use some of the preset lighting effects without their UIX software as well. (We will talk more about that in a few.) You also have several G keys on the side. Each of these G keys is programmable.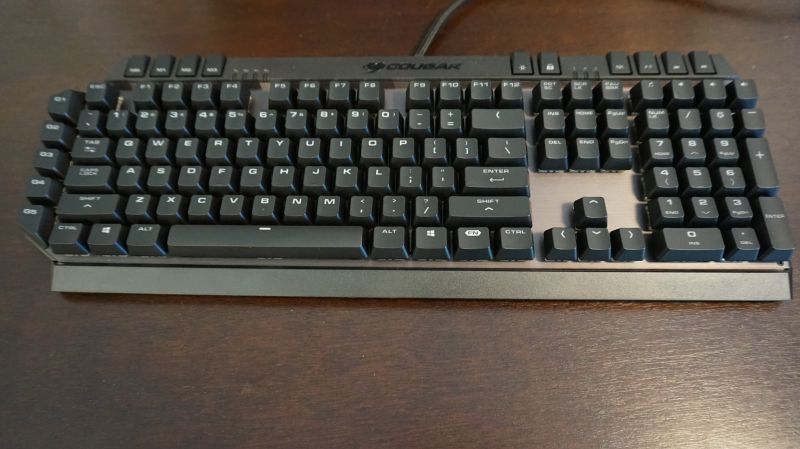 The keyboard comes with a few passthrough ports. The first is a USB port. Now, this gives you the option to plug a USB device right on your keyboard. Now when I first read that before testing I was like that awesome, this saves me a USB port on my computer. This was wrong as you will need to use the dual USB plug on the keyboard cord to make this functional. You also have a Mic and Headset Plus. You will also need to plug in the plus on the cord to use these.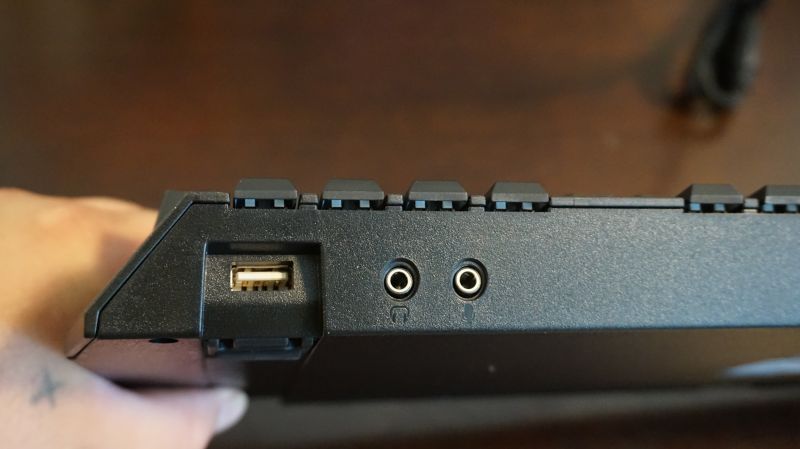 Some of you like me will be using the 3.5mm jack on their PC for surround sound systems so you may not be able to use these ports. Others will be able to use them with no issue. I am using the USB port for my Elgato Stream deck and it made for a much cleaner look on my desk. The mic and the headphone jack was tested and works fine. I did, however, stop using them since I use the surround-sound system more and I use my SoundBlaster G6 for my headset. The sound quality through the passthrough was just fine and there were no issues with the mic quality or the sound quality during testing.  The cord itself is 6 feet long and braided for durability. You also have what they call gold plated USB plugs.
The Cougar 700K Cherry Red RGB MX Keys:
The keys Cougar uses for the 700K are from Cherry.  Almost everyone has heard of Cherry and their phenomenal keys. The 700K EVO uses their Cherry Red RGB MX keys. This gives the keyboard the awesome feel and look that you expect with a mechanical keyboard. With the name Cherry on the keys, you know you are getting a long life span on each key. So don't be afraid of putting them to use. The keys have some sound but are not as loud as some of the other keys Cherry makes like Red keys will not be as loud as Blue MX switches. So for those that want a louder key, this may not be the one for you, but personally if you stream games you may not want too much click volume being picked up by your mic.
UIX Software And Macros:
Cougar uses its own UIX software to program the lighting and macros. You will need to download the software on their site. (https://cougargaming.com/downloads/) Once downloaded install.  The software is straight forward and rather easy to use. You have many options from profiles to color patterns. In the software, you can also change key sets. So let's say you want to change the Page down button to another function you can do that. You can also set a profile or even gaming profiles. So you can swap game key setups on the fly. This makes for changing from MMO to first-person shooter games rather easy and fun. You have the option to set 3 preset macros up on the fly. or you can go into the UIS software and recorded many. Color patterns are nice. You have 14 preset patterns wave,scan,rhythm,star,rain,ripple,click,breath,steady,circle,snake,music,custom, and off. Each pattern lets you adjust to your own liking. This is nice.
In the video below you can see a more in-depth look at it.
Watch the COUGAR Gaming MyUIX Software Use Here
Gaming And Typing on the COUGAR Gaming 700K Evo
Typing with the Cougar 700K EVO keyboard seems fluid and seamless. I am able to type with ease on this keyboard. When I first got it I was worried because the two support feet seemed a little low for my liking. Over the past few weeks, I have noticed my hand has become way more comfortable with it. I seem to type a little faster than before. I would have done a word type test but since I'm dyslexic I would have failed at that test and would not have given you a true test.
For gaming, I have played a few games with this keyboard from Pine to Red Dead Redemption 2. Gaming on Pine seems fine with no conflicting issues for me. As for Red Dead Redemption 2, I have put in many of many hours playing and gaming on this keyboard there. The keyboard seems great and keys seem just the right amount of pressure for shooting and running. I have noticed the palm rest keeps my hand from slipping to much and keeps then feeling very comfy during long gaming sessions.
Final Thoughts on the COUGAR 700K EVO Mechanical Gaming Keyboard
With the 700K EVO, I wasn't sure how I would feel about it since it has the Cherry Red RGB MX keys. Since I normally use a much louder blue key. The build quality is beyond phenomenal. The metal base with the plastic wrapping makes it feel well built and has a little weight which stops it from drifting across my desk when gaming long sessions. Their UIX software is done well and has had no issues learning it and using it. I think most people will be able to use it. Changing the color patterns is easy and looks great for different settings. I think Cougar did well with this keyboard and would look great on anyone's desk. From your avid gaming to just your general user this keyboard is definitely for you. I would suggest this keyboard to anyone including my own family.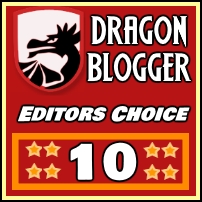 [P_REVIEW post_id=1089049 visual='full']
We are influencers and brand affiliates.  This post contains affiliate links, most which go to Amazon and are Geo-Affiliate links to nearest Amazon store.
Hi everyone I'm James Braga. I was born in Oregon and moved to New Hampshire a few years back. I love most things that have to do with video games and electronics, It doesn't matter if it for a car or a house, if it has electricity in it i will love it . I'm also in school for Information Systems Technology.