We are influencers and brand affiliates.  This post contains affiliate links, most which go to Amazon and are Geo-Affiliate links to nearest Amazon store.
As Wi-Fi technology strives to keep up with demand, it can be expected that new devices will appear to handle that demand. That is where we got 802.11 AX. As this new router technology becomes more prevalent, it was important to confer with CompatibleRouters.com to find out which are the best 802.11AX wireless routers on the market.
802.11 AX is made specifically for high-density environments, such as concerts, trains, and even airports. It works by taking a variety of wireless techniques and combining them to provide less overlap and crowding on bands. As our demand for wireless devices in our homes becomes ever greater, these routers are the way forward.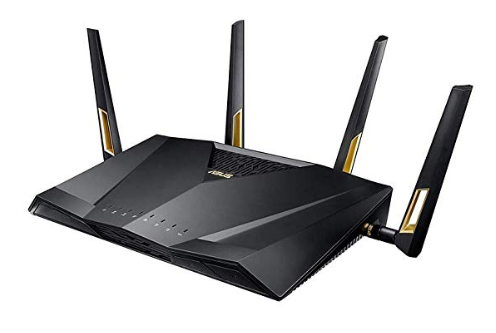 ASUS RT-AX88U AX6000: The ASUS RT-AX88U router comes equipped with ultrafast Wi-Fi speeds up to 6,000 Mbps. It can easily take on even the busiest home networks out there.
With four antennas, the coverage for this router is boosted well enough to reach most points in the average household. It also has eight LAN ports in order to support more clients simultaneously.
Lastly, you also get commercial-grade security with this ASUS router. This includes AiProtection, which means security threats will be easily blocked.
Netgear Nighthawk AX12 RAX200: The Netgear Nighthawk RAX200 is a beast of a router. It is a Tri-band router that supports an impressive 12 streams simultaneously. This means more devices can use the network at the same time.
Additionally, you will see that this router has 4 Gigabit Ethernet ports and 1 2.5 Gigabit port. You can use these to plug in computers, game consoles, streaming players, and any other device that you would like to have hardwired into the router.
This Nighthawk comes with a 64-bit 1.8GHz quad-core processor, eight amplified antennas, Beamforming+ for extended coverage, Qos, and MU-MIMO technology. You will not be disappointed.
TP-Link AX6000: Perhaps one of the most interesting-looking routers that you can get, the TP-Link AX6000 is a next generation router. It offers incredibly speeds up to 5,952 Mbps. That breaks up to 4,804 Mbps on the 5GHz band and 1,148 Mbps on the 2.4GHz band.
This AX6000 is an efficient router. It increases the average throughput by four times in high-density scenarios. Both downlink and uplink MU-MIMO is supported as well.
Security-wise, this router has a built-in system, which includes HomeCare. HomeCare puts antimalware support throughout the entire network.
ASUS AX6100: If anyone is wondering whether a mesh system exists in the 802.11 AX standard, you can stop wondering. The AUS AX6100 is a mesh system that supports the newest technology.
This is by far the most powerful mesh system that you can get. It comes with MU-MIMO capabilities, ensuring that you have an efficient, stable, and faster transmission, even if more than one person is transmitting information at the same time.
Finally, you will get commercial-level security for your entire network, including AiProtection Pro, which is made to protect all of the connected devices within your network.
Netgear Nighthawk RAX40: The last 802.11 AX router that we are going to take a look at is the Nighthawk RAX40. This is a dual antenna router, but don't think that doesn't mean that it's not powerful.
This Netgear router has four simultaneous streams providing more capacity so that more people and devices can stream at the same time. With the wired Ethernet ports, you will be able to plug in any gaming console, streaming players, and other devices using the four Gigabit ports.
This router is also safe and secure as it supports WPA2 wireless security protocols.
We are influencers and brand affiliates.  This post contains affiliate links, most which go to Amazon and are Geo-Affiliate links to nearest Amazon store.
I am interested in all things technology, especially automation, robotics and tech that helps change how society will live in the future.