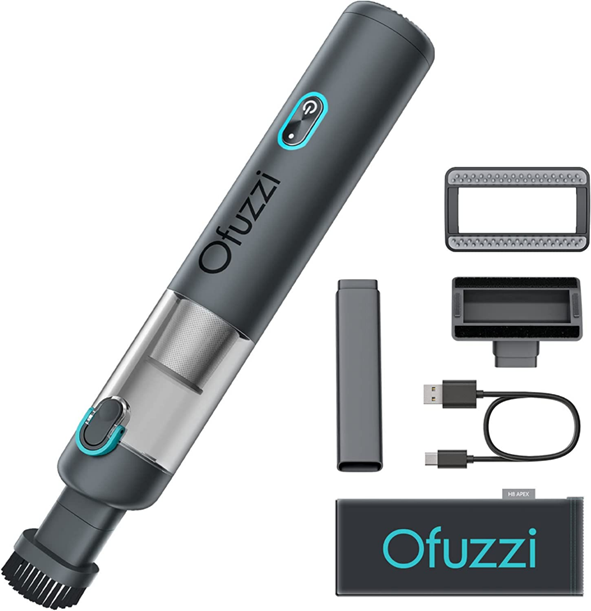 Looking for a powerful portable vacuum cleaner to clean difficult places in an easy way?
If you usually do the cleaning often you will surely know that you can not always get rid of dust so easily. Dust can accumulate almost anywhere and can become very annoying, especially if you are an allergic person. So, keeping your home clean is important if you want to give it a better look in addition to avoiding getting sick. You probably have a robot vacuum cleaner or a cordless vacuum, but as you know, both have some limitations, they do their job well, but sometimes they just can't clean your entire home, so choosing a handheld vacuum cleaner can be really helpful if you need to dust off in tight spaces like a couch, the car, the kitchen, narrow places and the like.
The handheld vacuum is probably not designed to clean your entire home because it has a compact design, but they are definitely designed to vacuum anything in an easy way, so you can get rid of dust in those places where the robot vacuum cleaner or full-size vacuum can't. Keep in mind that not all vacuum cleaners work the same or have the same power, so you should get one that can vacuum dust quickly so you can clean your home quickly.
The Ofuzzi H8 Apex cordless handheld vacuum cleaner is a great option to consider if you're looking for something powerful to suck out annoying dust as quickly as possible. It offers great power and enough battery life to clean your home without worries. The price may be slightly higher compared to other brands, but it offers higher performance. Below, discover the most interesting features of this product.
Features of the Ofuzzi H8 Apex cordless handheld vacuum cleaner
If you are looking to get rid of dust in the narrow places of your home, then surely you are looking for something that can be controlled using one hand, which is exactly what this vacuum cleaner can do. The main feature of the Ofuzzi H8 Apex cordless handheld vacuum cleaner is that it has a portable design so that you can clean almost anywhere in your home, you can vacuum the dust from your sofa to the seat of your car without any problem, and the portable design allows it to reach almost anywhere. This vacuum cleaner only weighs 540g, so you can use it without getting tired.
You probably think that a portable vacuum cleaner has low suction power, and you are probably right, but definitely that the Ofuzzi cordless handheld vacuum is an exception. Despite having a portable size, this handheld vacuum offers powerful suction of up to 12kPa so you can clean all kinds of surfaces quickly, helping you save time. The brushless motor allows the vacuum cleaner to work smoothly on all types of surfaces, so the performance is quite amazing compared to other brands.
If you plan to finish cleaning your home with a handheld vacuum cleaner, then you will need a few minutes to achieve it. The Ofuzzi cordless handheld vacuum can work for 30 minutes which may seem small compared to a full-size vacuum cleaner, but if you find that it has powerful suction and a portable design, then this is more than enough for most people. 30 minutes of battery life will be enough to finish cleaning your home, The powerful 12kPa suction allows you to clean any place quickly. This vacuum includes a USB Type-C cable, so the charging time is only 3 hours.
The filters on the Ofuzzi cordless handheld vacuum cleaner are washable and reusable, so you'll be able to clean your home for a long time before you think about replacing them. HEPA filters are designed to filter out more than 99% of the particles, which is pretty incredible. This vacuum cleaner can vacuum the hair of pets without problems or annoying clogging. Another feature of this handheld vacuum cleaner is that it has the capacity to vacuum 120ml, which will surely be enough to clean the narrow places of your home or the seat of your car. Remember that the filters are available in the Ofuzzi store.
You can buy this item here on Amazon