It can be a struggle to find a quality desk lamp that can hold up through hours and hours of work. Thankfully, with new LED lamps this search is becoming easier. The Aglaia desk lamp has a minimalistic look and also three different settings depending on how bright you want your light. The LED lighting isn't too harsh, with the bulb only using 7W, and has a projected life span of 20 years. There is also an anti-glare light diffuser to keep the brightness at a level that won't hurt your eyes. Unfortunately, there doesn't seem to be a way to change the bulb when it does go out, but that's not such a drawback when you consider the overall price of the lamp.
Take a look: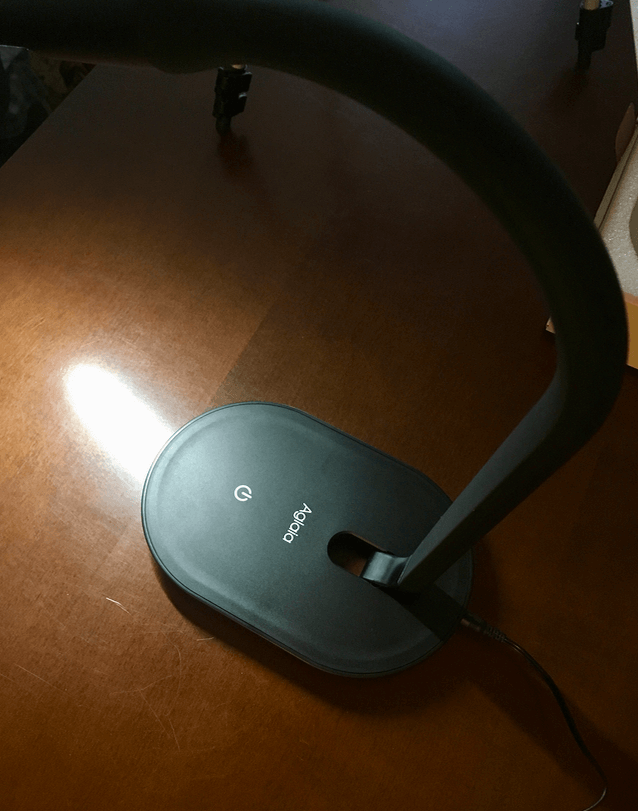 As someone who has been writing for years, it's been hard to find a lamp that has multiple light settings and also stays out of the way when you need to work hard. This lamp is designed to move easily, and it does. It has the ability to move and focus wherever you want it to without much of a struggle. I could even point it up to the ceiling with ease.The silicone covering also makes the lamp easy to grip and move whenever you need it. If you kept this by your bed, it would make night time reading much easier. After keeping the light on for a few hours, I thought it was important to note that no part of the Aglaia lamp started to get hot.
The best part about the Aglaia lamp is the USB charger. This gives you the ability to charge anything you want, including your phone, without having to be right next to an outlet. A lot of us need our phones close by for calls, emails, or for information, so having a way to charge it while also getting work done is a cool feature.
An important part of any lamp is that it stays out of the way. For years, I tried the big, bulky fancy-looking lamps, and they were always in the way. This lamp is sleek and can be easily tucked away when you need it.
Video Review
Here are some other specifications you should know:
Weight: 2.6 lbs.
Dimensions: 16 x 8.3 x 2.4 inches
Material: ABS + Aluminium + Silicone
Color: Black
Bulb type: LED
Switch style: touch
Power source: corded electric
Wattage: 7 watts
Overall, I'm incredibly impressed with this lamp and would recommend it.
I received this product at a discount for the purposes of testing it and reviewing it.  All opinions expressed are truthful and 100% my own.