We are influencers and brand affiliates.  This post contains affiliate links, most which go to Amazon and are Geo-Affiliate links to nearest Amazon store.
Disclaimer: The AKASO X5C Drone was provided for evaluation purposes. Opinions expressed in this review are 100% my own.
Since moving to the Bay Area, drones and little flying robots have become a much more common sight for me. It's not just a location specific thing though. Almost every company with a household name is giving these flying guys a test drive. So when I was contacted and asked to review the AKASO X5C, I did not hesitate to say yes. If you are eager to see how well the X5C stays airborne, feel free to watch the video below or continue reading the review.
Nice Exterior, Cheap but Light
Aesthetically, the AKASO X5C is a tad 90-esque in its design. That's not a bad thing necessarily. The nostalgia factor actually made me warm up to the little guy and I really thought it had an intriguingly quirky look to it. I also appreciate the larger blades from not only a visual standpoint but a practical one too. The support frames don't detract from the look either and it gave me the confidence that the drone could take some hard knocks. If there is any significant criticism I can give the exterior, it would be the fact that the plastic feels cheap. Perhaps this is to keep the drone lightweight and aerodynamic. Airworthiness trumps visual or tactile appeal. Finally, the drone controller looks and functions well and I felt the indicators were quite helpful.
Handy Tools and Backup Supplies
The package includes several supplies to get you up-and-running super quick. One plastic baggy contains lots of little screws, a miniature screwdriver to fasten things, and backup propeller blades. This little baggy is both a godsend and a nuisance. I wish the screws in particular were packaged separately so they wouldn't tumble out. Besides those supplies, a USB charging cable is included as well as a microSD card and a USB adapter. The adapter worked quite well with the microSD card and I had no trouble accessing any drone footage.
Flies Like a Boss, Suffers Some Drift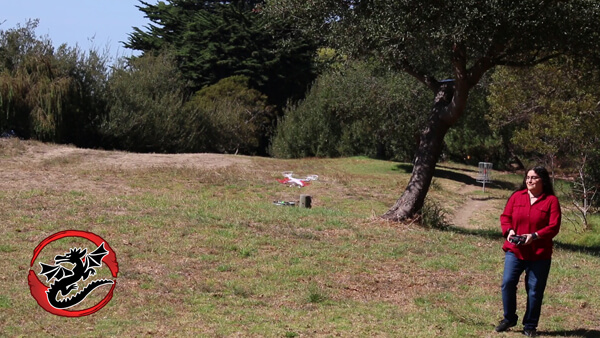 If you watch the included review, you'll notice that the drone has no problem achieving liftoff. It pushes off the ground nicely and can reach some considerable heights. Controlling it wasn't that stressful. The problems came along whenever the wind picked up. It wouldn't knock the drone back too forcefully but I ended up having to immediately compensate and start predicting when the next gust was coming in. This knocks it down from a precision instrument to a fun RC toy. Yet again, that's not a bad thing but it changes who this drone may be best suited for.
Reliable Onboard Camera
Since I've started testing drones, I've been frustrated with what appears to be "decoration only" cameras. I was surprised to see how reliable the AKASO X5C's camera turned out to be. Whenever I pressed the camera button, the drone always received the signal and started taping. The footage was similar to that of a low quality cell phone camera but I could make it out just fine. At this price range, I mainly am looking to see if the camera functions reliably and that people actually looking like people and not just indistinguishable blobs. After my test flights, I saw several clips instantly pop up on my screen when I inserted the USB adapter with the microSD card into my laptop. Every video program I inserted the clips into accepted them just fine (AVI format).
The AKASO X5C is a great drone for amateur quadcopter enthusiasts and young fliers eager to fly their first drone. Comparing to its competitors in the same price range, it delivers a great performance and handles bumpy flights very well. Those of you who fall into the prosumer category most likely should still shop around as the caveats of the X5C cause it to fall short of its more souped-up opposition. Nevertheless, if you don't want to break your bank account and want to touch the skies, the X5C is a cool stepping stone into the world of drone flying.
We are influencers and brand affiliates.  This post contains affiliate links, most which go to Amazon and are Geo-Affiliate links to nearest Amazon store.
Mitra Faridian first joined the site in 2011 under the handle "Persian Poetess." Her gaming and entertainment taste is very eclectic and she's always open to a fun new virtual adverture. Email her at the following address: mitra [at] dragonblogger.com