Welcome back to another tech review, brought to you by Dragonblogger. Today we are going to go over the functionality and technical applications that the Allreli T9 Plus has to offer. But before we get started lets go ahead and dive down into some of the features and specs. And lets give a big shout out to the guys over at Allreli for sending me their keyboard to give them a 100% opinionated and unbiased review.
The allReli T9 won the red dot award in 2016 with a Professional Design for League of Legends, it also has 10 colors of lighting modes with an RGB backlit function, Programmable Keys (Macros) to set to your very own preference, it has an extremely durable design with an aluminium bottom as well as sports a braided 1.5m Cable(5Ft) with a Gold Plated USB connection for better connectivity.  The T9 Plus is also ergonomically sound for extended use as well.
allReli T9 Plus Detailed Specs:
Weight: 1.6 pounds
Power: 5v 300mA
Switches:  Kailh Blue and Kailh Red (Space only)
Keystroke Lifetime: ≥ 50 million
Anti-ghosting: Full N-Key Rollover
Product Dimensions: 11.4 x 7.9 x 2 Inches
Backlight: RGB with 10 Modes
Lighting Modes
Now the Allreli T9 Plus comes with a whole array of options when it comes down the lighting arrangements. It even allows you to have a personal option, giving you the ability to set each individual key to a specific color of your choosing. The Allreli T9 Plus has preset colors that you can choose from, or you can create your own colors using the "Other" option. You can only set your own personal colors within the User-Defined, Single Click, and or Fully Lighted options. Unfortunately the red bars that are streamlined on the sides of the keyboard, are unchangeable. I will explain more about the color effects down in the software category.
Programmable Keys
The Allreli T9 Plus features 29 keys on this keyboard, all of which are programmable. If you are a newcomer to the whole gaming tech, keys that are programmable are called Macro's. And Macro's allow you to set a specific function to a specific key. For example; If I have no need for my F1 key in any game, I can Program it (Set a Macro) to press Ctrl+3, which in League of Legends is the dance feature. (insert Trundle Dancing Gif here) . Or say at the end of the match I want to say Good Game, or anything of that sort, I can set a Macro to type that out for me. And like I stated above, you can do that with all 29 Keys!
Durable Design/Ergonomics
Boy oh Boy, where do we start with this one. The Ergonomics on the Allreli T9 Plus are amazing. The Handrest is nice and big, with a rubberized textured surface. Allowing for a softer feel, Thus giving you the ability to game even longer. The key placements are perfect(except for one key), making every key easy to access. And oh man, do the mechanical Kailh Blues feel and sound great!
You can definitely tell that the Allreli T9 Plus was built to last. when you pick this keyboard up, at first glance you will definitely see that it is durable. From the hard plastic all the way around, to when you flip it over and see the Aluminum Back Plate. If you ever drop the T9 Plus, there will be no worry that you broke it.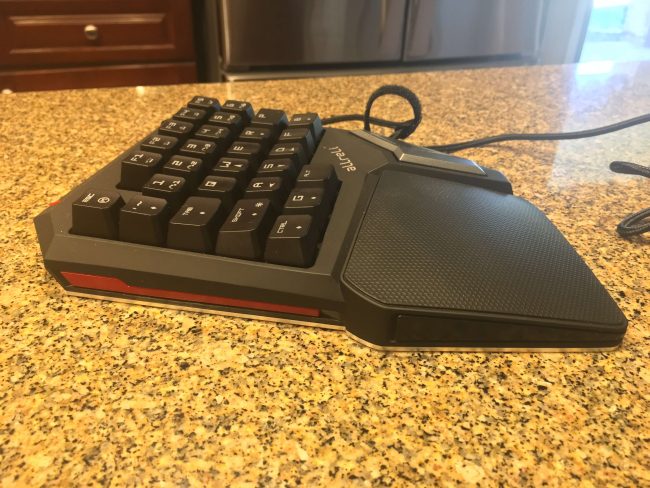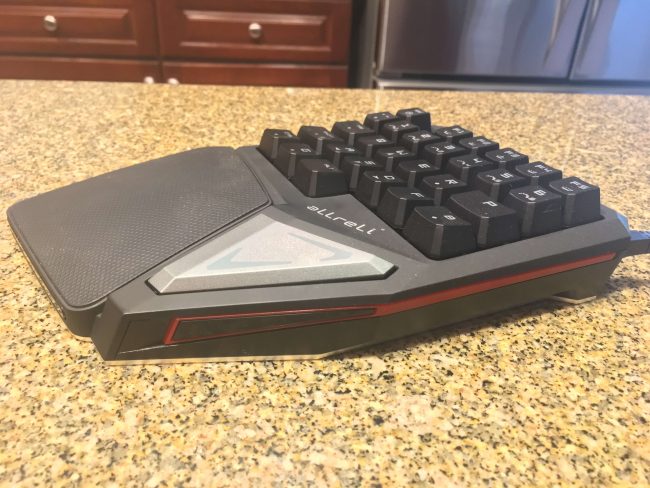 Braided Cable/ Gold Plated USB
Allreli is back at it again with the braided cable. I do praise them for this , because the durability and longevity of your cable is dramatically extended. The Allreli T9 Plus does come with a 1.5m cable, which in american terms, is just under 5ft long. Now depending on where you have your battle station set-up, this can either be perfect or completely work against you.
The Gold Plating on the other hand, isnt to important nor special. But it is a nice touch, given that it does provide a better connection with inside your actual USB Port.
Key Features
The Allreli T9 Plus is definitely for single handed use, directed primarily on MOBA's. If you take a look at the key setup, you can tell that there is no I key, which is generally used for an inventory slot. Even though the key setup is directed at MOBA's that doesn't mean that it is all it can be used for. Remember reading above, you know, the section about Macros. You can change any key to your liking. But more about the features. If you look closely, you can also tell that there is no caps lock key, that's because they moved your Left Shift Key up one slot to replace it. The reason why, is for ease of access, and plus, you're not going to be typing on this thing, are you?
Software
And we are finally here, the software. upon receiving the Allreli T9 Plus, I was given an installation disk with the product. The problem was,  it was Chinese coded, so there were a couple issues getting it started. I had to go to the Allreli NA website and manually download the drivers. After that was completed, I made my way into this very simplistic programing, setting up Macro's and testing how well the program works.
As stated above, I said I would go over the 10 Lighting modes. In the left picture below you will see 7 different "lighting effects" and right above that you will see M1-M3. Allreli went ahead and combined those numbers to give you the 10 Lighting modes. I will go more into this down below
Final Thoughts on Everything!
Whew, you've made it this far. Now everything you see above are key features of the Allreli T9 Plus , most which I like. This is pretty much going to be the CON section in my final thoughts.
Starting off with the Software itself for the T9 Plus. Even though this program is very simplistic to use when you get it running, the actual features inside the program (Lighting side of things) do not work. The whole point of having 3 different modes, is to be able to switch between them very quickly, without having to do any changing. With the Allreli T9 Plus, that is not an option. As soon as you get your colors all setup, or the Effect lighting that your heart desires on one mode. Don't even think about switching modes; all the progress that you made on one mode is completely negated by a different mode. You will in fact have to setup your mode again every time you change something which is a huge con on having customized modes/profiles.
Another thing about the software itself, Any time you go and try to save your settings by clicking "OK", the programs decides that you're done using it and closes itself. Same goes as if you were to press Cancel.  The software should use the "OK" more like an "Apply changes" and not close the software when you click OK because you want to apply some preferences.
The keyboard itself, I only have two issues with. And that is the positioning of the Shift Key, and the Aluminium back plate. Now, you must be asking yourself, I thought you said above that the Back Plate was a good idea for the durability? Well, it is. The issue that I have with it, is that it is indeed an Aluminium back plate, and that's it. There is no rubberized material to keep this Allreli T9 Plus from sliding around on your desk. The Shift Key issue, is not a big issue. The only problem that I have found is that it is a little odd, and that you're going to have to get used to positioning.
If allReli were to improve the software portion of the T9 Plus and added rubber feet or padding the bottom of the aluminum back plate I would have given a solid 4 or maybe 4.5 stars, but the software limitations and feet on the back plate have me placing this at a 3.5 rating right now.  Note if they do update the software to fix some of the issues, I would have no problem bumping this review to 4 stars later on.
Disclaimer: Allreli provided me with the T9 Plus Single-Handed Gaming Keyboard so I could do a showcase and share thoughts on the product. All opinions are 100% mine and mine alone. For more information visit http://bit.ly/dbdisclose