We are influencers and brand affiliates.  This post contains affiliate links, most which go to Amazon and are Geo-Affiliate links to nearest Amazon store.
As the most widely used web analytics and measurement tool, Google Analytics provides accurate and valid statistical reports for your website audience and performance. It's probably the most famous service offered by Google , which is FREE for everyone and is easy to use and setup.
WordPress Google Analytics WD plugin brings all of your Google Analytics reports right to your website and allows you to access them anytime from your website dashboard. It's the official member of the  Google Analytics Technology Partners Program and comes with the most advanced reporting functionality. Moreover, it allows you to set custom reports, manage various goals, filter out any unwanted data, and track custom dimensions without leaving your website admin area. It's responsive, intuitive and super user-friendly. 
d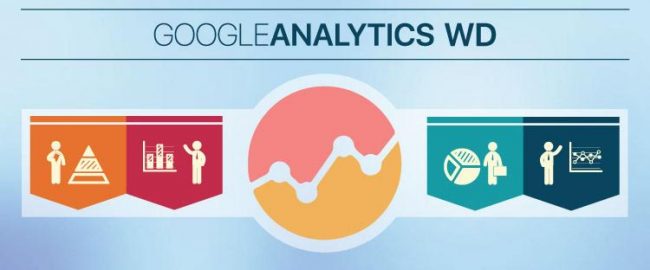 Below I'll walk you through the steps needed to take Google Analytics WD to your website, and provide a detailed overview of the essential features and functionalities that it is packed with.
Installation
The first thing you'll have to do to get Google Analytics WD is to head over to wordpress.org , where you'll find the FREE version of the WordPress Google Analytics plugin for downloading. You click on the download button and the plugin files will start downloading in a zipped format. The FREE version of the plugin is still pretty cool and feature-rich, but for some additional functionality you'll have to upgrade it to the Google Analytics WD PRO.
Once the download is complete, you have to log in to the admin area of your website, hover over plugins section and click on the "Add new" button. It will take you to the plugins page, where you'll find the "upload plugin" button on the upper left side of the page.You choose the file, click on the install now, and you're basically done. Afterwards, you have to simply activate the plugin and it will start doing its job.
Authentication
Once activated, the plugin will ask you for the account authentication. It's a required step that basically asks you for a permission to connect to your Google Analytics account. It asks you to copy and paste the tracking code of your GA account in the required field. After you enter the code the plugin will start operating.
Tracking
The first page you'll see after the account authentication is the tracking page. Here you'll find the code added to the site,the tracking settings, and custom dimensions (more about it later). You can enable/disable various tracking options, such as, anonymize IP addresses, enhanced link attribution, tracking of download and mailing links, etc. On the same page you'll also find tracking exclusions, where you can choose to exclude specific roles and users from the reports.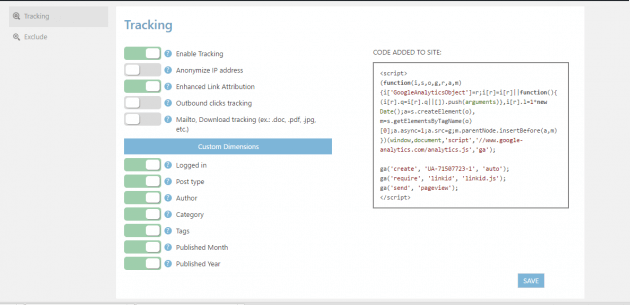 Custom Dimensions

To get tracking reports on specific dimensions that Google Analytics doesn't automatically track you can use custom dimension tracking functionality. It allows you to segment and measure differences between logged in users, authors, post types and categories, published years or months.
Overview
The overview page gives you a quick insight into your website's real time visitors, audience, browsers used while interacting on your website, and user geolocations.

Reporting
Here we come.The reporting page is the area where you'll find the statistical reports on your website audience and performance. This is where you'll find detailed and valid reports on your website audience, demographics, geolocation and language, behavior, technology, devices, traffic source, site speed, etc. Also, if you have AdWords or AdSense accounts you can link them to GA from admin settings and get relevant tracking information. If your own an ecommerce website you can also check you sales statistics based on revenues, transactions, products and performance.
The reports are presented in colorful and comprehensive charts and come with several outstanding features. You can compare two reports on a single graph within a specified period. Also, you can export the reports to PDF or CSV formats , and send them to one or more recipients.
Custom Reports
Apart from the built-in report types that Google Analytics WD comes with, you can also set custom reports on any metric and dimension and view the related statistics from the plugin's reporting page. There is a separate section for custom reports where you can make all the necessary configurations. You give the report a name, select the metric and dimension, and the plugin will automatically add it to the reporting page. For example, you can choose "page" as a metric and "duration" as a dimension, and get reports on the time your visitors spend on specific pages on  website.
Goal Management
Google Analytics WD allows you to create and easily manage various goals which aim to track targeted activities that visitors complete on your website. Basically, you track how well your website performs on the targeted objectives critical for you. So, to set a goal you have to go to the goal management section in the plugin admin area. There are 3 goal types to choose from: duration, destination and pages/screens per session. Based on the goal type you'd like to set, you're then required to  configure the options for it. Once the created goal is accomplished, you'll get notified about it.
Data filtering
To exclude unwanted data from the reports Google Analytics WD allows you to filter out specific locations or IP addresses from tracking. To do that, you have to go to the filters section in the  plugin settings, and exclude the countries, regions, cities and IP addresses you don't want to be included in the reports.
Alerts and Pushover Notifications
Google Analytics WD is equipped with advanced alerts and Pushover notifications, which aim to keep you informed about the ups and downs in sessions, users, bounces or session durations on your website.You can choose the time interval based on which the notifications will be sent, such as, daily, weekly or monthly. To get alerts you have to specify your email address. Also you can get Pushover notifications on smartphones and tablets.
Find below the full list of features and functionalities that the FREE and PRO versions of Google Analytics WD come with. Also, check the WordPress Google Analytics demo to see exactly how it works.
Google Analytics WD provides the most advanced reporting functionality. It's developed with the emphasis on quality and user experience and can be a good choice for beginner bloggers, small websites and large business or corporate sites alike.
We are influencers and brand affiliates.  This post contains affiliate links, most which go to Amazon and are Geo-Affiliate links to nearest Amazon store.
This is the Dragon Blogger Guest Bloggers account for author's who want to submit articles and only have credit in the post instead of having to manage their own WordPress profile.