We are influencers and brand affiliates.  This post contains affiliate links, most which go to Amazon and are Geo-Affiliate links to nearest Amazon store.
Punxsutawney Phil saw his shadow yesterday. With this, it means we are going to be in the winter for 6 weeks more. But don't worry, at Dragon Blogger, we got your back with more deals from Amazon. Welcome back to #founditonAmazon, best deals of the day. We will start of with some a 4-pack KMC smart plugs. Then, we will utilize the space with a 3 in 1 charger from WAITTIEE. And last but not least, the smart lock from SMONET. Let's dig into it!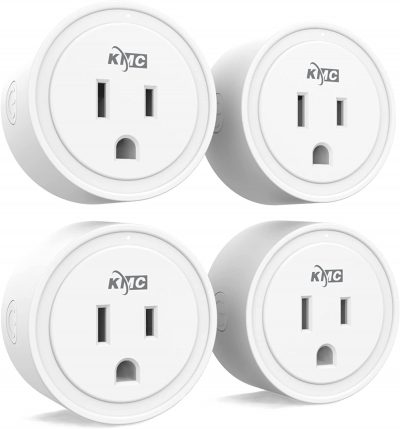 With the rise of smart assistant like Alexa, Google or Siri; customers can have the chance of upgrading their house into a smart on. Smart Plug Mini can controlled whenever and wherever! The KMC Mini Wi-Fi Smart Plug provide wireless control of your lights and appliances.
It has a great compatibility. It can work with both Alexa & Google Assistant, without installing any hub. The only thing it needs is a stable 2.4 GHZ Wi-Fi network, with an Android (or iOS) device. By downloading the KMC Smart App, you will have a full control of the smart plug at your palm. It is very simple to setup; especially with the help of the in-app instructions. Moreover, you can also control the Smart Plug Mini by saying "Alexa" or "Hey Google". You can turn any device connected to the Smart Plug with just some quick steps.
In addition, the Smart Plug Mini also comes with convenient feature like "Away Mode". When you are out of town, this feature can automatically turn the light on and off to give the appearance that someone is home. You will not get too worried or nervous anytime you are not at home. The KMC Smart Plug will ease your mind.
With almost 6000 ratings, the KMC Smart Plug earns the Label as one of the best smart plugs you can get on Amazon. You can buy this awesome product at this link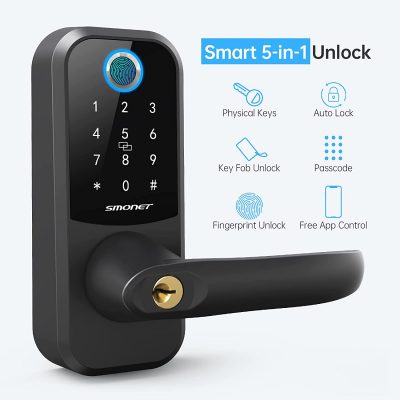 SMONET is one of the best companies out there focusing in the security products. With the motivation to provide high quality products, you can fully entrust this brand.
This door lock is amazing. It designed to fit 1-1/2″ ~ 1- 7/8″ thickness door.  There will be a detailed manual instruction coming along with the package. You will not need any locksmith to work on it. You can install and program this electronic door lock all by yourself. There are also multiple ways to unlock the pad: finger print, app control, ID cards, physical keys, keypad key and Gateway Remote Hub (Sold separately). When it is combined with Smonet G2 Gateway, you can ask Alexa/ Google Home to lock or unlock. You can also use your Apple Watch to unlock thanks to its Bluetooth feature. This is a real keyless lever. You don't have to worry about carrying the keys with you anymore.
The lock is made of high quality Zinc Alloy with intuitive OLED display and long battery life. Moreover, it also comes with a built in digital fingerprint biometric door lock, which is durable enough to support more than 50000 times touch. Moreover, you can share a permanent/One Time/Timed Ekey/Code to your visitors, airbnb guests, service people. This lock is perfect for your home, office, apartment, and your Airbnb & short-term rental.
You better be fast since it is on sale for 69% off at this link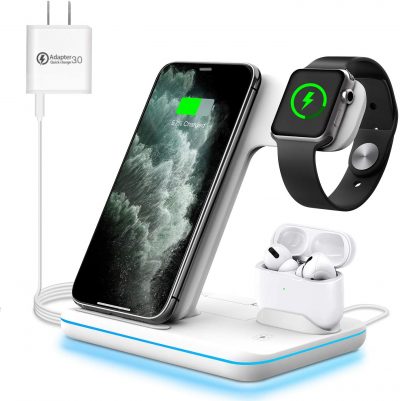 Do you have a limited space in your bedroom or office? Are you looking for a minimalistic way to save up some space? Or simply, are you an Apple fan having all their products? If so, the WAITIEE Wireless Charger is for you.
About the company, WAITIEE focuses on the improvement and sale of wireless charging products, including wireless charging station, wireless car charger, magnetic charger, magnetic phone case etc., to provide a more convenient life for you with technology. z
With this 3-in-1 charger, you can charge your iPhone, Apple Watch, and Airpods simultaneously. Thanks to the dual charging coil, the product allows you to charge in portrait and landscape mode. This will provide you with a comfortable viewing angle to watch videos, Face Time, send messages and unlock your phone with Face ID while charging. Moreover, the charger comes with a lot of great design features. The charging base has anti-slip silicone design so that the charger will not move or flip, to ensure that your phone is protected when charging. Also, with over-current protection, over-voltage protection and over-temperature protection as well as foreign object detection function, it can prevent over-charging damage of equipment battery. The charger base is equipped with a venting hole to ensure safe charging of the device.
Besides Apple products, this multifunctional wireless charger can recharge all Qi enabled phones as well. This device will keep your desktop tidy and neatly. Say goodbye to the endless tangle of cords!!!!
Note: in order to charge the Apple Watch, you still need to have the cable for Apple Watch. However, you can include and manage it inside the charger.
You can purchase a 36,000 review charger at this link
We are influencers and brand affiliates.  This post contains affiliate links, most which go to Amazon and are Geo-Affiliate links to nearest Amazon store.
If you can't find me at the table coding, then you can find me at another table playing boardgames. I want to share the fun, the intense, the `ah-ha` moments, the sabotage, the nerve wracking experience … that Boardgames can offer to the community.