We are influencers and brand affiliates.  This post contains affiliate links, most which go to Amazon and are Geo-Affiliate links to nearest Amazon store.
Good morning! Are you ready to start off the day with some best #FoundItOnAmazon deals? Today, we will showcase technology products to upgrade your look to the next level. First, let's talk about the Hair Straightener Comb from TYMO. Then, also from TYMO, we will show you the ROTA Automatic Curling Iron Wand. Finally, a very innovative product from Magitec, Rechargeable Fabric Shaver.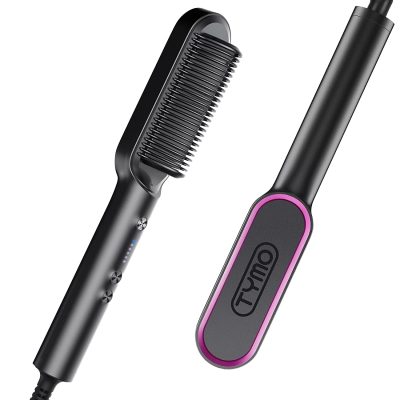 TYMO is a fashion brand specializing in beauty and personal care with advanced technology. With their slogan, Born for Hairstyling, TYMO has invested a lot of effort to help their customers to show their allure and to improve their confidence by providing powerful and practical hair tools.. One of their most popular products is the Hair Straightener Comb.
It is very innovative since it is a combination of a comb and an iron. With a special coating, the Straightener Comb reduces frizz by 70% and keeps your hair shiny – like a layer of essential oil. Also, it comes with Anti- Scald Design which allows you to enjoy straightening without worries from burning & shocking. The patented V-shape flame-retardant plastic frame will protect you from every angle. Even if you put it on scalp, you will still feel nothing.
With the patented chip, the straightener comb will have super fast heating. At the same time, it will produce precise temperature for your hair styling desire. TYMO RING has 5 heat settings (266℉ – 410℉), which are easily selectable and can be adjusted to individual needs. No matter what hair type you have, even the thick and frizzy locks, you can always find the right setting to tame it.
It is also a very safe device. Thanks to its 30 min auto off feature, TYMO RING will turn itself off after 30 minutes standing time, keeping you and anyone around you safe. Also, it can fit international standard voltage from 100 to 240V, which means it can be used wherever you are.
You can buy the product at this link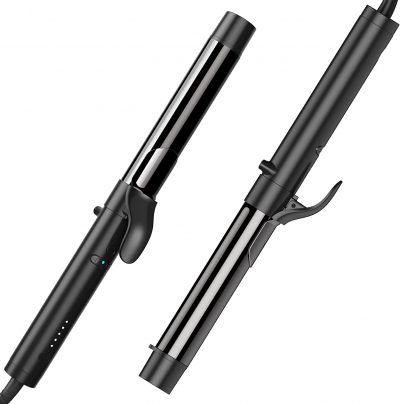 Next one on the list is another TYMO's product, an Automatic Curling Iron Wand. This automatic self-rotating curling iron is extremely easy to operate with one hand, so you can get those bouncy, shiny curls without any effort. Let's take a deep dive !
The TYMO ROTA hair curler features a dual rotating action that will reduce with 50% the styling time, so you can achieve a gorgeous look in 10 minutes. The execution is very simple. You just need to take a strand of hair, wrap it once on the barrel and let the curling iron do its magic. The 5.5″ titanium barrel with ionic anti frizz will help your hair stay moisturized and less static. Moreover, it will give your hair a beautiful glow with an incredible amount of smoothness.
Thanks to its titanium barrel, TYMO ROTA will maintain the defined curls of your hair for the next 48 hours. This is the next upgrade from the ceramic coating. You will experience the salon-grade products when using the TYMO ROTA. It also helps reduce pulling or tangling of hair. At the same time, it helps suiting for any length, especially for long and thick hair to faster curl hair.
The TYMO ROTA self-curling hair curler comes with 5 adjustable heating levels. You will have the most suitable experience for all hair types such as soft, fine, dyed, thick, or normal hair. It also features an auto-calibration and temperature sensing of 50 times per second to keep the temperature constant and reduce frizz.
You can buy the product at this link.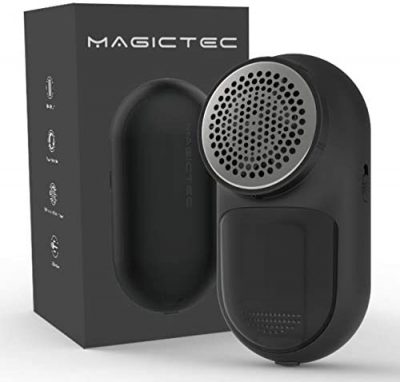 The last product will be showcased today is the Magictec Lint Remover. In other words, it is a battery operated Lint Remover for your clothes. It functions delicately to protect further damage on clothes and fabric.
With the innovative design, the device come with 3 strong and sharp blades. They can cut through excess loose threads, fuzz balls and lint's from your winter coat, sweater, scarf, gloves, plush toys, car cushion, sofa, leggings, bedding, curtains and linens and other clothing's and fabrics that needs to de-fuzz! Also, the honeycomb mesh-like cover will not deform clothes. Instead, it will reduce the friction of clothes. These sharps and durable blades can also last up to 10 years of usage.
It is also very easy to use and operate with the Magictec Lint Remover. You just need to charge and use it. There are multiple ways to charge it, thanks to its universal USB cable. With 2 hours of charging, the device can operate for 60 minutes. The design is also very compact and lightweight, which makes it suitable for traveling as well as in home usage. The device also comes with a removable lint collector container as well. This will catch all lint and fuzz. Together with a strong suction, it will draw all lint that has been removed and easily transported them to the container. It is a no-hassle for cleaning and maintaining the device.
You can buy the Magictec Lint Remover at this link
We are influencers and brand affiliates.  This post contains affiliate links, most which go to Amazon and are Geo-Affiliate links to nearest Amazon store.
If you can't find me at the table coding, then you can find me at another table playing boardgames. I want to share the fun, the intense, the `ah-ha` moments, the sabotage, the nerve wracking experience … that Boardgames can offer to the community.