Hello Dragon Blogger fans, we are back with #FoundItOnAmazon today. To kickstart February, we will bring you the three best deals of the day. First, let's ensure we will have our teeth in a good hand with AquaSonic Black Series Ultra Whitening Toothbrush. Then, we will upgrade the lightning of our room with a 2-pack adjustable video light from Neewer. Finally, we will talk about a budget friendly wireless earbuds from OKEEFE. Let's check it out!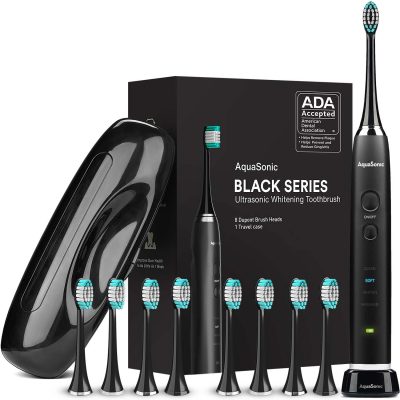 Nowadays, everything is getting smarter. And toothbrush is no exception. While there are so many different brands out there, you can never go wrong with an ADA accepted Eletric Toothbrush from AquaSonic. This is the state-of-the-art technology that pack in a small device. It features an ultra-powerful and industry leading motor producing 40,000 vibrations per minute. With the ultra-fast wireless charging, your AquaSonic will never be out of battery.
AquaSonic really earns the approval from ADA – American Dental Association. The AquaSonic Ultra Whitening toothbrush has shown efficacy in removing plaque and helping to prevent and reduce gingivitis. Moreover, it provides complete oral care with unique modes that include one for whitening and polishing teeth and one for improving gum health. Out of the box, the toothbrush will come with 4 pre-installed brushing modes and a smart timer notifications. These features will enhance users experience in brushing teeth. 
The toothbrush also comes with 8 DuPont Brush Heads & Travel Case. By having a brush heads engineered by world famous DuPont; a world leader in quality & materials science; the toothbrush won't need any purchase for over 2.5 years. Imagine you only have to spend once on a toothbrush, instead of keep buying them every 6 months. This also helps cut off the plastic waste to the environment as well. In the package, there will be a traveling case as well. This makes it convenient for customers to bring the AquaSonic with them where they need to be. 
You can purchase AquaSonic Ultra Whitening Toothbrush at this link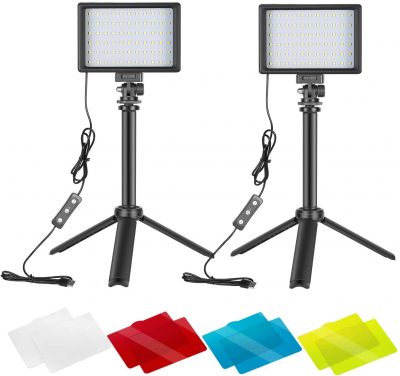 Is your studio in need of a good lightning system ? Are you looking to upgrade the lightning during Video Photography? If so, we have the answer for you. With almost 6000 positive reviews on Amazon, you will not have to worry about this product.
With 66 LED Lights, the Neewer will bring the studio quality lightning solution to your studio. Also, these lights will have adjustable brightness(10% to 100%) for providing superior lighting. It will not flicker even if at low brightness. Moreover, these bulbs will produce low heat ouput and energy usage when compared to incandescent and CFLs, wider illumination and accurate color temperature. The product itself won't get overheat either. Using stereoscopic heat holes, surrounded by four sides, it can dissipate heat effectively, prolonging service life. 
The Neewer LED Video Light also provides great usability. By having a Shoe Mount Adapter Head, it allows the angle of the panel lighting to be adjusted 180 degree and 360 degree. The video lights is very lightweight and compact. It will support flexible handheld use. Especially, when it comes with the extension rod stick. Moreover, you can do a lot of low-angle shooting. With a minimum height of 3.15"/8cm, the mini tripod can be directly mounted to the panel light to offer an ultra-low position lighting. It is easy to set up and fold down.
One of the best features is the power source. With the USB powered lightning, the convenience is in your hands. You can plug it in your desktop PC, wall charger, power bank, laptop, etc. More convenient for your creation work. On top of that, it also has extra long power cord, so you can move this light around the studio easily.
You can purchase the Neewer Dimmable 5600k LED Video Light at this link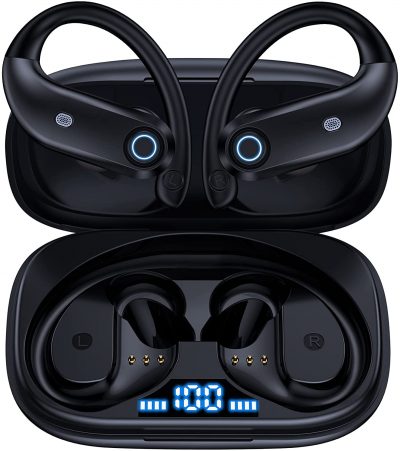 The last product of the day is another budget friendly solution for your workout routines. The Okeefe bluetooth headphone is specifically designed for Sports. These in ear headphones comes with flexible ear hooks – which can adapt to different size ears. Customers will feel comfortable while doing sports and both wireless headsets will secure stay on ears. Moreover, the sound chamber creates an airtight space with your ear canal that isolated from outside ambient noise. The Okeefe bluetooth headphones can also deliver the Stereo Audio as well. They adopt 10mm speaker which can perform bass, midrange and treble. Customers will be able to hear HD stereo sound with punchy bass. Don't worry about getting sweaty during workout! These headphones are rating at IPX5 waterproof. Okefee also seals the surfaces of both in-ear earbuds as well. This will prevent sweat or rain from entering, and the internal nano-coating to airborne moisture from damaging the components.
With one single charge, the Okefee will provide around 8 hours of playback. Moreover, with the charging case, it can provide 2 times extra charge for both ear buds. Thanks to the dual digital power display, you will be able to know the remaining power of the charging case. At the same time, you will know if the earbuds are charging or not when they are in the charging case. The charging case supports wireless charging and USB C Charging. You can use it on a wireless charging pad, or just plug it with the USB C cable. 
The wireless earbuds is very convenient with phone calls usage. Thanks to its multifunction button on each earphones, customers are able to control the music through the tips of their fingers. They also support answer, end or reject call as well. The wireless headphones adopt bluetooth 5.0 tech and latest chip. This will filter and process ambient noise while having phone calls. Moreover, the microphones capture your clear voice for transmission to the listener ,which will enhance the quality of the call .
You can purchase the Okefee Bluetooth Headphones at this link
If you can't find me at the table coding, then you can find me at another table playing boardgames. I want to share the fun, the intense, the `ah-ha` moments, the sabotage, the nerve wracking experience … that Boardgames can offer to the community.