SÃO PAULO – Nov. 16, 2017 – Among Giants' adventure game Distortions is heading to Steam and the Windows Store in early 2018! Portraying a music-driven journey of self-discovery, Distortions transports players to a realm where music, magic, and memories take on a whole new meaning.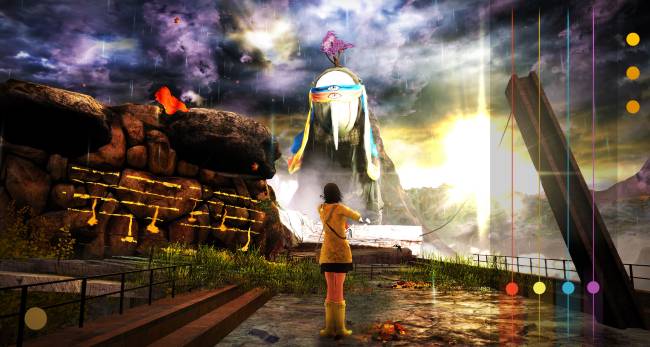 After waking up in a strange, puzzling world where memories roam free like ghostly echoes, a young woman must use her musical gifts to find her way home. Beset with psychological pain, she must make peace with her past and learn to live in the moment in order to deal with unpleasant physical manifestations of days long gone. Equipped with her journal and violin – and guided by music – the girl must protect herself from the masked creatures that inhabit this land. In fact, they may have a deeper connection with her own memories …
In Distortions, you'll experience a breathtakingly beautiful world filled with caves, mountains, and rivers. Can't find a way through? Shape the terrain around you with music, and hunt for clues to shed light on the next waypoint. With the aid of a strange masked gentleman, you must uncover new memories and eventually solve the mystery of the journal's unknown author to overcome your past and open the door to a happier future.
Distortions Gameplay Trailer
Awards & Recognition
This year alone, Distortions has already garnered awards and recognition from GameSpot, Casual Connect/Indie Prize, and the Brazilian International Game Festival:
Winner, "Best of BGS10" – GameSpot / Brazil Game Show
Winner, "Best Brazilian Game" & "People's Choice Award" – Brazilian International Game Festival (BIG)
Winner, "Best Technology"; Nominee, "Best Music & Sound" – SBGames
Winner, "Best Game" – Spcine
Finalist / Nominee, "Best Narrative" – Casual Connect / Indie Prize (2017)
Finalist – Casual Connect / Indie Prize (2018)
Nominee, "Best Independent Game" & "Best Brazilian Game" – Brazil Game Awards (BGA)
Nominee, "Best Concept" & "Best Music & Sound" – AzPlay
"Distortions is a music-based project that goes well beyond game mechanics and the world itself. Music has driven the whole concept forward, before a single art asset was put in place," says Thiago Girello, CEO of Among Giants. "From the start, we wanted to make a game that would use music as the connective tissue between narrative, environment, and language. Before development began, we researched all the types of music Distortions will feature, what kind of 'vibe' they provide, and what stories they tell. With all this prior research, the rest was actually pretty straightforward!"
Key Features
Immerse yourself in a poetic, compelling narrative of perseverance, mystery, and lost memories.
Use the power of music to shape the world around you.
Experience innovative, modular gameplay that changes according to the story's "rhythm."
Learn to use five unique abilities to tame (or control!) awe-inspiring creatures.
Enjoy multiple gameplay styles – from side-scrolling to open-world exploration.
Availability
Distortions will be available Q1 2018 on Steam and the Windows Store.
Steam URL:
http://steamcommunity.com/sharedfiles/filedetails/?id=931035719
Social Media
Facebook – https://www.facebook.com/distortions.game
Twitter – https://twitter.com/team1cdd
YouTube – https://www.youtube.com/channel/UCQTPWN3z6qM-L3jaMrcZB4g
About Among Giants
Founded by Thiago Girello in 2016, Among Giants is an indie studio with big ambitions. Seeking to "stand tall like mountains and face problems like clouds," the team is focused on auteur-type hardcore titles packing high-production values and a healthy dose of experimentation. Distortions is the studio's first title. To learn more about Among Giants and Distortions, please visit https://www.amonggiantsgames.com and https://www.distortions.co.