We are influencers and brand affiliates.  This post contains affiliate links, most which go to Amazon and are Geo-Affiliate links to nearest Amazon store.
In 2018, a small indie games company released an online, cartoon multiplayer game called Among Us. Whilst the launch didn't initially attract much attention, the game has since become a worldwide sensation thanks to the attention of many well known Twitch streamers and YouTubers.
The rise in popularity of Among Us can also be attributed to the emergence of the Covid-19 pandemic. With millions of us trapped inside with little to do, many people turned to online gaming as a way to pass the time. Among Us provides a social gameplay environment, through which friends can meet up and chat whilst working to discover who amongst them is 'The Imposter' — an individual working to sabotage and eliminate a crew of tiny space people trying to complete impending tasks on their ship.
A game the size of Among Us is sure to attract the attention of cybercriminals and so it is important to be aware of the types of concerns that have been raised by security experts and governmental organizations before signing up.
As always, if you are a parent whose child has spent hours glued to the Among Us server, consider implementing internet safety rules to ensure they are behaving in a safe manner.
What is Among Us?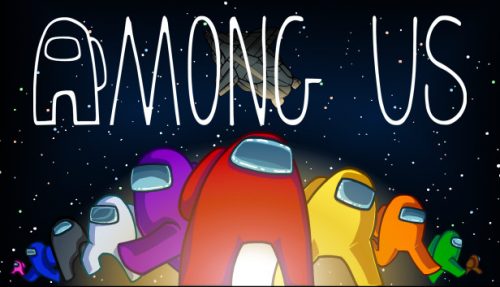 Among Us is a multiplayer game for four to ten players, who are all spacemen on a ship. Whilst most of the crew spend the game attempting to carry out routine tasks, at least one of the players is an 'Imposter' whose role is to sabotage the game and kill other players.
The game is designed to pit players against each other as they attempt to discover the identity of the Imposter and vote them out before they are able to wreak excessive havoc.
The game can be played as an Android and iOS app or downloaded via Steam for PC gameplay.
Among Us has become particularly popular amongst streamers who broadcast their gameplay for eager fans, and has consistently ranked amongst the most watched Twitch games over the past few months. Over 200 million hours of gameplay has been streamed on the platform so far this year. 
Security, privacy and Among Us 
Online gamers are popular targets for cybercriminals for many reasons. In order to play games, you often have to provide extensive amounts of personal information including your name, date of birth, location and credit card details. In the event of a security breach this information can be quickly obtained by cybercriminals, sold on the dark web and can lead to identity theft.
This is not the case with Among Us — users are only required to provide an email address and username when signing up and so from a data security perspective, it is considered to be reasonably safe.
In October 2020, Among Us was hit by a major attack which bombarded players with spam messages en-masse through the in-game chat function. Users were directed to follow 'Eric Loris' on YouTube and were encouraged to vote for Donald Trump in the 2020 US Presidential Election. Whilst developers immediately sprang to action with a range of fixes, the attack did highlight several system security flaws and players are advised to be wary of any player who directs them to communicate outside the game server.
How can you protect young online gamers?
 Among Us is considered to be reasonably safe for younger players however it is important to note that much of the game revolves around a chat feature. Chat is essential to gameplay as it is where players meet to discuss who they believe the Imposter may be, however parents would be wise to supervise young players and those who are less digitally savvy to ensure that they are not sharing personal information or coming into contact with predatory behavior.
For younger players who are streaming their gameplay, steps should always be taken to safeguard privacy and prevent webcam hacking. Twitch is not immune to this sort of attack and there have been multiple instances where users have been hacked whilst streaming gameplay live to their audience. Webcam hacking usually occurs as a result of cybercriminals infiltrating your system through malware so be sure to speak to your children about never clicking on suspicious links or downloading attachments from sources they don't recognize.
Social games such as Among Us have provided much needed relief and entertainment from the stresses and boredom of the Covid-19 pandemic however always ensure that you are taking the appropriate steps to safeguard your privacy and the safety of younger gamers whilst playing online.
About the Author: Bridget
Bridget is a writer and editor, currently living in Melbourne. She is a copywriter for Newpath Web and loves working with words of all shapes and sizes. When not playing around with punctuation and grammar, she enjoys travelling and curating her Spotify playlists.
We are influencers and brand affiliates.  This post contains affiliate links, most which go to Amazon and are Geo-Affiliate links to nearest Amazon store.
This is the Dragon Blogger Guest Bloggers account for author's who want to submit articles and only have credit in the post instead of having to manage their own WordPress profile.