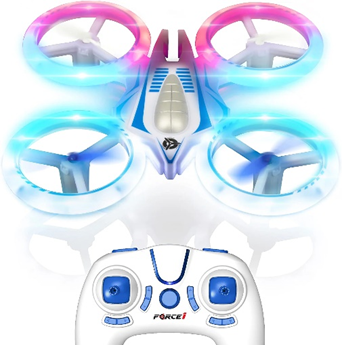 Looking for a drone for children available at a good price designed for use inside the home?
Drones are fun remote-controlled vehicles, so you've probably tried one. The idea of having fun flying a vehicle is amazing regardless of your age, so surely you know a child who would love to use one. So, if you want to surprise your child, then buying him a drone for beginners is surely a great idea, do not think that it is necessary to spend a lot of money if it is his first drone, you know, children get bored quickly of toys. For less than $40 it is possible to get a good quality drone (considering that it will have limited functions), which will be enough for children to learn how to control a drone, then you can get a new drone with better features.
As I mentioned earlier, a cheap drone will have limited features, but why spend hundreds of dollars on a children's drone? I think it is not necessary, children do not need to use an expensive drone, even for some adults it is somewhat complicated to use, so, it is better to start with a basic drone. Some drones have lights which makes them much more fun to use, plus some have a decent battery considering you're paying less than $40.
The Force1 UFO 4000 is one of the best drones you can give to a child, it is easy to use and designed for beginners, so, entertain children with this drone. It has a long-lasting battery so that children can use it for several minutes before worrying about recharging them. Below, discover the most interesting features of this product.
Features of the mini drone Force1 UFO 4000
Easy to use
The main feature of this drone is that it is designed for children to start flying it almost immediately. Using the 4-channel remote control children can control the drone in a stable way. It also includes smart features such as the ability to stay in one place, which makes the drone more stable, it can also do 360° stunts for a fun show. You should keep in mind that this mini drone is designed to be used inside the case due to limitations, in addition, the remote control offers a limited range, but it is possible to use it outside the home, but at a low height and without winds.
Includes 2 rechargeable batteries
If you're worried that the flight time isn't decent, you don't need to worry, this mini drone includes 2 rechargeable batteries that can offer a flight time of up to 18 minutes (9 minutes for each battery). You can charge the batteries again using the included USB cable (be sure to charge it from your computer's USB port and not from an adapter). The charging time is 70 minutes. You will need to buy 4 AAA batteries for the remote control. It also includes 4 spare propellers.
LED lights
This mini drone includes vibrant LED lights for kids to have fun even during the night. LED lights also help kids know where the drone is in case of using it at night. The propellers are designed to be safe to use at home in the event of an accident, so you don't have to worry about cuts.
My name is Joel! I love to read, I go to university like most people my age.
In my free time I usually train boxing, I love music, I also know how to play the guitar and the harmonica.