Recently one of our content creators Merl got his hands on with the ANYCUBIC Vyper FDM printer. This compact 3D Printer has excellent quality and is quieter and faster than most other FDM 3D Printers at 100mm/s thanks to it's new 32-bit motherboard and high-performance Cortex-M3 architecture main control chip. The Printing head adopts a double fan two-way heat dissipation system, helping to cool down models rapidly. This printer supports a printing volume of 9.6″(L) x 9.6″(W) x 10.2″(H) / 245 x 245 x 260mm. This printer also features a 1 click auto-leveling system which accurately detects 16-points and automatically adjusts the height of the nozzle to the platform. It also sports a 4.3″ large touch screen. It also has printing lights so you can clearly check the status of your print at any point while it is in progress.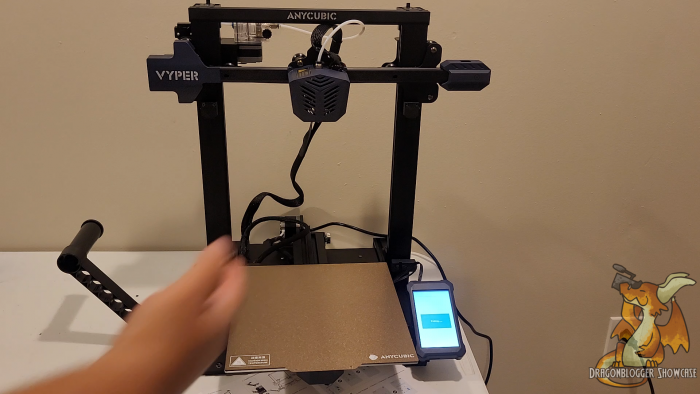 Compatible Materials are: Steel, Acrylonitrile Butadiene Styrene, Polylactic Acid, Polyethylene Terephthalate Glycol, Thermoplastic Polyurethane and the printer weighs 22 pounds.
AnyCubic Vyper Specifications
Printing Technology: FDM (Fused Deposition Modeling)
Print Resolution: ±0.1mm
Positioning Accuracy: X/Y 0.0125mm Z 0.002mm
Extruder Number: Single
Nozzle Diameter: 0.4 mm
Support Filaments: PLA, TPU, ABS, PETG, Wood
Slicing Software: Cura
Input Formats: .STL, .OBJ, .AMF
Output Formats: GCode
Connection Mode: Trans-flash Card; USB cable
Printing Speed: <180mm/s (recommended 80-100mm/s)
Build Volume: 245mm(L) × 245(W) × 260mm(H) / 9.6″(L) x 9.6″(W) x 10.2″(H)
Machine Size: 508mm × 457mm × 516mm / 20″ x 18″ x 20″
Watch the Unboxing and Setup of the ANYCUBIC Vyper
After install and setup, Merl then goes through the intelligent auto-leveling of the ANYCUBIC Vyper 3D FDM Printer and you can see that video below.
Finally a test print using the ANYCUBIC Purple PLA Filament and loading the spool and letting her go with a test owl print.
Printing an Owl with ANYCUBIC VYPER 3D Printer
You can see some impressive detail and this was without any customization or configuration changes at all with the printer, so as a beginner 3D Printer the fact that it prints this well after setup and auto-leveling is very impressive.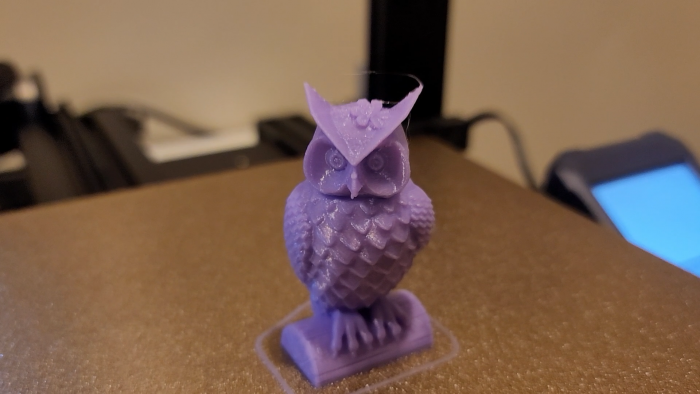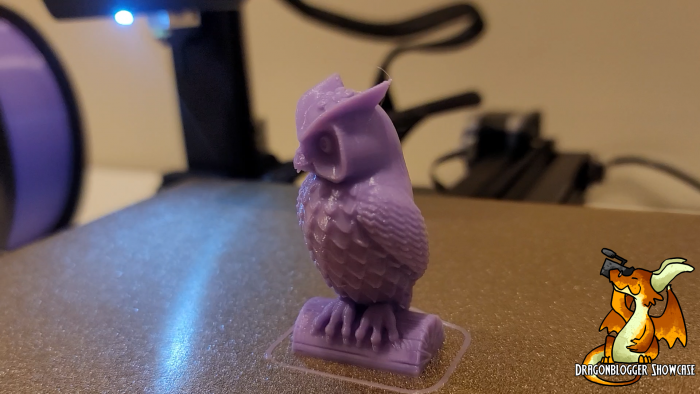 If you wanted to dabble in 3D Printing or maybe just want to upgrade from a budget 3D Printer into something that can print a bit larger and more importantly faster, then check out the ANYCUBIC Vyper.  Also stay tuned, there will be more to come and more to print with this printer and if you have any questions on the ANYCUBIC Vyper leave your question in the comments or come join our discord and ask.