With the release of macOS Catalina, Apple officially killed off iTunes. I expected this to happen one day since iTunes just felt "old", and I never enjoyed using it. While iTunes is still available for Windows users, with the discontinuation of iTunes on Mac, Apple users are left with no proper file manager to manage their iOS device on their Mac. This has led Apple users on the hunt for the best third party file manager for their iPhone/iPad. In this article, we will be comparing AnyTrans and iMazing, two popular third-party file managers available on the market for iOS devices. Let us see what they have to offer.
About AnyTrans and iMazing
AnyTrans
AnyTrans is a device management software available for the iPhone, iPad, iPod, iTunes, and iCloud. AnyTrans allows the user to transfer, manage, and backup your iOS data with ease. The software is developed by iMobie, a third-party company that provides maintenance tools for iOS and Android devices. iMobie has been in the game for a long time, and I personally use a couple of their products. AnyTrans is one of them. We have previously done a detailed review on AnyTrans, which you can check out by clicking here.
AnyTrans Key Features
Transfer files easily from one device to the other.
Manage your iCloud account with the iCloud Manager.
Manage your social media accounts with the Social Media Manager.
Download iOS apps from your computer and install them on your iPhone.
iMazing
Like AnyTrans, iMazing is a comprehensive file manager that lets the user make backups and transfer files from their iOS device to their computer or vice versa. iMazing is developed by DigiDNA, and it solely focuses on iMazing, unlike iMobie, which has a variety of iOS maintenance tools.
iMazing Key Features
Access your iPhone wirelessly without the need for a USB cable.
Advanced options for deep access to your iOS device.
The user interface feels like a part of the Apple ecosystem.
Now that we have provided a gist of what each file manager can do, let's look at each software's key features.
Common Features
Here are some of the common features available on both AnyTrans and iMazing.
Backup Manager
Both file managers have an outstanding backup manager. With a few clicks, you can easily backup and restore your iOS device. With features such as backup encryption, AirBackup, an incremental backup (AnyTrans only), you can easily keep your files backed up.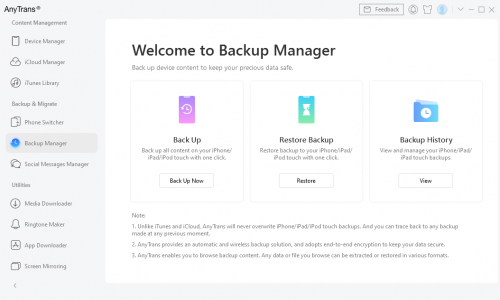 File Transfer
Transferring files has been made a lot simpler with third-party file managers such as AnyTrans and iMazing. You can basically transfer files by just dragging and dropping them. You can manage your apps and media easily by simply clicking on them.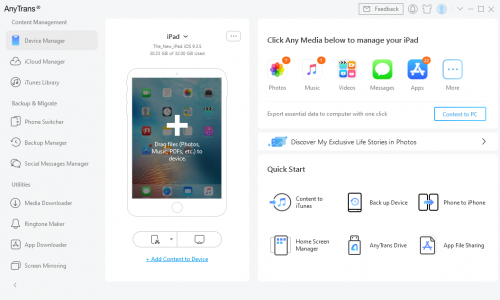 App Downloader
The App Downloader can be used to download and install apps from your computer directly to your iOS device. This is a handy feature to have if you are having issues downloading/updating apps on your iOS device.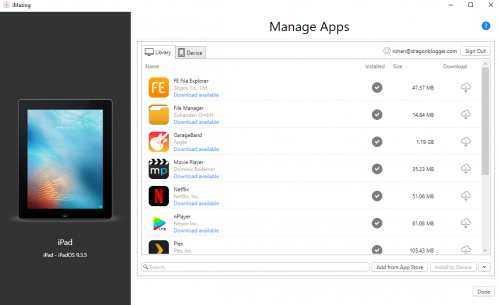 Difference Between AnyTrans and iMazing
AnyTrans
iCloud Manager
An iCloud Manager is a feature that is rare to find on most file managers. iCloud Manager lets the user import and export their files from one place to another with a simple click. The iCloud Sync feature allows syncing and transfer of files between different iCloud accounts.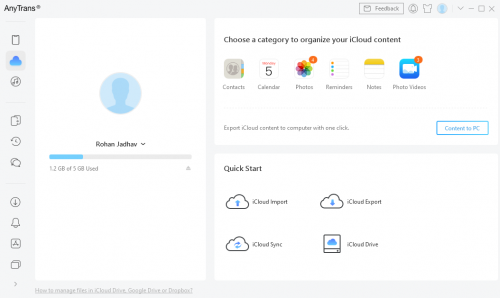 Phone Switcher
AnyTrans allows the user to quickly transfer data from one device to the other with Phone Switcher. There are no complicated steps to it, and data can be transferred with a single click. This makes the annoying process of transferring files from your old iPhone to the newer iPhone/iPad easier. The same can be done on iMazing, but iMazing does not support Android. While AnyTrans can not transfer files to Android devices, it can instead transfer files from Android devices to iPhone.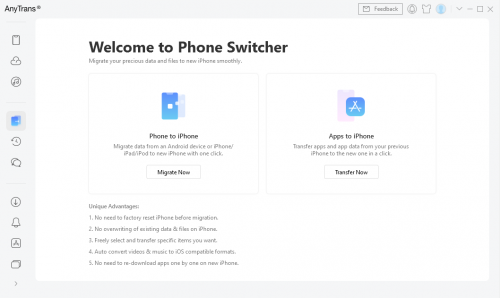 Manage Social Media Messages
If you are an avid social media user, then the Social Messages Manager is perfect for you. This feature lets us make a backup of social media apps such as WhatsApp, Viber, and LINE. These are some of the most used social media applications, and you can backup and restore your data almost instantly. This is yet another feature missing from iMazing that might be useful for a couple of users.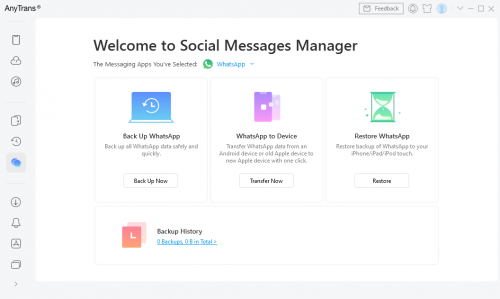 Media Downloader
Media Downloader is a helpful tool that can be used to download video and audio from more than 1000+ popular websites. All you have to do is paste the video link, and the software will Analyze the video, download and transfer it to your iOS device.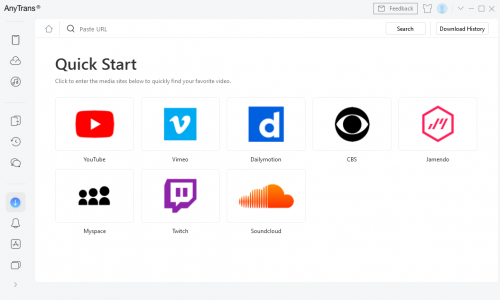 Ringtone Maker
With Ringtone Maker, the user can create their own ringtone by trimming an audio file and using it as a ringtone. You can also search for music from the app itself through the internet and use that audio file as a ringtone.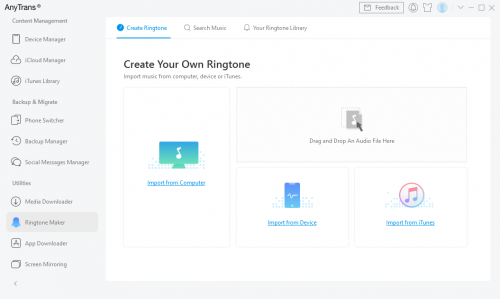 iMazing
Wireless File Transfer
Wireless File Transfer is one of the best features available on iMazing. This lets users transfer files from their iOS device to their computer wirelessly. This completely eliminates the use of the data cable as you transfer files through the WiFi. As long as both devices are connected to the same network, you can transfer files seamlessly from one device to another. This is a feature that every file manager should have.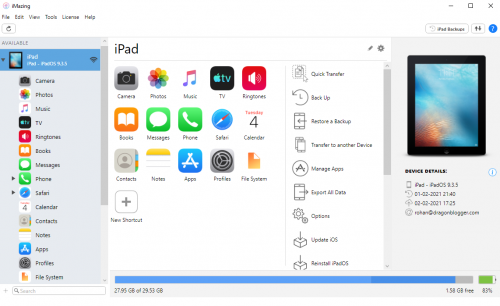 Apple-esque Ecosystem
Using iMazing is like having a large screen iPhone/iPad. The user interface is very well made and almost feels like you're using a product made by Apple. All files are easily accessible, and the file manager is quite easy to grasp for an iPhone user.
Update And Reinstall iOS Devices
If you are having issues updating your iOS device, you can easily update the software with iMazing. You can even reinstall your iOS device if you have any trouble with the device. Simply connect the device with a USB cable and click on Update/Reinstall iOS.
Advanced Options
If you are a developer, you can make full use of iMazing's advanced features. You can view the device console and export raw files for investigation and forensic analysis. You can also erase all the content and format the device.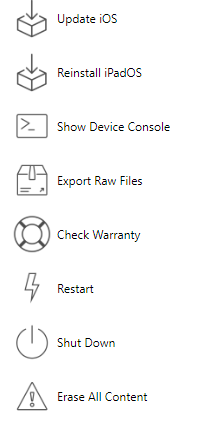 So Which File Manager Should You Choose?
Well, this comes down to personal preference. If you are looking for a file manager with an iOS-style user interface, wireless file transfers, and allows you to simply transfer and backup files, iMazing is a good choice. If you are looking for more features such as iCloud Managers, Social Media Manager, Phone Switcher with Android support, media downloader, and ringtone maker, then AnyTrans is the way to go. As for the pricing, iMazing will cost you $49.99, which will allow access to up to 3 devices, which the unlimited devices plan will set you at $59.99. The pricing for AnyTrans is €39.99(around $50) for a 1-year license, while the lifetime license will cost you around €49.99(around $60). Let us know which file manager do you prefer, AnyTrans or iMazing.
Hi my name is Rohan Jadhav. I am a guy who loves to play games and a tech lover. I like to be updated on all the tech stuff. I enjoy watching movies and I am currently doing a specialization course in VFX.