I got in my hands last week on a new software program called Aoao Video Watermark Pro. Like the name says it a watermark software utility for your videos. Now I have never used a software like this before and thought it would be cool to try out and play with.  As many of you know I create video content for the Dragon Blogger YouTube Channel, but I don't add watermarks to my videos and let the admin handle that part.
I was really curious about if the Aoao Video Watermark software would be easy to install and use, and  I'm sure your wondering the same thing.
No fear, installation was  a breeze as with most Windows software installs
The using the program feedback I will provide a little later on in the article.
First let me tell you the great thing is you can try this before you buy it. Big kudos on that Aoao knows they have a good product and are not afraid to let you try before you buy. So you go to there site and download and install with ease.  This way you can determine if you want to buy it for yourself without having to rely on a review alone to make the decision to purchase.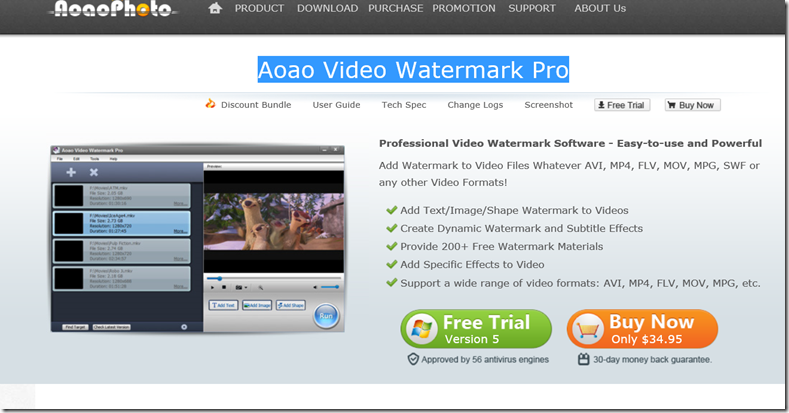 As you see you can click the free trial or the buy now button, I had a full version license so went with the free trial and added my product code.  You could go ether way if you just wanted to buy or just try.
Now when it started it was a simple and fast installation so I didn't get to provide you a picture of that. I'm sure you have installed software before so you click a few ok's and agree to terms and service and your on your way.
Now in this picture you can see the simple but elegant user interface when it starts. A pretty strait forward working software. You have your tool bar, add video button, add text button, add image, and add shape.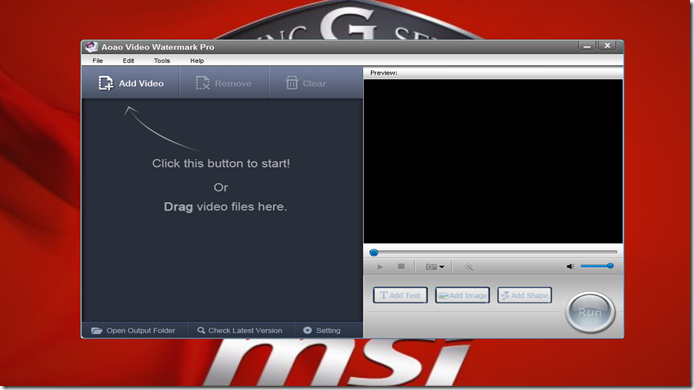 SOFTWARE SPECS!
Professional Video Watermark Software – Easy-to-use and Powerful
Add Watermark to Video Files Whatever AVI, MP4, FLV, MOV, MPG, SWF or any other Video Formats!
Add Text/Image/Shape Watermark to Videos
Create Dynamic Watermark and Subtitle Effects
Provide 200+ Free Watermark Materials
Add Specific Effects to Video
Support a wide range of video formats: AVI, MP4, FLV, MOV, MPG, etc.
System Requirements
Supported OS: Windows NT4/2000/2003/XP/Vista/7, and Windows 8
Processor: >750MHz Intel or AMD CPU
Free Hard Disk Space: 100 MB or more
RAM: 256 MB or above
Supported Formats and Devices
Input Video File Formats Supported
TIVO, AVI, MP4, MPG, MPEG, NUT, H.264, NSV, VOB, MOV, FLV, MKV, MTS/M2TS/TS/TP/TRP(AVCHD, H.264, VC-1, MPEG-2 HD), MOD, TOD, DV, WMV, ASF, 3GP, 3G2, DRM MP4, RM, RMVB etc.
Output Video Formats Supported
HD video formats: HD MKV, HD TS, HD TRP, HD AVI, HD MP4, HD MPG, HD WMV, HD MOV
Common video formats: ASF, MOV, M4V, MP4-AVC, MP4-XviD, MP4-MC, WMV, MKV, AVI, XviD, DV, MPEG-1 NTSC, MPEG-1 PAL, MPEG-1 SECAM, MPEG-2 NTSC, MPEG-2 PAL, MPEG-2 SECAM, DVD-Video NTSC, DVD-Video PAL, DVD-Video SECAM, FLV, F4V, SWF, 3GP, 3G2 etc
Image (snapshot)
BMP, JPEG
—————————————————————————————————————
Now once you have the video loaded that you want to work with you can add a text watermark such as your web site address into the video.
This picture shows what the user interface should look like on that section.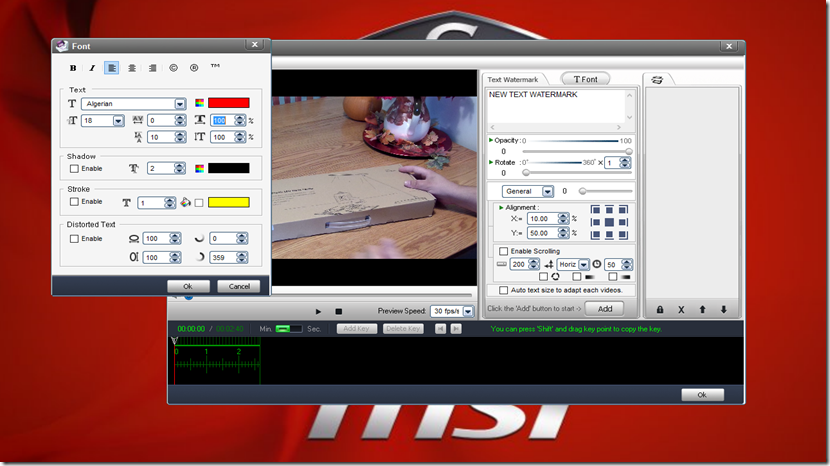 As you can see you have a decent selection of options for this part. You can change fonts, color of fonts, opacity, rotation, alignment, shadow, stroke, and distorted text.
There are many more functions you can do on this part which is nice. You can even add trademark to your work.
With the new few steps you can add images or shapes. the shapes are pretty straight forward like squares or circles.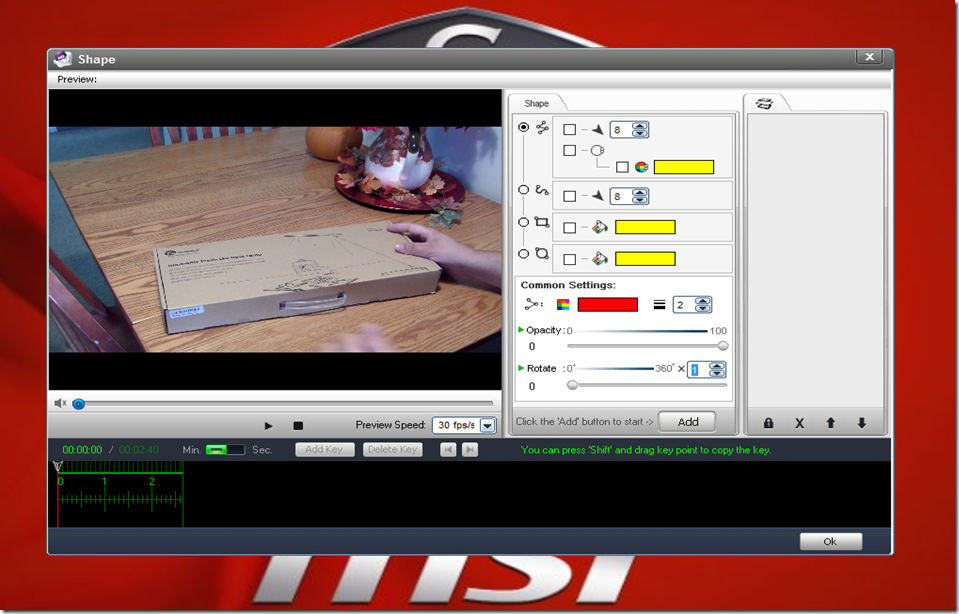 Now as for the images you have many choices like animated gifs, logos or your own images like maybe a product your working on. All great little pieces that make this software come to life and the ease of use is really awesome.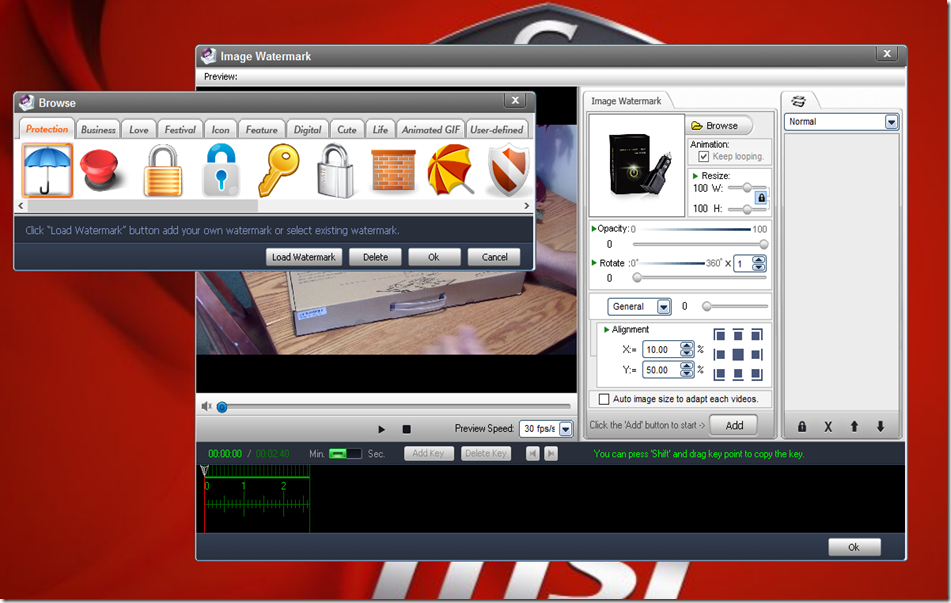 As you can see in the image above you have a second ribbon that pops up and give you a multitude of choices.  The possibilities with this part is great for what ever your working on you can add your own little touch with it.
Check out this video to see how i added are Dragonblogger site link and a image or a product i did a review for.
Now as you can see this software is nice on so many levels for the general user or to a budding professional who wants to leave their site link or business name in the video. When said and done Aoao Video Watermark Pro is a great little tool for the arsenal and for the price you can't go wrong with it. Now I'm just a novice user and still learning this software and I'm sure there are more things that can be done with it and it will keep evolving will using this as I'm sure you all will also if you pick this software up as well.
To me, this is a solid 4 star product for the ease of use and the simple elegance to the user interface. With it on sale right now for the price of $34.95 you can't go wrong. This would make a great Christmas present for anyone who likes to work with videos or even just the mother at home who likes to add lots of videos of her family, animals, or anything that can be recorded and add names or logos to.  They even have  a software to add watermarks to just pictures if your interested in that also.
Aoao did a nice job when they made up this software!
Disclaimer: Aoao provided me with a full license copy of Aoao Video Watermark Pro  to review.  All opinions are 100% mine and mine alone.
Hi everyone I'm James Braga. I was born in Oregon and moved to New Hampshire a few years back. I love most things that have to do with video games and electronics, It doesn't matter if it for a car or a house, if it has electricity in it i will love it . I'm also in school for Information Systems Technology.