Apple iPhone 4 has been one of the greatest inventions in the field of technology, with almost no end to the number of applications the phone has shown the world. And now, this goes to the next level, with the iPhone 4 getting ready to take off into space!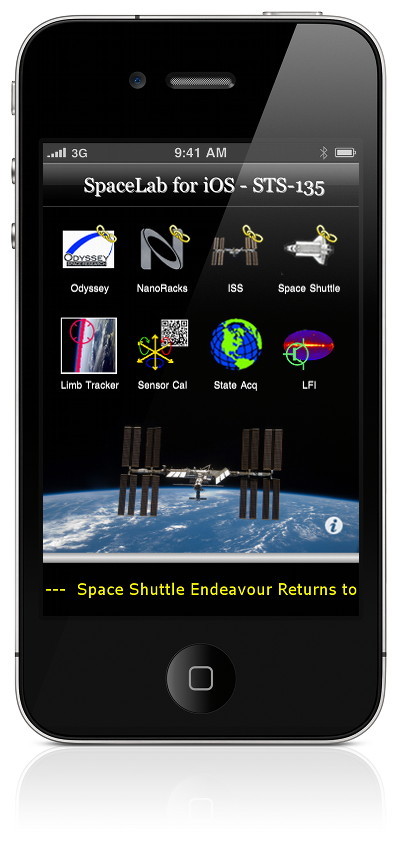 SpaceLab for iOS has developed a special application to perform some of its experiments on two of the Apple's iPhone 4, which will be part of the historic final mission of the Space Shuttle program on the orbiter Atlantis. The Application was designed by the Odyssey Space Research, which will be conducting four experiments, using the phone's Gyroscope, Accelerometer, Camera, and other sensors.
"I'm pretty sure this is the very first iPhone to go into space. For the kind of work we do, that suddenly made it a far more interesting platform," said Odyssey CEO Brian Rishikof.
Check out the list of the four experiments which will be conducted using the Apple iPhone 4:
Limb Tracker
This utilizes the phone's camera to take pictures of the Earth's surface  and calculates the altitude of the iPhone, using the off-angle axis with respect to the Earth's center.
Sensor Cal
The tool is used to calculate the sensor calibration, with reference to a series of pictures, using three-axis gyro and accelerometer measurements to calibrate the gyros and the accelerometers.
State Acq
A short form for State Acquisition which gives the position of the spacecraft based on the latitude and longitude, by calibrating from the Earth's pictures and matching them with the mainframes of its coastline.
LFI
Lifecycle Flight Instrumentation detects any space radiation effects by monitoring certain areas of memory for Single Bit Upsets.
The Apple iPhone 4 has been tested and certified for the space mission. The SpaceLab app is available for download from the iTunes store for $0.99, to give users a feel of what the phone will be used for along with a couple of simulations.