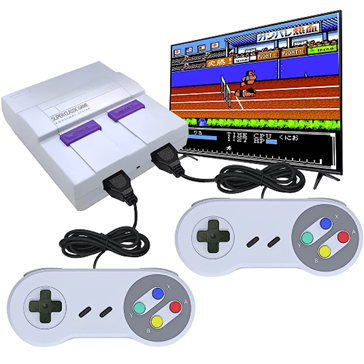 Looking for a retro console to enjoy your favorite games and also work with an HDMI port?
If you were born in the 80s then you will surely know that the games of before were nothing like those of now and I mean that the graphic quality was low, but I would say that some retro games could offer hours of fun without having an ultra-realistic graphic quality. Games like Mario Bros, Contra, Galaxian, Tank, and others, are incredibly fun even in 2023. I would say you don't even need a console to enjoy those games, there are emulators that can run most games. But as you know, nothing will be better than using a console instead of relying on a computer.
You might think that there are no longer consoles that run retro games, but the truth is that there are still manufacturers that will be responsible for manufacturing consoles so you can enjoy your favorite games again. Best of all, most work with HDMI, so you can use the retro game console on your LED TV without any problems unlike the RCA cable used by older consoles. Most retro consoles include hundreds of pre-installed games, so you don't need to download anything, everything is ready for you to play almost immediately.
The FougeiTTs retro gaming console is what you need if you are looking to enjoy all those games from the 80s-90s, so it is ideal for your kids to enjoy those amazing games too. It's easy to use and you don't need to download or install anything, everything is pre-installed so you can start playing. Below, discover the most interesting features of this product.
Features of the FougeiTTs retro game console
821 games installed
As I mentioned earlier, you don't need to download anything, the FougeiTTs retro game console includes 821 games installed so you can enjoy your favorite classic games. Would you like to play Mario Bros? With this retro game console, you can do it without any problem. Make your child enjoy these games with you, so you can teach them what the real games were like instead of giving them a PS5 or a PC with an RTX 4090 (just kidding lol). I think 821 games are enough for you to have fun for hours, so, this is your chance to bring back nice memories. Something you should keep in mind is that some games are not in English (some will be in Japanese), but that is something that probably will not affect your performance.
Works with HDMI
Forget about RCA cables (which are incompatible with most modern TVs and monitors), this retro gaming console supports HDMI and, as if that were not enough, it supports 4K resolutions so you can enjoy your games in a quality never seen before, you know, old TVs looked horrible. Remember that you must install anything, just connect the console to the HDMI port of your TV or monitor and you can start playing immediately.
2 controls included
So, you can enjoy your classic games with your family or friends, 2 controls are included, which are easy to use, so anyone can learn how to use them. You can pause the games and in general, the controls will respond the same as the old consoles did. Something you should keep in mind is that the console will not save the progress of the games (like the old consoles), but if you think about it that is something that was never important, retro games are usually short.
You can buy this item here on Amazon
My name is Joel! I love to read, I go to university like most people my age.
In my free time I usually train boxing, I love music, I also know how to play the guitar and the harmonica.