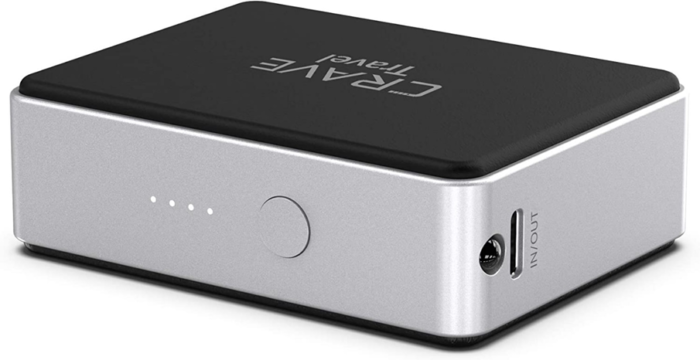 Do you need a portable charger that offers great performance? Crave has what you need
When we need to travel for a few days it is normal that the battery of our cell phones ends up dead and that can become a big problem if you need to make a call or send an important message. Whether you are in the office, at university, traveling, or have electrical problems at home it is important to have a good portable battery, so you can recharge your cell phone no matter where you are. The main feature of a power bank is that they are usually economical, so you can get them with a good capacity at an incredible price.
Before buying a power bank it is important to consider some aspects. If you are looking for a high-capacity portable battery to charge your cell phone or those of your friends then you need a high-capacity power bank, but they usually have a larger size so it is likely that you can not carry it in your pocket in a comfortable way. On the other hand, a power bank that offers a little more than 5000mAh will give you enough energy to charge your cell phone almost 2 times, which is ideal for daily use.
The Crave power bank is designed to give you enough power to charge your cell phone more than once. It offers great performance despite having a portable size, so being useful when you have to travel away from home for a few days. It is compatible with most brands of cell phones, so you will not have any problems. The best thing about all is that it is available at an incredible price. Below, discover the most interesting features of this product.
Features of the Crave power bank
If you plan to travel away from home for a few days, then the Crave power bank will be a great help in case you don't have an outlet nearby. The main feature of this l portable battery is that it is designed to fit almost anywhere, so it is designed so that you can carry it even in your pocket, which is incredible if you consider that some power banks have uncomfortable designs that make it difficult to carry them in your pocket. No matter where you go, Crave will back you up with reliable power for your phone. Another feature of this power bank is that it offers a capacity of 6700 mAh, which is an amount that will allow you to charge your cell phone up to 2 times, which is useful if you plan to spend a few days away from home. You don't have to worry about compatibility, the Crave power bank is compatible with iPhone, Samsung, Google Pixel, and most Android phones. Best of all, not only can you charge cell phones, but you can also charge an iPad, GoPro, or Bluetooth speakers. This power bank has USB Type-C and USB-A ports, which increases compatibility with your devices. Please note that only the charging cable is included, you will need to use your own cable to charge your cell phone. Finally, when you buy the Crave power bank you get 18 months warranty.
You can buy this item here on Amazon