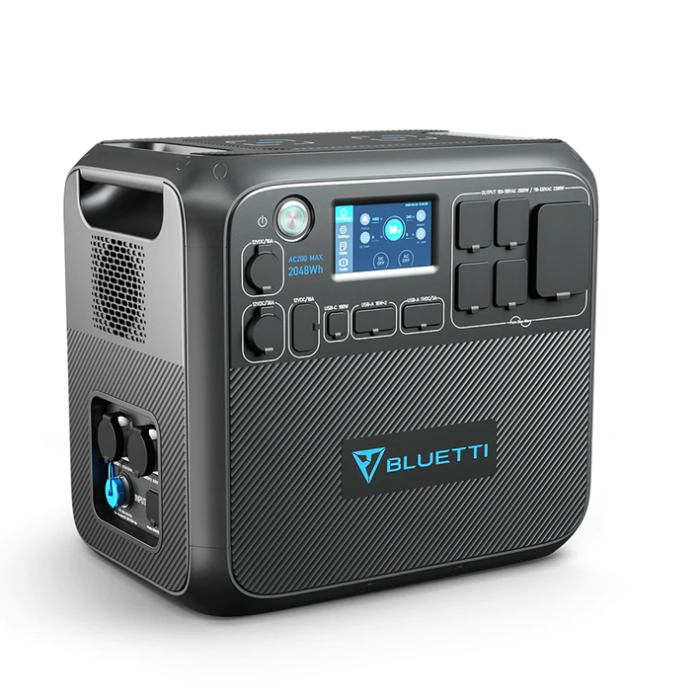 Need a high-performance power station, but can't find the power you need? BLUETTI has one of the best portable powers stations
If you usually have electrical problems in your home or just want to travel for a few days, then you will know the importance of having a good source of energy if you plan to use your devices. So, the portable power station is one of the best options to consider if you want to use your electrical equipment no matter where you are, it has many advantages compared to an electric generator that runs on gasoline. You should keep in mind that portable power stations can offer different types of power, so the price increases when they choose one that offers better performance.
BLUETTI is undoubtedly one of the best brands if you are looking for a reliable portable power station. BLUETTI has a power station of all prices, so you can find some designed to work on devices with medium-low consumption to powerful power stations designed to work with high-consumption electrical equipment. Best of all, they offer a warranty of up to 4 years on high-end products.
The BLUETTI AC200MAX expandable power station is probably one of the newest products you can find, not only offers incredibly high power but modern features that can increase the power of the power station. Not only is it powerful it also has a fast loading time that is much better than all the competition. Below, discover the most interesting features of this product.
Features of the BLUETTI AC200MAX expandable power station
The BLUETTI AC200MAX is a high-end power station so it offers a power of 2,200W (2,048Wh), this allows you to connect almost any electrical device without limitations, unlike lower power stations. The BLUETTI AC200MAX is so powerful that you can use a 150W refrigerator for up to 10 hours, a 5,000BTU air conditioner for up to 4 hours, a 1150W coffee maker for 1.5 hours and all these products I mentioned above are high consumption, so rest assured that no low-performance portable power station will even be able to do it work. In lower power devices you will get unparalleled performance, for example, you can use a 10W bulb for up to 150 hours. In the BLUETTI AC200MAX, you can charge laptops, cell phones, flashlights, cameras, and many more devices, best of all, you can use it for hours without worrying about the remaining battery.
+3,500-cycle battery life
Another of the most interesting features of BLUETTI portable power stations is that their batteries have an amazing lifespan. The lower power models offer a useful life of +2500 cycles, but the battery of the BLUETTI AC200MAX is designed to offer a useful life of +3,500 cycles, which means that this station should work without problems for more than 5 years. Remember that this expandable power station has a 4-year warranty, so if for some reason the power station does not work properly, then you just have to contact BLUETTI to solve any problem. The warranty is certainly a good thing, many brands only offer a 2-year warranty and BLUETTI offers 4 years for this model.
Power expandable up to 8,192 Wh
So, it's time to know the main and novel features of this power station. The BLUETTI AC200MAX can increase maximum power thanks to its novel expandable battery system, but what exactly is this? Well, the AC200MAX model has 2 expansion ports, which means you can connect external batteries, which significantly increases the maximum power up to 8,192 Wh. To increase the power, it will be necessary to buy BLUETTI B230 batteries (2 to obtain a total power of 6,144 Wh) or 2 BLUETTI B300 batteries to obtain a maximum power of 8,192 Wh. Please note that batteries are sold separately and are available at the official BLUETTI store.
Fast charging and multiple ports
Another feature of the BLUETTI AC200MAX power station is that it can recharge incredibly fast despite offering great performance. You can recharge the power station from an outlet (500W charging) and charge the power station in 5 hours, it also supports solar charging (maximum of 900W), so if you use a 900W solar panel you can charge the power station in just 3 hours, charging from DC port is slow (a 10V /20V output will take 10-20 hours). The BLUETTI AC200MAX has something more impressive, supports dual charging, which means it's possible to have your portable power station fully charged in up to 2.5 hours. Dual loads can be combined with double AC adapters or AC adapter and solar panels. Finally, the BLUETTI AC200MAX includes all the ports you need (AC ports, USB-A ports, 100W USB Type-C, and DC ports).
You can buy this item at the official BLUETTI store
My name is Joel! I love to read, I go to university like most people my age.
In my free time I usually train boxing, I love music, I also know how to play the guitar and the harmonica.