We are influencers and brand affiliates.  This post contains affiliate links, most which go to Amazon and are Geo-Affiliate links to nearest Amazon store.
It seems like everyone now days is needing a good gaming chair. Not all chairs are made the same and some can be rather spendy. If you're like me right now saving some cash could be a good idea but will buying a cheap chair be worth it in the end. Well, you're in luck because today we take a look at a chair that is under $200 right now on Amazon. This chair is from Atelerix. It is their Ventris Noir Gaming Chair. The chair itself is black in color and made from a cloth fabric. Unlike some of the other chairs, I have reviewed in the past. The one thing that does not change from the other chairs that I have done in the past is the large box that they all come in. Now, unfortunately, that file was corrupted and I can not post it here but you can see the size of the box in the unboxing video I did below. I do however suggest that you have someone to help lift it or carry it to where you're doing your install at. The box has some weight at around 50 pounds and also is awkward in size so carrying will be difficult for some.
Check Out The Ventris Noir Gaming Chair Unboxing Here!
Atelerix Ventris Noir Box Contents:
Inside the box, you get everything you need to put the chair together. You get the seat back, seat bottom, two armrests, five two and a half inch wheel casters, two armrest covers, one gas lift cylinder, one 5 star base, and the bolts and Allen tool. You also get two seat cushions and one stress toy. Usually, I post tons of photos from the unboxing but like posted before the photos were corrupted for some reason. For that, I apologize. You are able to see every piece in the video above since I unboxed it and putting the chair together on video.
Atelerix Ventris Noir Chair Materials:
The Atelerix Ventris Noir gaming chair is made from several types of materials. First are the metal base and seat bracings. Then you have the high-density Nylon Base. The fabric that covers the whole chair is a nice breathable weave made of a special blend of breathable mesh fabrics. The inner padding/foam is toulene foam interior for increased durability. On the fabric, you have the stitched brand logos which are stitched with white thread. Which is a nice contrast from the black fabric!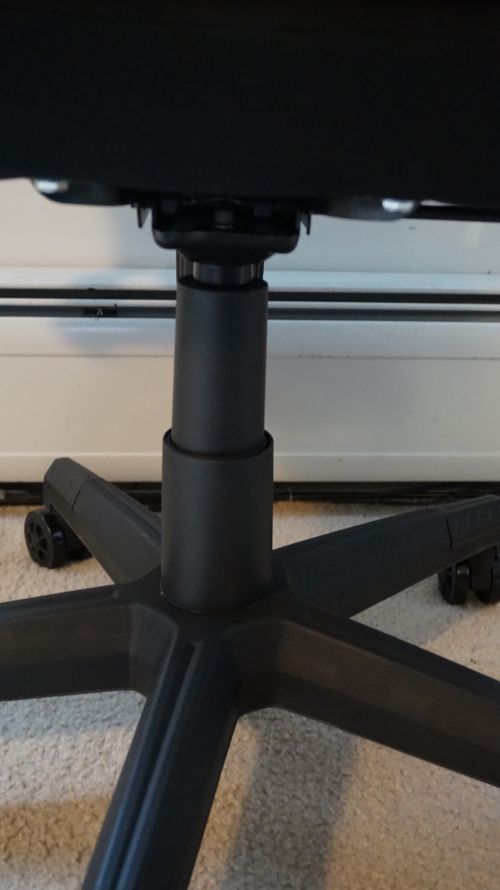 Atelerix Ventris Noir The Armrest and Removable Pillows
The pillows are made from memory foam and has the same breathable fabric as the chair. The armrests are made from Nylon plastic. The armrests are what they call 4d and can move in many positions they say you can adjust to 189 different positions. I will not be testing and counting that but can tell you they move side to side, Up and down, swivel. The armrest also come with fabric covers that are made from the same fabric as the chair coverings. The covering had me a little excited because if you like me you get tired of the sharp edges on the armrest that leave marks on your arms after having them laying on the plastic all day.
Atelerix Ventris Noir Gas Lift And Chair Positioning
The gas lift that sits between the metal mechanical base on the chair and the nylon base are a class 3 lift. This means it can hold someone up to 300-pounds. This lift glides smoothly up and down in position. I would have loved to see a class 4 but class 3 does the job. The lift can be moved by using the handle on the mechanical bracket on the underside of the chair.  This will also be where you find the anti-rocking lever. The rocking level will allow for the chair to be able to lean back if you like to be able to lean back and take brakes. You can also use the lever on the side of the chair to lay completely back all the way from 90 degrees to 180 degrees.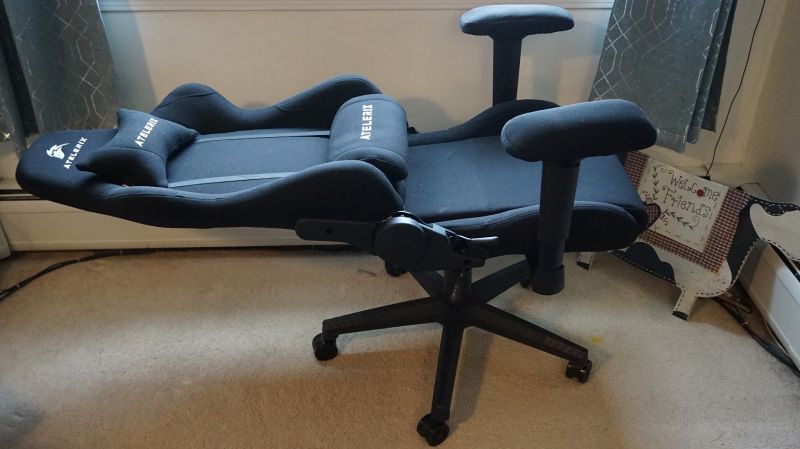 Final Thoughts on the Atelerix Ventris Noir
When all said and done the Atelerix Ventris gaming chair is decently priced at bellow 200 dollars. Which is hard to find anymore but is it worth that money. You get some nice quality part mixed with some lower-end stuff. Now, this doesn't hurt the end-user what so ever. I have used this chair for the past month or so and it has held up just fine for someone my size. The fabric has been easy to clean from just normal wear and tear of daily use dirt.  I have not noticed any mechanical issues so far. So build quality has beat my expectations. I love they added the armrest covers and think you may enjoy that also I wish other companies did this or at least gave you the option. When laying back in the chair at 180 degrees it holds me up just fine but feels weird to do so since your legs are technically not supported. The lumber and neck support pillows are great but for someone like me I always end up removing the bottom one so I can site my rear end in the seat farther but that may just be me.
Now I used the Ateleric Ventris gaming chair for the past month to make sure the price met the build quality.  I used this chair for daily streaming to long gaming sessions. The chair seemed to hold up well and seemed to be very comfy. I had no issues sitting in the chair for hours on end. Not once did I get a hint of back issues or back pain from long periods of sitting. Plus with the chair at the main PC it got used by my wife who also said it was very comfy for the low price.
I guess the big question is, do I think the Atelerix Ventris gaming chair is worth the money and will last. For that my answer is! Yes, I think it worth the money if you're trying to save a few bucks and I think it will last you a few years depending on how much time you spend it in it.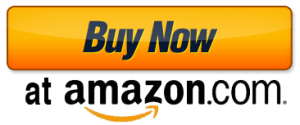 We are influencers and brand affiliates.  This post contains affiliate links, most which go to Amazon and are Geo-Affiliate links to nearest Amazon store.
Hi everyone I'm James Braga. I was born in Oregon and moved to New Hampshire a few years back. I love most things that have to do with video games and electronics, It doesn't matter if it for a car or a house, if it has electricity in it i will love it . I'm also in school for Information Systems Technology.