We are influencers and brand affiliates.  This post contains affiliate links, most which go to Amazon and are Geo-Affiliate links to nearest Amazon store.
Plastic has been a nemesis of the environment for more than a hundred years, and the situation will continue to worsen as time goes by. While plastic bottles are recyclable, most of them are either burned or littered in the environment such as landfill sites, and oceans around the world instead of being recycled. There are many eco-friendly bottle alternatives available in the market now and many people are starting to shift towards the latter. In this article, we will be taking a look at one of the advanced alternatives to plastic bottles. Introducing Auron, a self-cleaning water purifying UV-C smart bottle.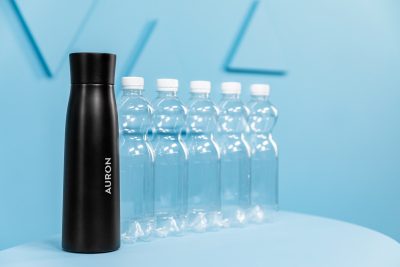 Auron Features
UV-C light purification system
Auron has a  UV-C light purification system fitted on the bottle cap. The UV-C light acts as a disinfectant and kills off all the bacteria and purifies the water. Auron claims that it can purify the water within 60 seconds. Having a built-in UV-C light means that there is no need to replace any filters or cartridges. Enabling the purification process is as simple as filling the water to the indicated line and twisting the bottle cap. That's it, now you just need to wait for 60 seconds to enjoy clean water.
Double Walled Vacuum Insulation
Auron has a vacuum-sealed lid and comes with double-walled insulation. The double-walled insulation prevents condensation that usually happens with most bottles causing the bottles to sweat and make a mess. The vacuum-sealed lid makes Auron completely spill-proof. It can hold any type of beverage be it hot or cold. The vacuum-sealed lid prevents air from seeping in and avoids conduction or convection, which helps keep the beverage/water hot for 12 hours and cold for up to 24 hours.
Smart Features
Apart from the smartest feature (UV-C light that literally purifies water in 60 seconds), Auron also has a built-in temperature display on top of the lid that shows the temperature of the liquid inside the bottle with a simple tap. How cool is that? Auron also has a reminder feature that reminds us to drink water every hour once the feature is activated. This is super helpful when kids or people busy with their work forget to stay hydrated. Auron's UV-C light is long-lasting and can last up to 300,000 purification cycles while the battery lasts up to 2 months. The long battery life removes the need to constantly charge the bottle. And for when the battery runs out, it can be charged through a Type-C charging cable.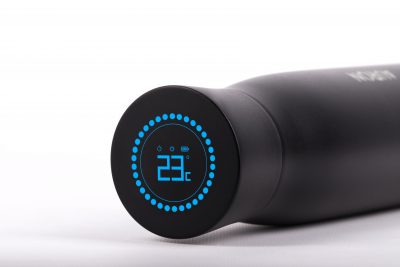 Traveller's Best Friend
Finding a fresh source of water is always troublesome for a traveller. With Auron, that issue is practically solved. Since the built-in UV-C light can purify water in 60 seconds, one can fill their bottle from any source of water such as a lake, rivers, fountains, restroom tap, etc. However, I personally would wait for a proper product review of someone testing out how well the UV-C light can purify water.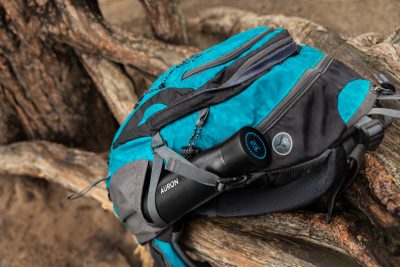 Highly Durable
Auron is made with high-grade stainless steel which makes it extremely durable. Auron is resistant to shockproof and prevents it from denting. It is also resistant to rust and corrosion, which makes it suitable for any type of weather condition.
Environment Friendly
Auron bottle was created by a frequent traveller with sustainable travel in mind. The main goal of Auron is to reduce the number of resources and wastes just to fill a container with water. Having a single bottle of Auron instead of multiple disposable plastic bottles over time will reduce fossil fuel consumption and eliminate waste from thousands of plastic bottles.
Final Thoughts
Auron Bottle is a great move towards a sustainable environment. It eliminates the need for plastic bottles and reduces unnecessary wastage. With a UV-C purification system, you can have access to fresh and pure water within 60 seconds at all times. Auron is strong, durable, long-lasting and will keep your drink hot/cold for hours. While Auron is a bit pricey, you can grab it at a discounted price of $65 which is around 57% off its original price while it's on sale on their Kickstarter page.
Find out more about Auron Bottle at  www.auronbottle.com.
We are influencers and brand affiliates.  This post contains affiliate links, most which go to Amazon and are Geo-Affiliate links to nearest Amazon store.
Hi my name is Rohan Jadhav. I am a guy who loves to play games and a tech lover. I like to be updated on all the tech stuff. I enjoy watching movies and I am currently doing a specialization course in VFX.