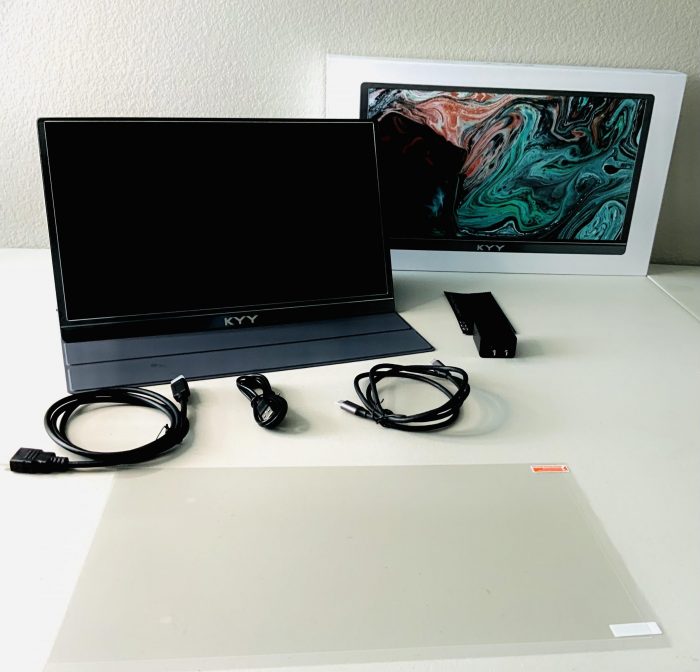 This 15.6 inch KYY Portable Monitor is lightweight, portable, and well equipped with everything you need to plug in and go. Upon opening the plastic sealed box, I was impressed with the detail put into the packaging. Every item was sealed and neatly placed in a separate compartment. This included the monitor itself. Which was placed within a protective shield and a grey case. The case itself allows you to adjust your viewing angle, it is scratch proof, and it is waterproof. It came with a temporary screen cover to help protect it during transit. In addition to this, it came with a screen shield and a wipe to allow the buyer the option of applying a more long term screen protector onto the device.
The 15.6 screen allows this portable monitor to maximize your viewing experience from a phone and can be used as the sole screen or used as an extra screen in conjunction with other monitors. If you do decide to use it with a phone, you will need a fully functioning Type-C port or an adapter to connect it to one. The product itself came with multiple cables. This includes: a USB-C to USB-A cable, a USB-C to USB-C cable, and a mini-HDMI to HDMI cable. Along with this, it came with a power adapter. This allows you to use the monitor on devices without draining power from the device it is connected to. The wide range of cables supports multiple devices and its user manual indicates what specific devices are compatible.
The monitor was both Mac (fully functioning Type-C) and Windows friendly. Connecting it to the HDMI was fairly easy. However, I had to play around with the Type-C port a bit to get the other devices to work. However, once I got the hang of it, it was awesome! The screen was clear and competitive to a standard monitor. The best part is it only weighs 1.7 lbs and is 0.3 slim. This made it easy to add on to my laptop accessories, but the quality was competitive enough to even add as a 4th monitor to my desktop. It has 1080P full HD, 178 degree wide viewing angle, and the monitor settings allow you to adjust the display. Using it for work, watching videos, and even reading Twitch chat was so easy to do. It has built-in dual speakers to listen out of, but also a 3.5mm headphone jack that you can listen out of as well.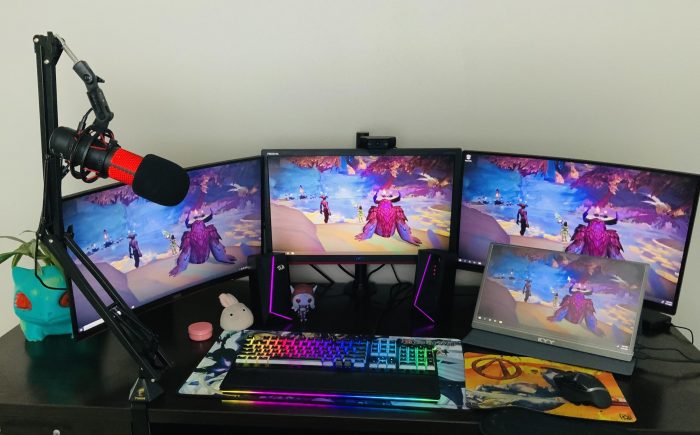 My friend was so stoked to try out this monitor on his laptop. We enjoyed watching YouTube videos on it while he was also able to work on his Mac. We were able to move our windows to the KYY monitor and select what audio output device we wanted to use in the computer's settings tab. Having multiple tabs open did not decrease the quality of the graphics or the processing time of our open windows. We were both really impressed with how easy it was to get started and the overall quality of the monitor. The application of this monitor is so vast and the portability of it really sets it a part from its competitors.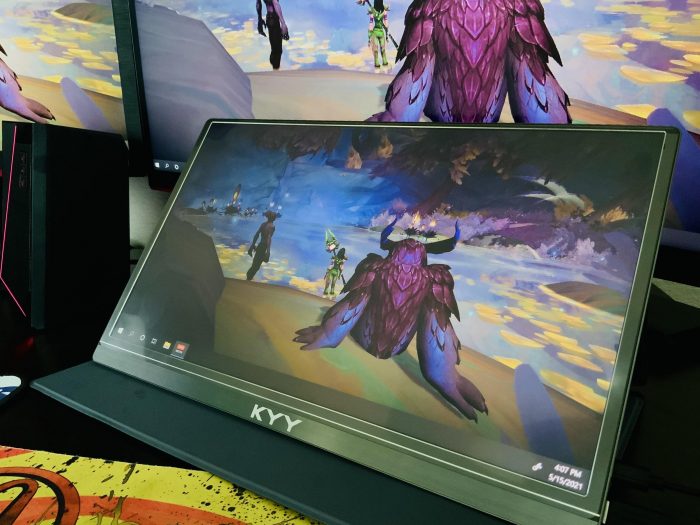 The fact that it comes with a stylish viewing case, multiple cables, and boasts 1080P FHD graphics makes it a winner in my book. Instead of getting a bigger phone or working from one monitor, the KYY allows you to enjoy your entertainment devices on the go and it increases the effectiveness of your workflow.  Right now you can get this excellent portable monitor for only $159.99 with a $20 clippable coupon at the time of this writing.