We are influencers and brand affiliates.  This post contains affiliate links, most which go to Amazon and are Geo-Affiliate links to nearest Amazon store.
Today for review we have something that probably every modder out there or even gamer is eager to get their hands on, that list included me as well until my call was finally heard. Today we have Avexir's recently Introduced RAMs in the market namely Raiden Series up for review, yup the one with the plasma tubes!
Until now we had only seen RAMs with normal heat spreaders, some with stylish finish on the heat spreader, some with LEDs installed over them like Avexir Blitz series which we reviewed in the past but it was time for something new, something unique , hence Avexir came up with a pretty cool idea I'd say and they introduced Avexir Raiden Series RAM which comes with exclusive Raiden Plasma Tube Type 1 installed across the top of the PCB of RAM.
Currently the Raiden RAM is only available in DDR3 and only design that we have up for review, but they are also developing Raiden in DDR4 and in other designs/solors as well to match further themes. Avexir is also using the standard Aluminum material for keeping the RAM light (which actually feels pretty heavy than norm) and cool. The Raiden as any other RAM from Avexir comes with life time warranty.
Avexir's Take on Raiden:
Raiden series is, a high performance DDR3 gaming memory modules, using world exclusive patented technology of plasma tubes to mimic lightening effect for gamers who seek true stimulation and real excitement, also proves the product making philosophy of AVEXIR once again: "What we believe is how we behave.
Specifications:
| | |
| --- | --- |
| Memory Type | DDR3 |
| Memory Configuration | Quad Channel |
| LEDs | No |
| Warrenty | Lifetime |
| LengthWidthheight | 14.2 cm0.9 cm6.3 cm |
| Speed (MHz) | 1600MHz – 3200MHz |
| Plasma Tube | Yes |
The specific kit that we have up for review is AVD3U21330904G-4RD which consists of 4x4GB DIMMs summing up to 16GB in capacity running at 2133MHz stock speed at 1.65v at C9 timings.
Unboxing:
Tons of thanks to Avexir for providing us with 2 samples for review so James from our staff did the Unboxing video which you can see in the video below. We also have some close up shots of the RAM below as well.
Here are some pictures I took of the RAM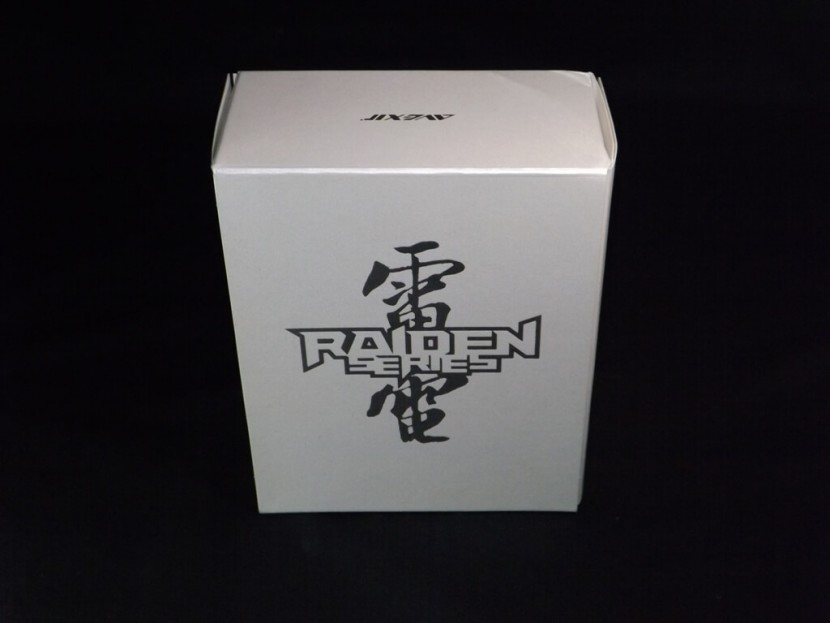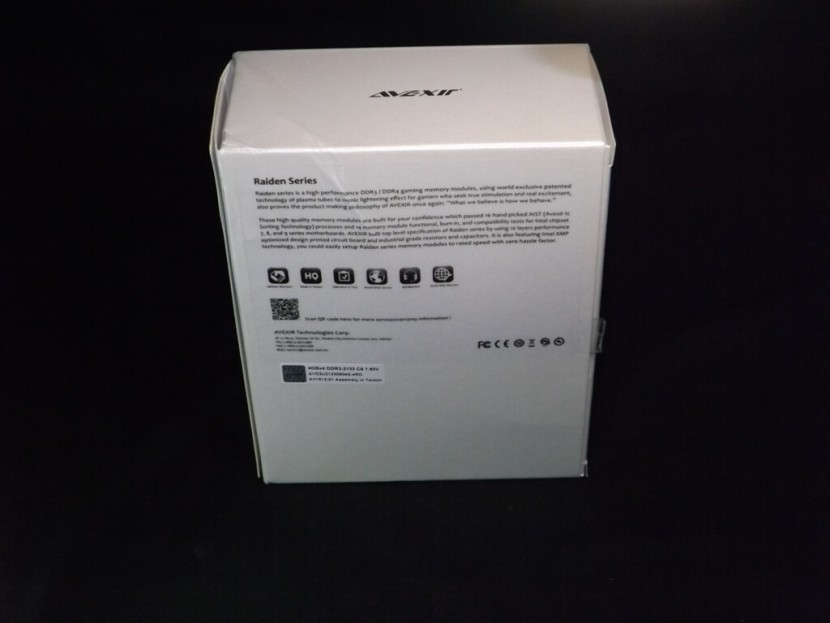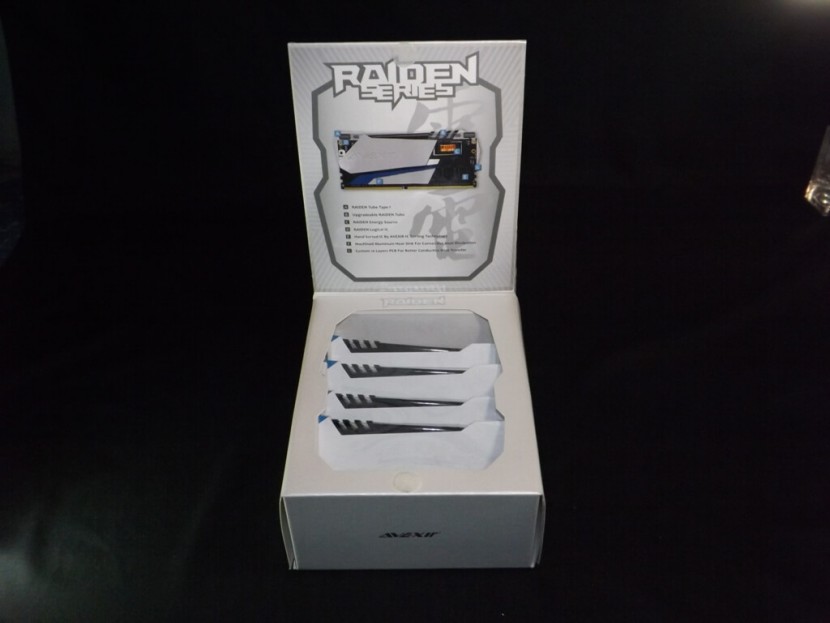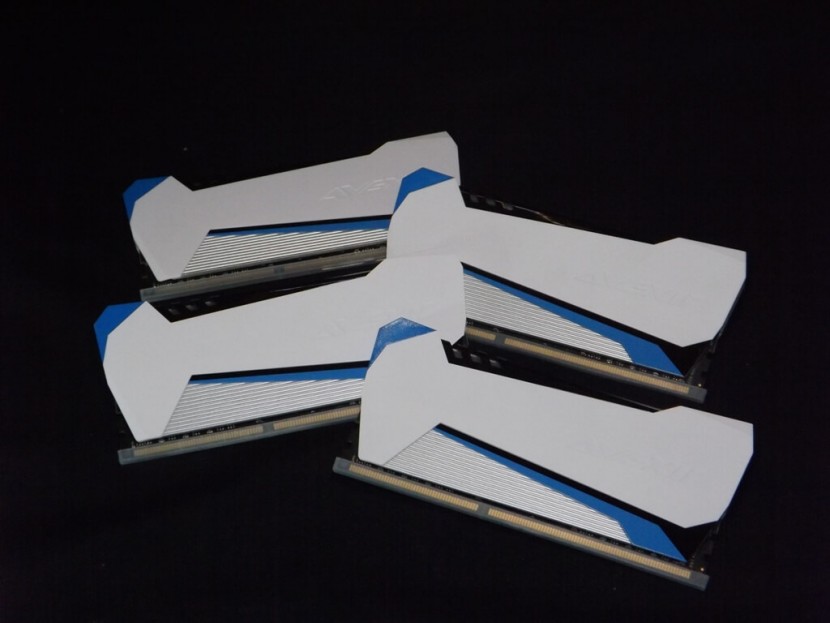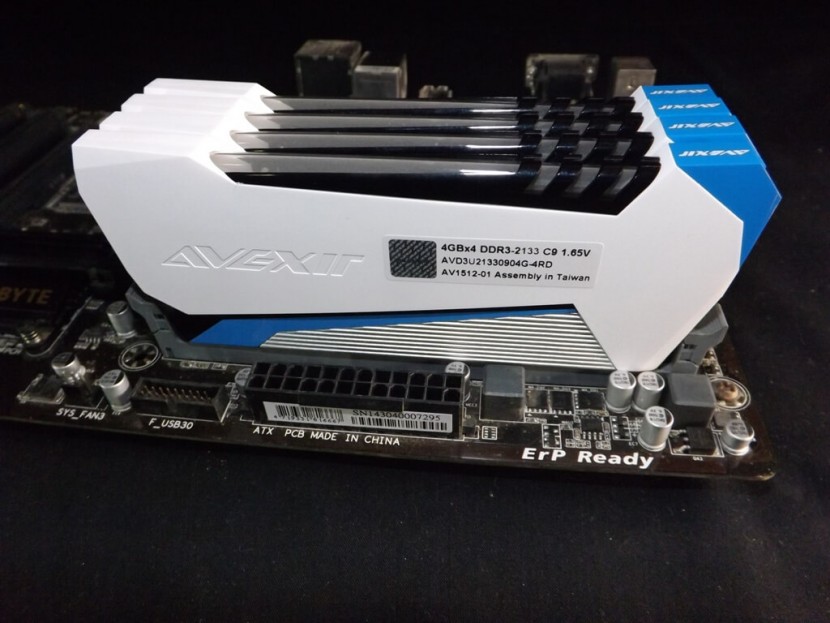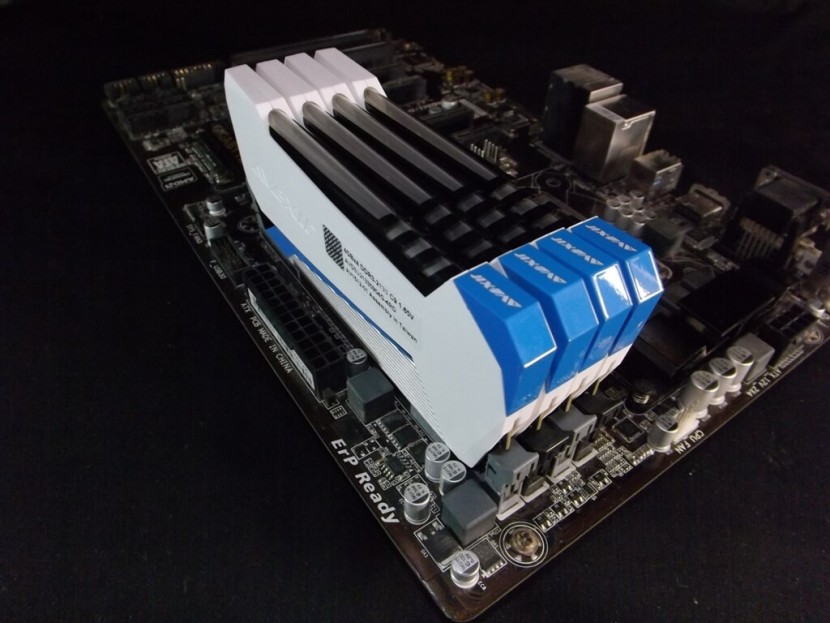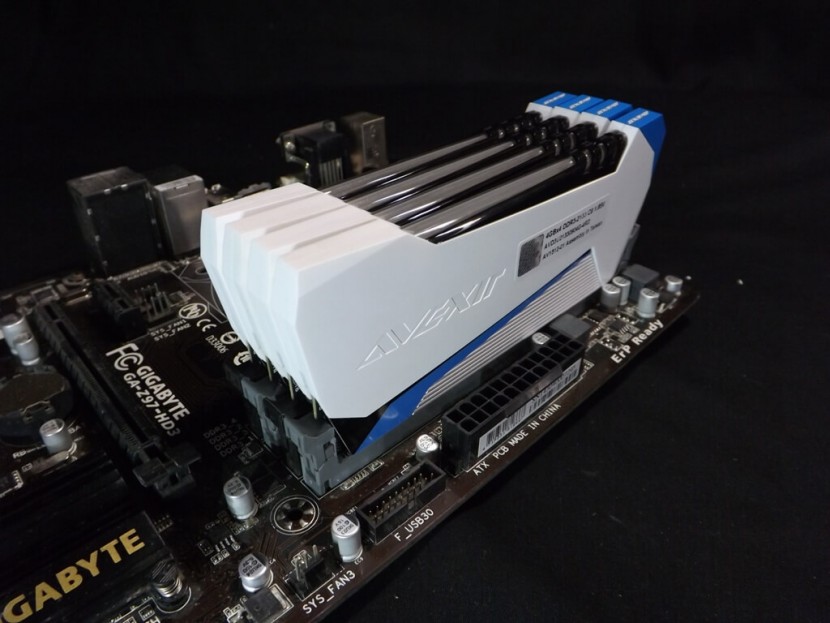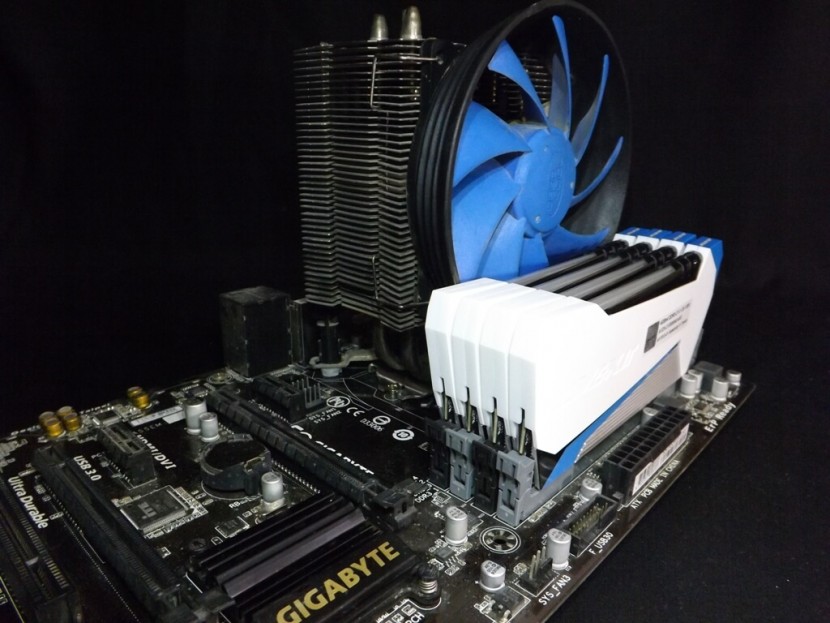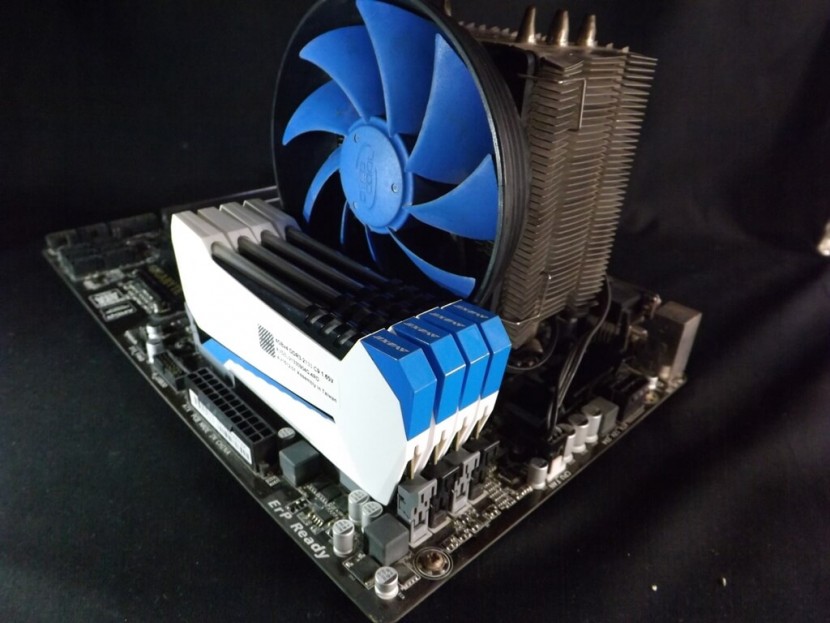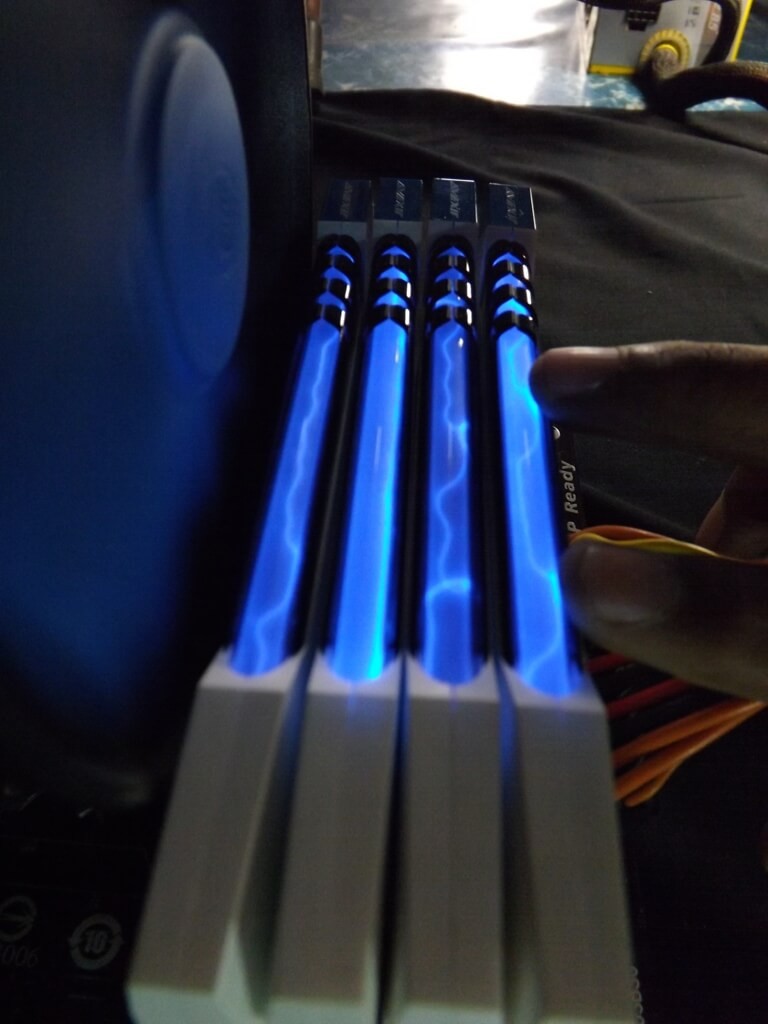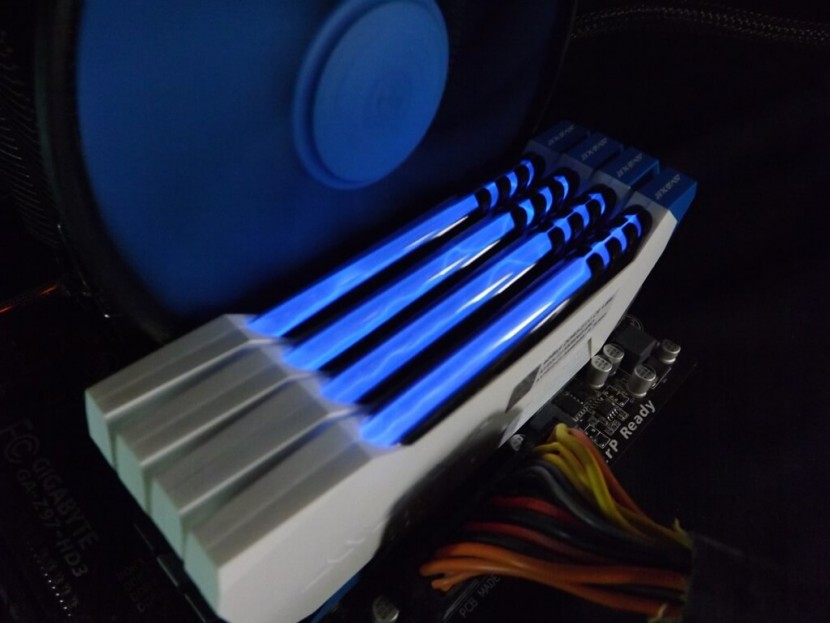 You can check out the whole album on our facebook page by clicking here.
Unlike Blitz 1.1 Series I was unable to find a way of dismantling the Heat spreader so I could've gotten a better look at the Plamsa Tube and the PCB. There certainly are few things I don't like about the new heatspreader/design. Simply put, the build is not sturdy in my opinion. The black plastic or aluminum part over the plasma tube isn't fixed, you can move/shake it a little bit here and there, also on one RAM it's separated from the center of it, the gap makes it look odd. The silver part of the heatspreader on one of the RAM sticks also seems a bit loose to me. Avexir surely need to do something about these little issues. Also something totally worth mentioning, unlike the Blitz series ram which was 0.08cm in width, just a increase of 0.01cm in the width of Raiden is making the RAM push each other a little bit on my board which is causing more heat than it should be.
Plasma Tube:
This is the main reason why every modder and gamer out there have their eyes set on the Raiden Series RAM. Those Plasma Tubes over the RAM are just so unique and beautiful that one simply can't hold back. Personally I don't have similar theme build but Raiden in a matching theme build can be overkill for the looks.
The Plasma tube has the same effect as that of a plasma ball you would normally see. There are random beams of light in the midst of the tube making random patterns, going here and there and also if you touch the plasma tube with a finger it would react and try to reach your finger as we normally see in plasma balls. Also there's a little buzzing sound coming from the plasma tube that isn't really that loud, you can't even hear it 1-2 feet away.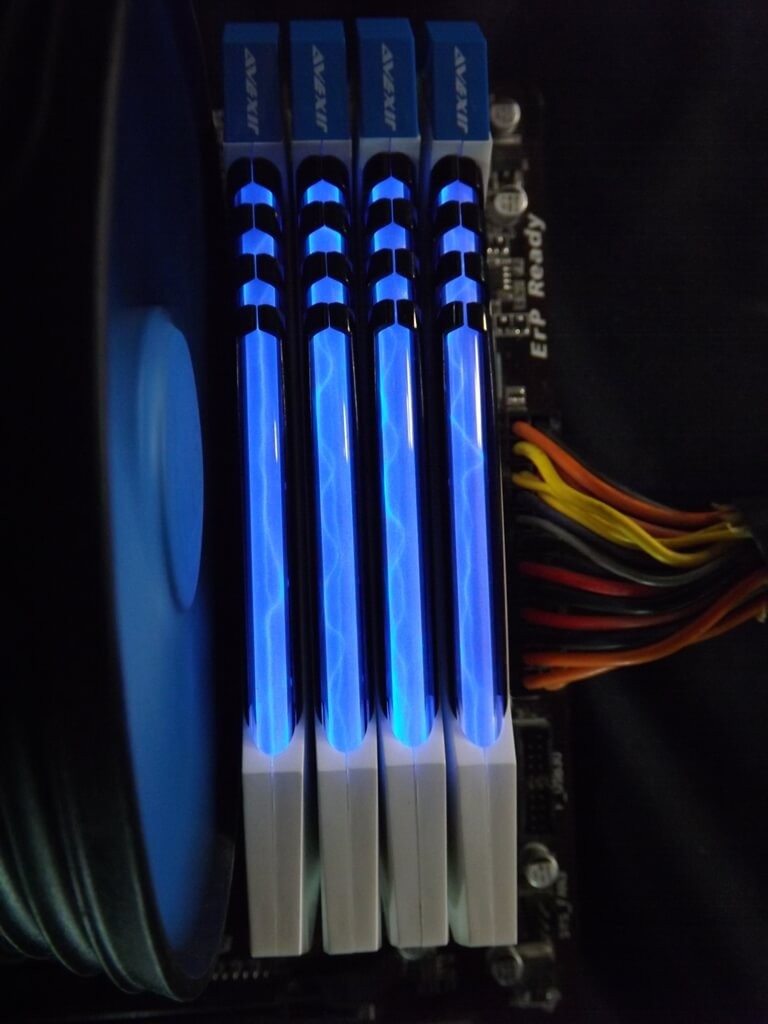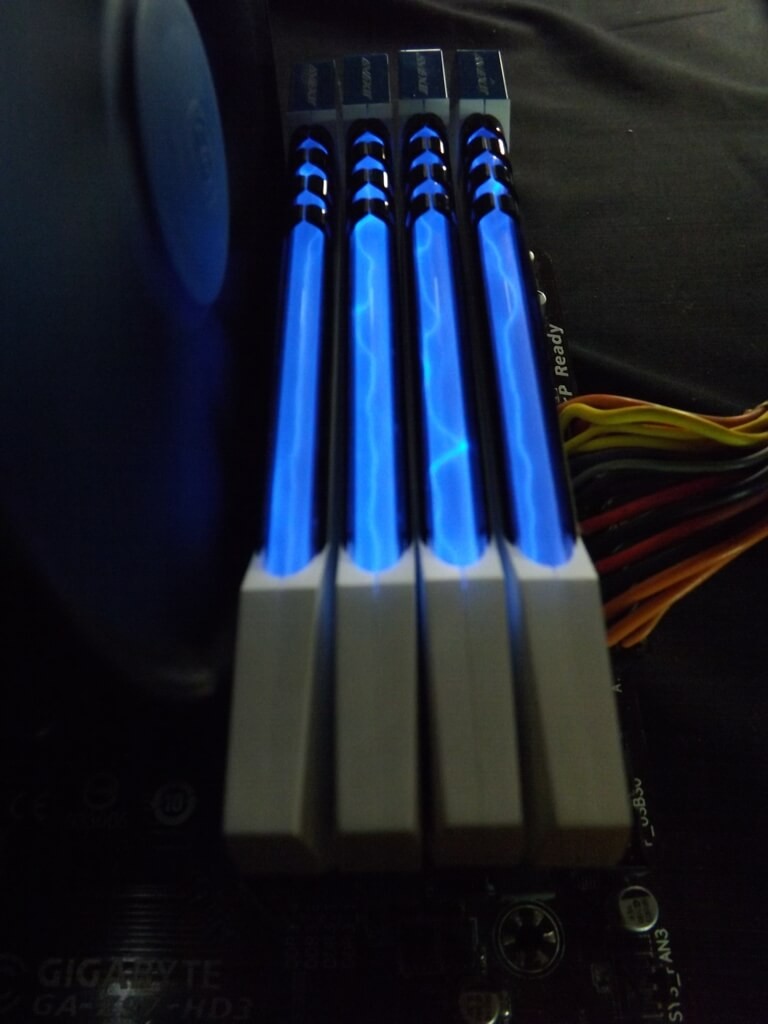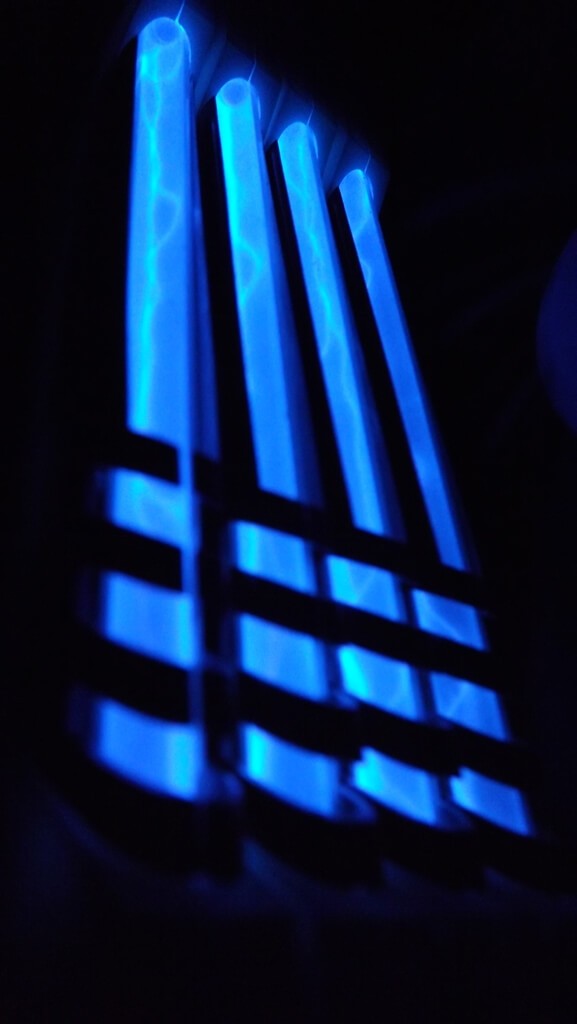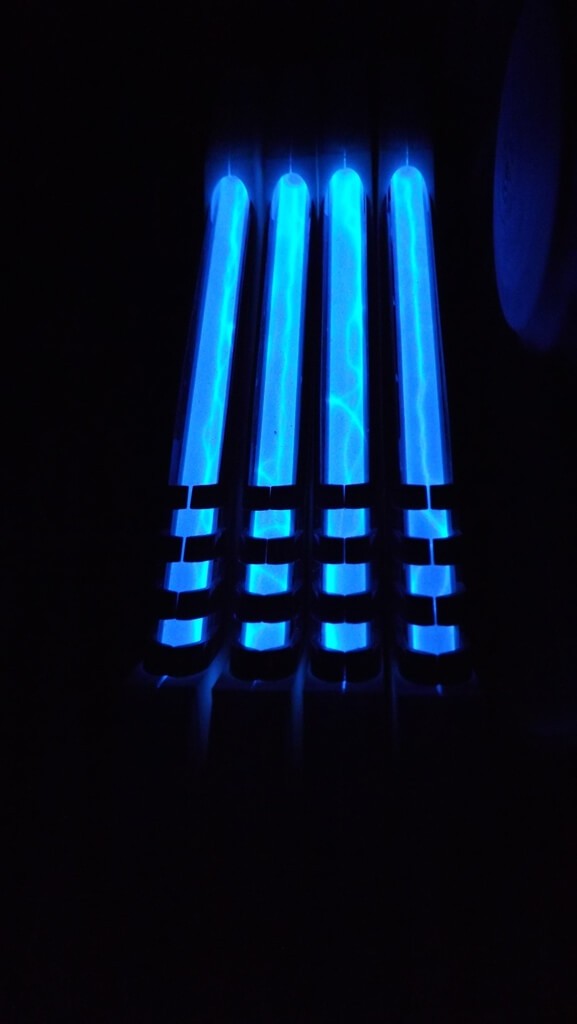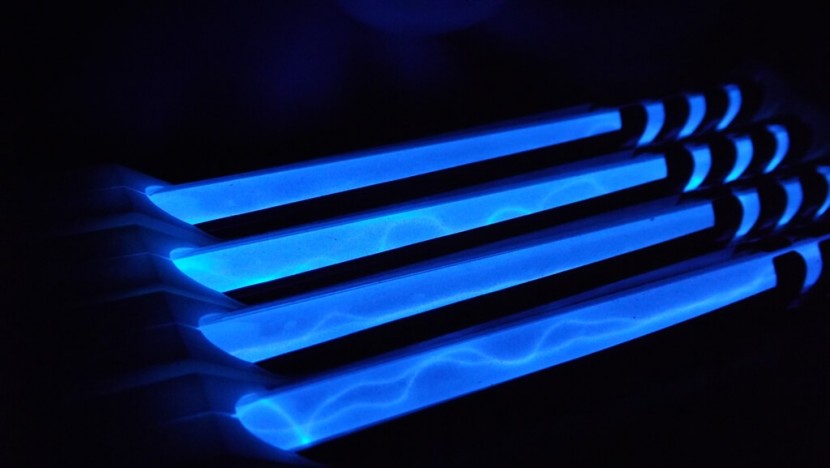 So enough with the eye candy, let's have a look at the performance as well cause these RAM doesn't only lighten ups and do nothing.
Test Rig
| | |
| --- | --- |
| CPU | Intel i5 4690K @4.2GHz |
| Motherboard | Gigabyte GA Z97-HD3 |
| RAM | Avexir Blitz 1.1 16GB (4x4GB) 2400MHz DDR3 |
| GPU | MSI R9 280X 3G |
| CPU Cooler | Deepcool GAMMAX S40 |
| SSD | PNY Optima 120GB |
| HDD | Seagate Barracuda 1TB 7200RPM |
| PSU | Chieftec Nitro Bronze 1200W |
| OS | Windows 8.1 Pro 64Bit |
| Case | None, open air. |
Methodology:
We are going to run the RAM through some tests like MaxxMem, Aida64 Extreme Memory and Cache test, 3DMark and some games at stock speed. Then we are going to check the RAM's overclocking sweet spot by increasing the multiplier and voltage and playing with timings. And once we've found the true sweet spot for overclocking, we'll run the same tests against the stock and compare.
Note:
There are few things that needs to be known about the test rig we have. First of all, the particular board we are using in the test doesn't support Quad Channeling and as you can see we have 4x4GB sticks. So in short, the performance/benchmark results you will see below is on Dual channel instead of quad channel. Which mean you can still squeeze out more performance from the RAMs while running on Quad Channel. Now Second concern is that, once again the particular board we have, it doesn't allow us to change the DIMM voltage by +-0.01 (i.e 1.65v to 1.66v), instead it only allows us to change the DIMM voltage by +- 0.02 (1.64v to 1.66v) so instead of running the RAMs on its rated volt of 1.65V, we were running the RAMs on 1.66v. More about this in overclocking section.
First Run:
Hitting the power button once the RAMs were installed in the test rig, we booted through the POST without any problem after the BIOS configured the RAMs on auto. By default the RAMs were running at 1600MHz with the XMP profile disabled, so in order to achieve the promised performance from the RAMs we have to play with the bios a little bit. And just by enabling the XMP Profile 1, we were running the RAMs at its promised speed of 2133MHz at CL9 timing on 1.65V.
Test on XMP Profile – 2133MHz @9-11-10-27-2T @1.66v
No problem at all running the RAM at its stock speed. We ran the RAM through stability test, did some gaming and nothing odd was observed.
But what was odd was, I didn't find any stable overclock with the particular kit we have. The RAMs just refused whatever we threw at it. The only stable OC I was able to get was at 2200MHz at the same timings as that of 2133MHz and that was all. No huge gains on OC here. I tried 2400MHz OC on Auto settings, on loose C10 and C11 timings, even increased the voltage to 1.7V but the Aida64 stress test keep showing showing error after a while at whatever the settings I put on 2400MHz. Considering that the RAM was rated for C9 clocks, it was odd to see the RAM won't even booting beyond 2400MHz.
There was a possible chance that my motherboard has gone bad, but just to confirm, I inserted the Blitz 1.1 series RAM and Overclocked them to 2800MHz with no problem whatsoever. There's also a slight chance that it can be because of the RAM was heating up more than it should be because the heat spreader was touching each other. They were pretty hot when I touched the RAMs while stress testing them. So clearly a let down on to overclocking part.
Performance and Benchmark: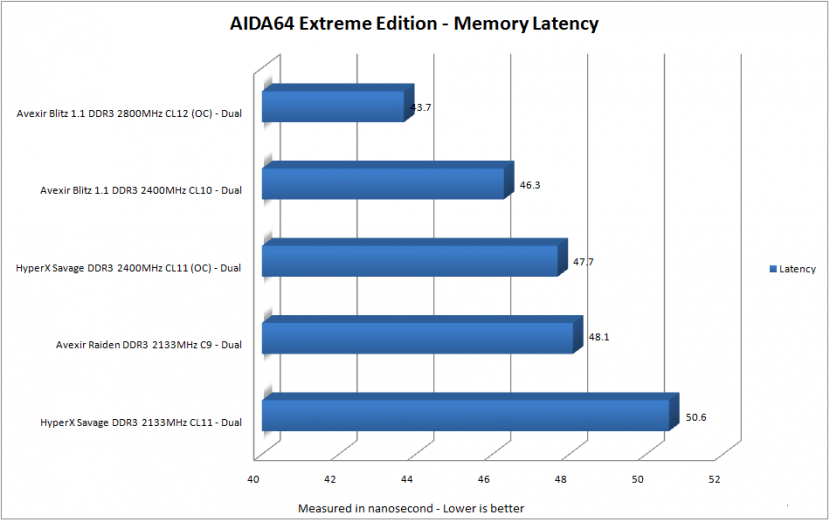 The latency for the Raiden Series on stock clocking is pretty good considering we have seen higher on the internet and HyperX Savage from the list at the same speed also have high latency, but since that's at C11 timings, we could have seen better results from Raiden as that's clocked at lower timing.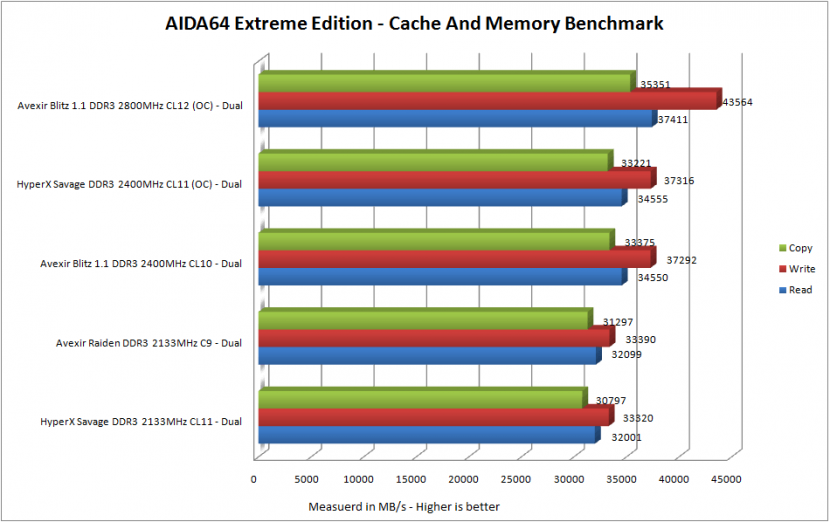 Almost similar performance as that of it's competitor in the list at same speed.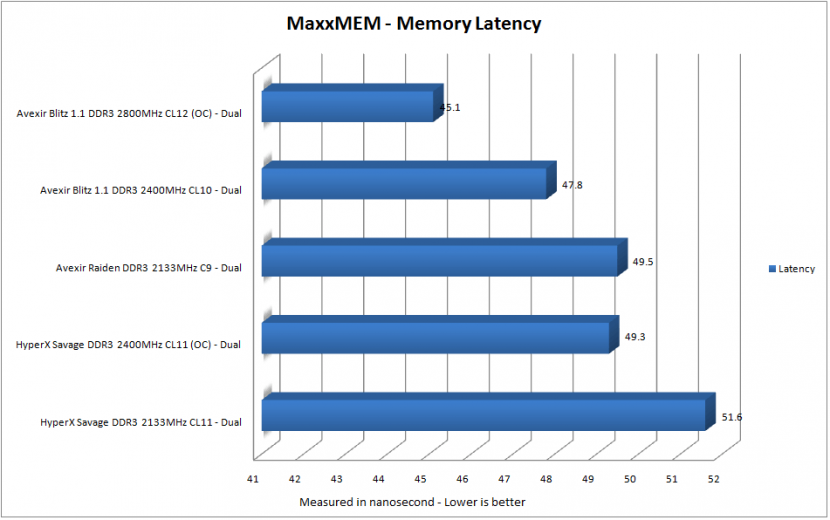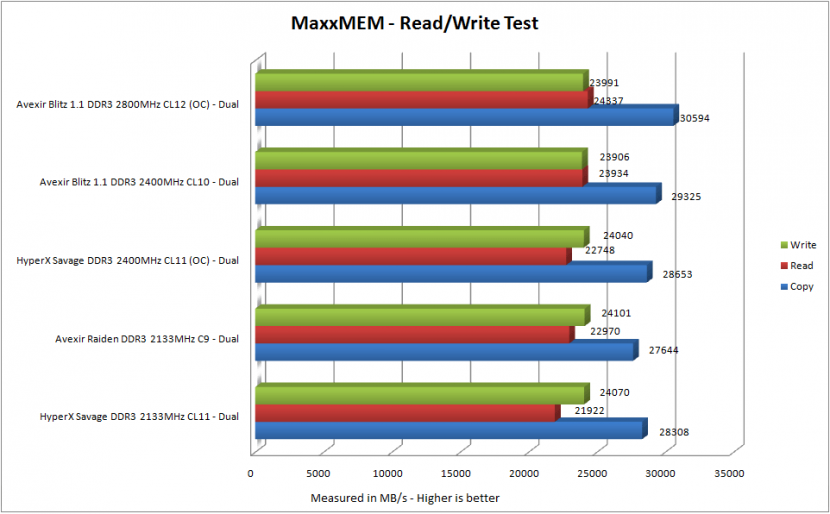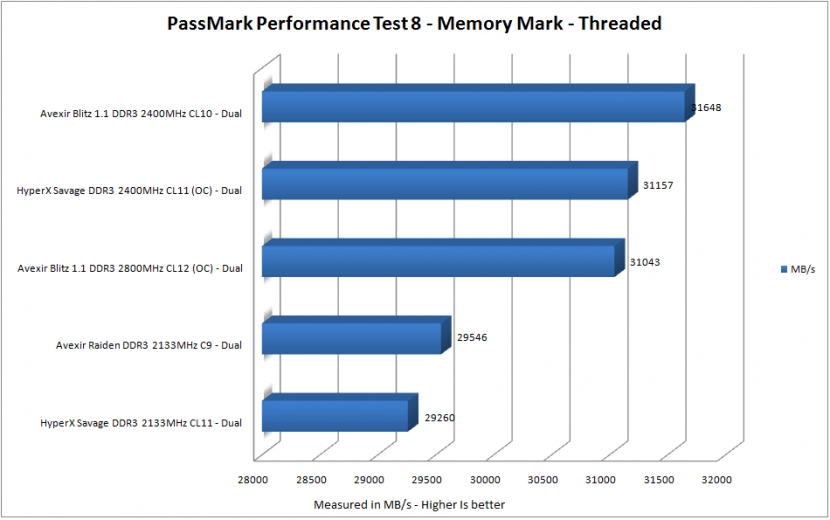 Yet again a close match up with the competitor in the list at same speed.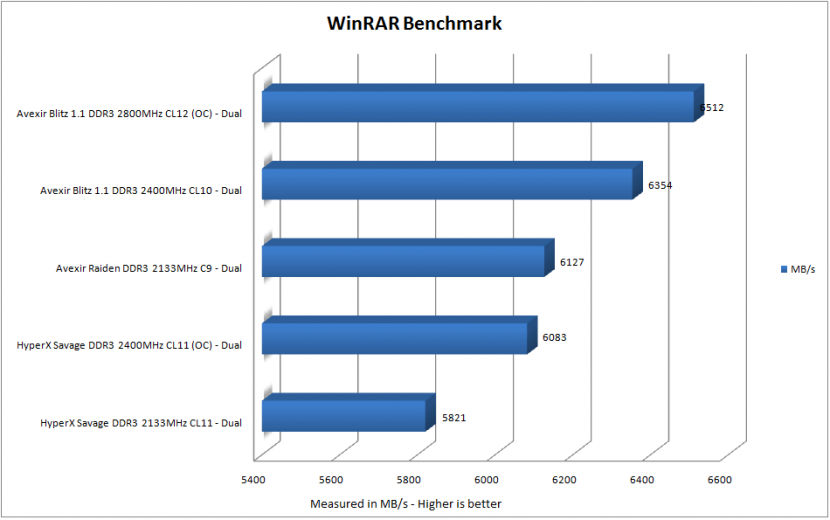 After few close match ups with it's competitor in the list at same speed, Raiden has finally taken over HyperX Savage in this field, not only against the stock Savage but when the Savage was overclocked to 2400MHz as well.
Unfortunately we couldn't do the Firestrike and games benchmark this time because of some technical issues with our GPU, but we'll update this article as soon as we've got the GPU up and running once again. And no that was not the reason of unstable overclock as the GPU was plugged out.
Conclusion:
One thing for sure, these are by far the most beautiful and attention seeking hardware i've ever had in my PC. Any at all relative that pass by my system ask what is this and I have to explain them in detail what exactly this is as such hardware isn't really a norm from where I am. Let's leave that behind for a while and talk about the boxing. Avexir so far have been using the same box for almost all kinds of RAM shipping as far as I know, but this time Raiden had been crowned with it's own new box. I've got nothing against the box, well it's pretty good looking and all but the holding compartment can be troublesome when you are putting the RAMs back inside.
When we come down to the performance, we don't really see the Raiden standing out. It has pretty much the same performance of the HyperX Savage RAM which costs around 150$ which is 25% cheaper as compared to the Raiden series, so HyperX Savage has clearly beaten the Raiden in Performance/price ratio. Though this time, it ain't all about the performance is it? We've got those Plasma Tubes on the RAMs! In my previous review of Blitz 1.1 RAMs I said, having something as fancy as LEDs installed on RAMs doesn't really give a manufacturer the excuse for charging extra but I'll take my words back here for two reason. Firstly these are not LEDs, we are talking about Plasma Tubes over RAM here! Secondly,  since I don't really use a Chassis for my system, every time I turn on my PC and my eyes goes over to the randomly glowing beams of light within the Plasma Tube, I get this feeling that I surely have something unique in my system.
The RAM did have it's own let downs, like we couldn't get some solid overclocks from it and the heat spreader isn't really that much effective (well considering the room temperature was almost 40C while OC testing the RAMs, I think it did fine) but if I was put in a buyers shoe, more preciesly a buyer who is into modding and theme builds than OC , I think I'd pick the Raiden Series for sure regardless the performance/price ratio. I would've given the Raiden a full five star because of the uniqueness of the idea, but a few let downs on the OC, performance and heat issue has put me in a place where I cannot get myself giving it more than 4 star.
Let us know what you think about the idea of putting Plasma Tubes over RAMs, and particularly the Raiden Series RAM in the comment below, we would love to hear your thoughts.
We are influencers and brand affiliates.  This post contains affiliate links, most which go to Amazon and are Geo-Affiliate links to nearest Amazon store.
Hi, I'm Ahmed Kazim and I've been a gaming freak since like 7-8. I'm also a geek-o-nerd who keeps looking around for latest development in hardware/tech/gadget industries so expect some quick news from me. I'm also interested in anime (Japanese animation) and can't stand a day without music and gaming.