For those who have followed this blog since 2008 know that I have been using the Magic Jack for many years, I actually have done reviews over 6 years go for the original MagicJack and the MagicJack Plus came a few years later and added the benefit of not needing to tie up a USB port where you could plug it directly into your router instead.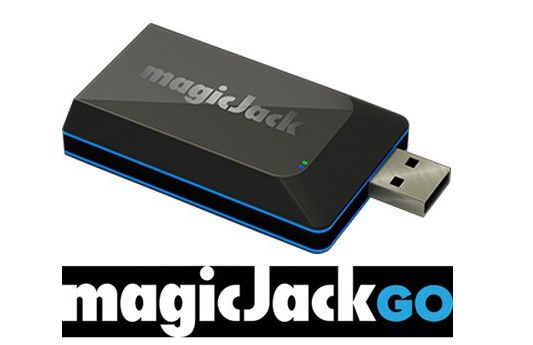 See unlike most businesses which are stuck having to check this website for a complete list of phone service companies to find the best solution for their business needs.  A VOIP service like MagicJack allows you to keep your voice call costs to a minimum without needing any phone line or separate extension.  The MagicJack Go which I just got in early 2015 is the latest version of the device with higher specs and this means less audio artifacts and clearer calls.  I can tell you that there are major pros to using the MagicJack Go plugged directly into an AC Outlet and then into the Ethernet port of your router, you get a clear and always instant connection to make phone calls or receive phone calls anytime.  The only negative is you lose the ability to use the MagicJack app to see incoming calls and keep your call log and contacts in memory, so you are then stuck relying on your phone that plugs into the MagicJack to have these features.  I am using the AT&T CL4940 phone plugged into my MagicJack Go and it does a good job with call log, backlit menu, speed dials, directory and more.  Combined with my Plantronics CS55 and I have decent cordless free talking and spend about 8 hours a day on conference calls with this setup.
MagicJack Go Video
This virtual phone system has some key advantages in that you have a fully functional call setup for a fraction of the cost of a landline through a carrier.  I paid about $50 for the MagicJack Go which included 1 year of service, so the monthly expense equates to about $3.99 per month for unlimited US calling.  Another key feature is the MagicJack app you get for mobile devices which allows you to make phone calls over Wi-Fi and this means combining this function allows you to use less minutes on your data plans for calls when using the app to make calls most of the time.  This can save you money on your wireless carrier too if you don't have an unlimited minutes plan, so it more than pays for itself if you take advantage of the mobile app along with the MagicJack Go device itself.
The only major inconvenience is for voicemail you have to dial your own phone number, I miss the 1 click button to check voicemail from the MagicJack App when plugged into the PC, but I would still rather not tie up a USB port and then be dependent on my PC to be powered on and booted in order to use the MagicJack Go.  My calls were clearer and more stable on the MagicJack Go than the MagicJack Plus with less reported incidents of "beeping" where the caller on the other end of the line would hear a button press or beep which usually occurred if there was some sort of performance or latency issue with the MagicJack. MagicJack Go also has some pretty competitive International rates if you need to make calls outside of the U.S. as well.
While it doesn't work for everyone, the MagicJack Go is a great VOIP solution for me, and I had tried the Ooma and found the voice quality to be very tinny and had a ton of intermittent issues with it both in front of and behind my router, the QoS would never let the Ooma work right properly for my environment and when my kids were gaming it would interfere with the Ooma, but not the MagicJack Go.  Stability wise I have been using them since 2008 and still stand by them.  My original 2008 MagicJack still worked too, I only recently retired it!
Here was my 2009 Video about the MagicJack
Here was my 2010 Video with a newer one (still MagicJack)