The Mpow iSnap selfie stick is not something I would have asked to review and to be completely honest, I not exactly a selfie kind of guy.  I take pictures of others and others take pictures of me.  With that being said the iSnap Selfie Stick from Mpow was fun to play with.  I can see the advantage of a selfie stick now after using one, but not going to say I am going to carry it around with me ad go selfie crazy as they are starting to get banned in more and more places.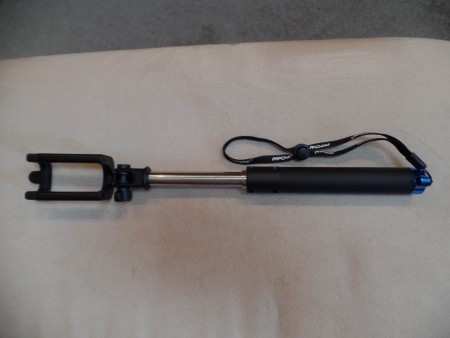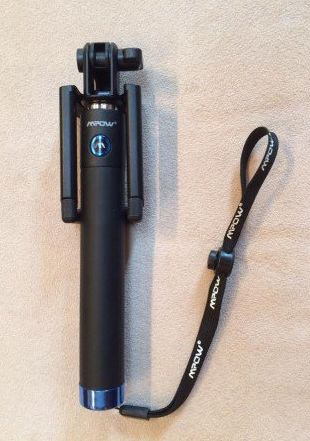 Note, the Selfie Stick in above screenshots is not fully expanded, I had a hard time getting the whole thing in one frame as it expands to be quite long!
When collapsed the Mpow Selfie Stick is just over 7 inches with the ability to expand out to just over 2.5 feet.  It telescopes out so you can find the right distance for the selfie action you are trying to catch.  The Selfie Stick feels durable so i think it should last you through many, many selfies.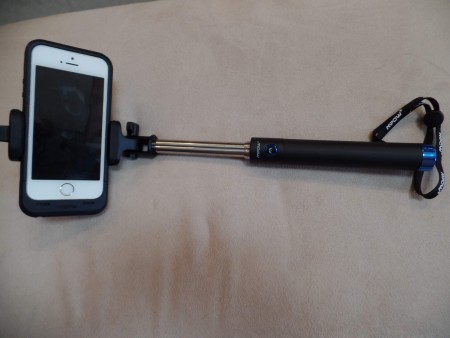 The best part about the Mpow Selfie Stick is that it pairs via Bluetooth and pairing your phone is easy and straight forward.  Turn the selfie stick, be sure it is charged, then hold the button to put it in pairing mode.  Find it on your phone and hit pair.  All done.  Once connected that button now is your camera "take picture" button.  Extend to your desired length, strike a pose, and take your selfie's to your hearts content.
Anything that allows me to get my big head in one frame has to be good, and the Selfie Stick has great distance options.
So all in all a fun accessories to add to your phone to make the art of selfies even more creative.  Took a couple pics of the whole family, 5 of us and dog, together.  The Mpow iSnap Selfie stick made that a breeze getting the phone far enough out to get us all in the picture.
So as a no selfie picture taker this makes selfies a little more fun for me honestly and I get why people use them now.  It is well built well and takes some abuse while still hold the phone securely in place.  This was my first selfie stick so I don't have much to compare to, but it did make more sense to take a selfie with the Mpow iSnap stick than without especially when you want to take photos of yourself and capture some of your background instead of only your face.
This is a 5 Star Selfie Stick in my opinion and if you are in the market for a selfie stick pick one up.  Also you can enter to win one below!
Enter to win an Mpow Selfie Stick
MPow iSnap X Selfie Stick Giveaway

I am just a geek getting older but keeping up.