We are influencers and brand affiliates.  This post contains affiliate links, most which go to Amazon and are Geo-Affiliate links to nearest Amazon store.
Membrane keyboard is so yesterday, mechanical keyboard is the way to go now. Not saying that you should not buy membrane keyboard, they are good, but if you need a keyboard that suits the performance, feedback and the noise production you require, then Mechanical keyboard is the way to go for sure! And today we have a mechanical keyboard known as Azio MGK L80 RGB. Azio is a new brand for us and this is our first review of their product. We have another keyboard in for review from that I uploaded some pictures of on my Facebook account. So, we will be looking at another of their special keyboard later. As for now, let's talk about the MGK L80 RGB keyboard.
The MGK L80 is a full 104 keys keyboard, though it's not your everyday standard sized keyboard. The layout is just like any other keyboard, though at the top right corner of the keyboard, we have a volume dial and 2 extra keys for gaming and macro recording mode. Also, the left and right ends of the keyboard are curved giving it a good aesthetic appeal. And on top of that, as the name suggests, it's a full per-key RGB backlit keyboard. And yes, it also comes with a magnetic palm rest attachment. So, let's get right into the unboxing and find out more about the keyboard:
Unboxing the Azio MGK L80 RGB Mechanical Keyboard :

Closer Look At Azio MGK L80 RGB Mechanical Keyboard :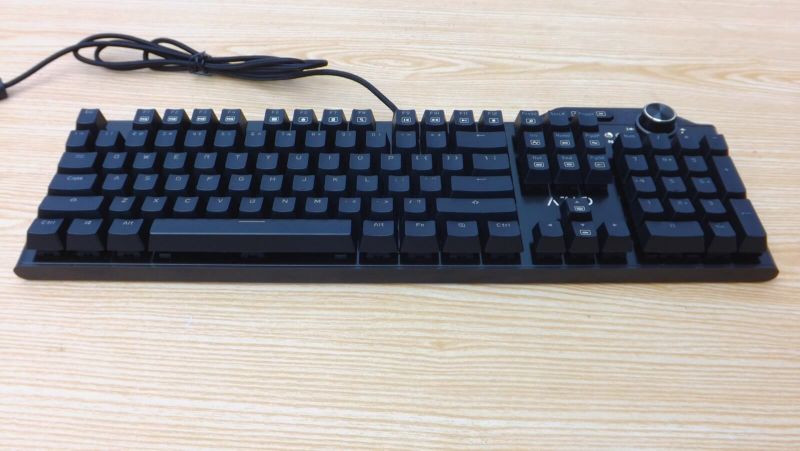 So that's how the keyboard looks from the front.
And that's how it looks from behind. We have two extenders on the top corners of the keyboard while two rubber feet at the bottom. And in the middle, we have the information sticker.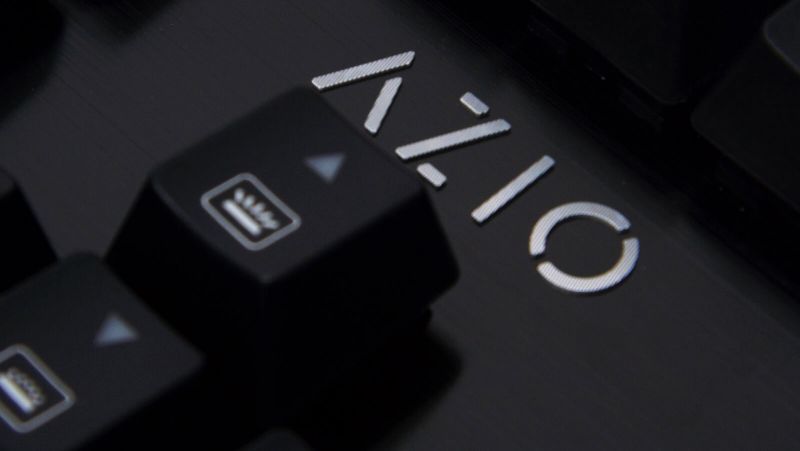 Here's a look at the Azio branding on the keyboard. It's not an engraving rather it's written with what feels like metal and is a little lifted from the body so you can actually feel it. other than that, you can also notice that the keys that have other function also have a related image drawn over them.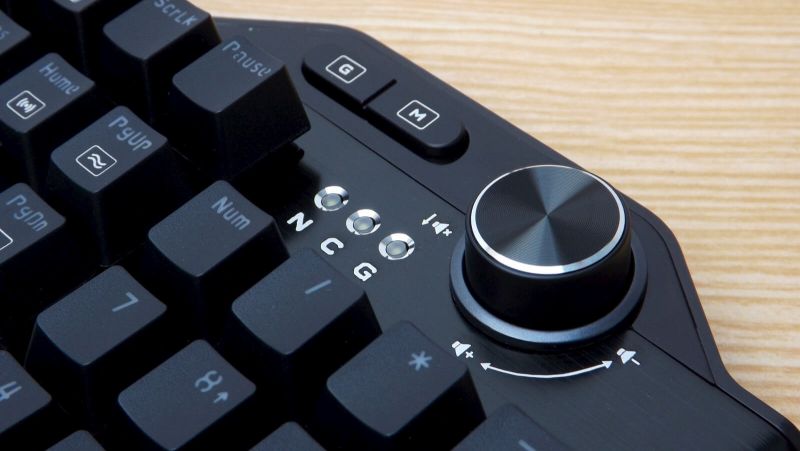 Here's a look at the volume dial and the two extra keys for macro recording and gaming mode. The dial has a reflective ring around the edge which makes it looks good. There's a little image describing the direction of volume. And you can also press the dial to mute the volume, which I don't think have seen on a keyboard before. And even the LEDs have reflective edges around them which look good.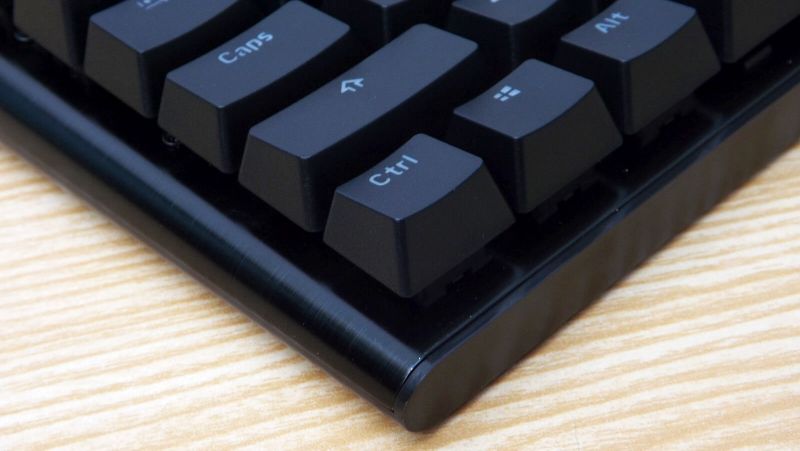 A closer look at the curved edge of the keyboard.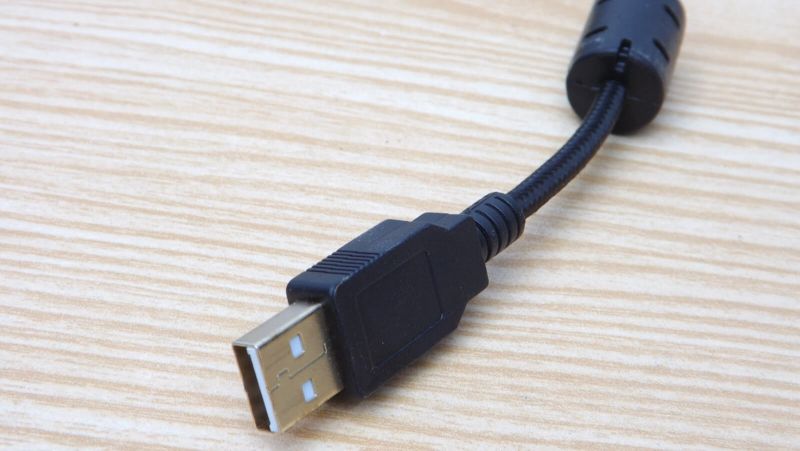 The cable is about 1.8m long, gold plated and braided.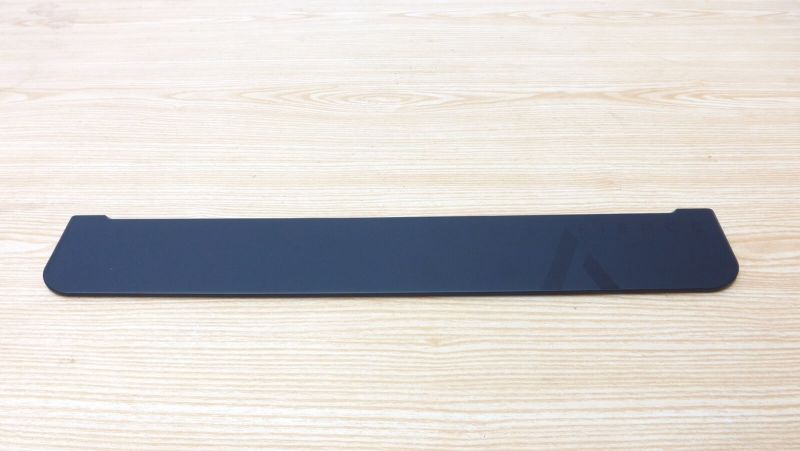 This is the magnetic palm rest that attaches to the keyboard via magnetic attraction. The whole palm rest is not magnetic, rather just the left and right corner.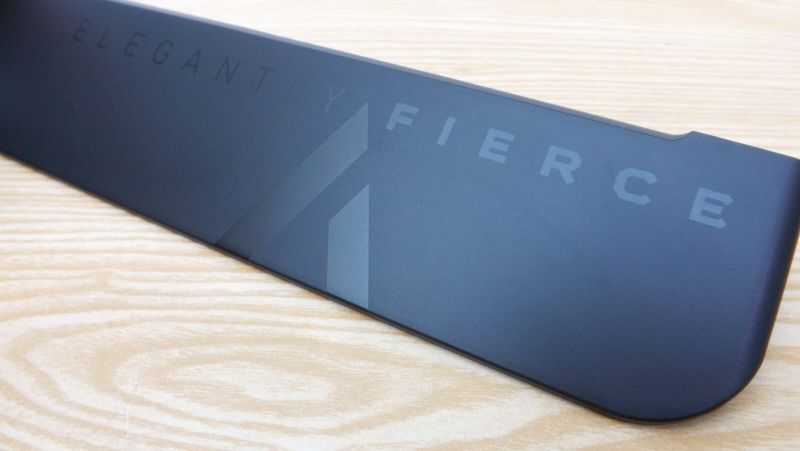 And we have the Azio slogan present on the palm rest "Elegantly Fierce". Capturing this was pretty difficult as it's not too visible on the palm rest.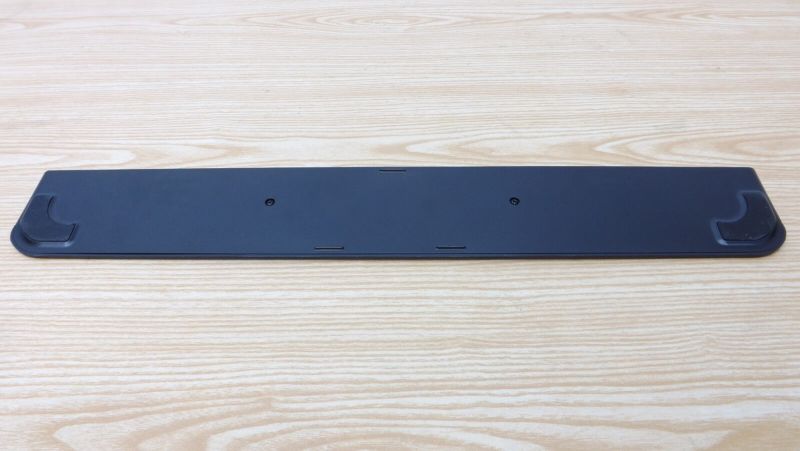 The palm rest has two feet as well to add more friction to the body so it doesn't slip away. And it's sealed via 2 screws so maybe if you want to opt-in for stronger magnet, you can replace them.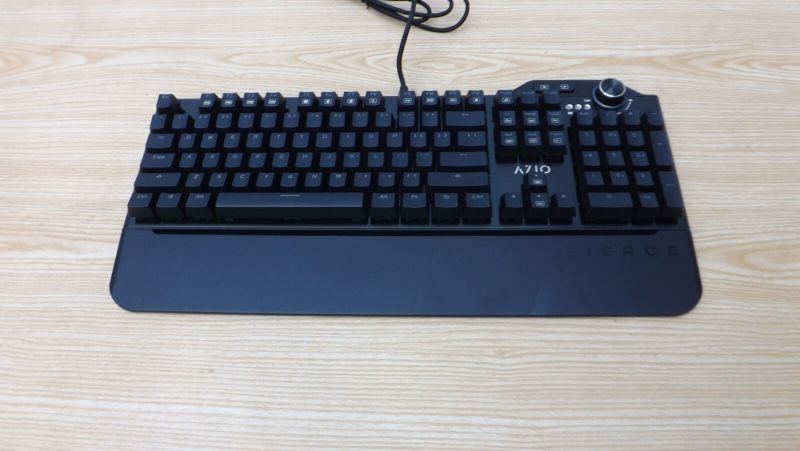 And here's a look at how the keyboard looks with the magnetic palm rest attached.
Specification:
Dimensions
| | |
| --- | --- |
| Cable | 6 ft. / 1.8 m Braided |
| Keyboard | 5.8 x 17.5 x 1.4 in / 147.3 x 444.5 x 35.6 mm |
| Palm Rest | 2.5 x 17.5 x 0.5 in / 63.5 x 444.5 x 12.7 mm |
| Weight | 2.3 lbs / 1060 g |
Specs
| | |
| --- | --- |
| Model | MGK-L80-01 |
| Interface | USB |
| Switch type | Kailh Brown |
| NKRO | FULL NKRO (WIN) |
| Backlight | RGB |
| OS support | WINDOWS XP, VISTA, 7, 8, 10 |
| Warranty | 2 Year Limited |
Contents
L80 Keyboard.
Key Puller
User Guide
Thank You Card.
Azio MGK L80 Function Keys:
The Azio MGK L80 RGB has a few function keys as well which are present at the top most row of "F" keys. The first four F1 to F4 keys are the macro profiles. The F5 key is used for quick access to email, given that you have a default email service setup on your windows, otherwise it open's your default browser. The F6 key is used for accessing your default browser. F7 key opens your calculator while F8 key pops up the windows search menu. And the last four F9 to F12 keys are used for multimedia functions like forward, backward pause and stop. And finally, the PrtSc key or the print screen key is used to access your default media player.
Then we have two specially placed button on the top right corner of the keyboard with "G" and "M" written on it. The G key is, as you predicted, for accessing gaming mode. What it does is disables your "Windows" button so in case you end up pressing the windows button by mistake in game, you aren't dragged back to your desktop. While the "M" key is used to access the macro recording mode.
Kailh brown Switches:
The Azio MGK-L80 RGB is making use of the Kailh brown switches. The kailh switches aren't as long-lasting as the renowned Cherry MX switches or so they say, but they are pretty popular now a day and mostly with the budget level mechanical keyboards. The brown switch is what we can say a bridge between the red and the blue switches. Blue, which is by far my favorite switch, is the most clicky and noisy switch I've used which requires 60g of force and 2mm for actuation. While the red being the most smooth and sensitive switch which requires lower force at 50g but same actuation distance to register. Whereas the kailh brown is tactile and quiet with the actuation force of 50g and 2mm actuation distance.
Azio MGK L80 LED Effects:

Azio MGK Macro Recording:

Azio MGK L80 Typing and sound test:

User Experience & Conclusion:
I've used the Azio MGK L80 for more than a month and I'm pretty satisfied with the keyboard. Even though I prefer blue mechanical switches, that does not stop me from getting comfortable with the brown kailh switches used in the L80. Though yes, I can feel the missing feedback of the clicks that you'd get from a blue switch keyboard. And sadly, the Azio only offers the MGK L80 in brown kailh switches.
The keyboard also features plenty of function keys and a dedicated volume dial right onto the keyboard that I pretty much ignored on most of the keyboard. But the placement of the volume dial on MGK L80 seems good and is also in the comfortable reaching zone of my right hand so it was a great feature as well.
The Macro recording is also very easy with the MGK L80 RGB. All you need to do is press two buttons, select your macro key, input your information, press "M" key and you're done. The only drawback of this is that you don't have the option of inputting the desired delay and also there's a 30-characters limit.
The MGK L80 RGB have pretty much the same RGB LED effects that you'll see on almost any RGB LED keyboard on the market. Even though it has about 6 LED effects, I still feel it's lacking or it could've been better. This is the moment where I would prefer an optional software to go along with the keyboard, that for 2 reasons. First, the keyboard is per key RGB which means you have the option to select any color combination from the 16 million color spectrum. But you're only left with a selected few in the customized LED effect mode. And secondly, you have to toggle through the color which would've been a lot easier with a software. But still, kudos to Azio for at least implementing the option for custom LED mode in an RGB keyboard as you don't see it on many.
And about the palm rest, I usually don't use the palm rest, but if you're someone that requires a palm rest to go along with a keyboard, then Azio does offer that along with the MGK-L80 RGB.
All and all, I'm very happy with the keyboard and the features it has to offer and some pleasing LED effects. Despite the fact that the keyboard doesn't come along with a software, you don't really require a software as everything can be done via the function keys, even the LEDs can be customized via the function keys, but there's this feeling that you're missing out on further customization without an accompanying software.
Finally, the price is what it boils down to, and the Azio MGK L80 RGB is available on the market for about $139.99 on Amazon which seems a little high compared to what's available on market. Then you're also giving up on a few stuff like profiles, more macro keys and full LED customization due to the lack of a software. So it seems like the price bracket isn't really the best feature of this keyboard, however I've seen this keyboard going around for $99.99 as well. So if you were to come across such a deal on this keyboard, I would recommend you to give this keyboard a try.
In the end, I would like to rate the Azio MGK L80 RGB Mechanical Keyboard a 4/5 star and give it our recommended buy award.
In case the RGB model doesn't appeal you because of the price, you can still get all the features of the MGK L80 keyboard with blue kailh switches and blue LED lights just for $69.99 or the brown switches and Red LEDs for $87.25.
Disclaimer: Aziocorp provided me with the MGK L80 RGB Mechanical Keyboard so I could do a showcase and share thoughts on the product. All opinions are 100% mine and mine alone. For more information visit http://bit.ly/dbdisclose
We are influencers and brand affiliates.  This post contains affiliate links, most which go to Amazon and are Geo-Affiliate links to nearest Amazon store.
Hi, I'm Ahmed Kazim and I've been a gaming freak since like 7-8. I'm also a geek-o-nerd who keeps looking around for latest development in hardware/tech/gadget industries so expect some quick news from me. I'm also interested in anime (Japanese animation) and can't stand a day without music and gaming.