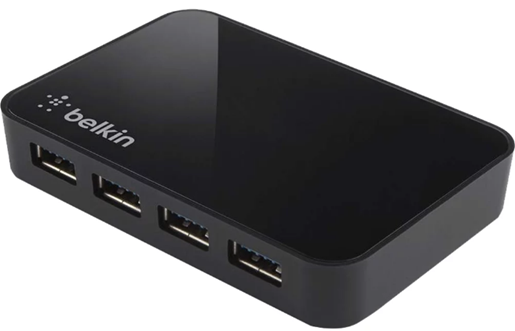 Are you taking up all the USB ports on your computer and need to connect more devices?
Although most computers usually include multiple USB ports, that may not always be enough. Most people usually use different peripherals that can limit the number of USB ports available and that can be a problem if you need to connect more devices. There aren't many things you can do, but why not use a USB port to multiply the number of USB 3.0 ports? That sounds great and is exactly what you could do with a USB hub. You can easily increase the number of ports, so if you think your laptop or PC has a limited number of ports, the USB hub is probably the ultimate solution.
How does a USB hub work? You should know that not everyone works the same way. As you know, the power that a USB port can offer is very low and the hub may not receive enough power to keep your peripherals working properly. To solve that problem and avoid any damage to your devices, an AC adapter is included so that it can power from an outlet to the USB hub, so you can use all your external hard drives, headphones, keyboards, and other peripherals without any problem.
The Belkin USB 3.0 hub could be a great option if you want to expand the number of USB ports on your computer. This hub includes 4 high-speed USB ports. Without hesitation, it gives that this should not be missing on your desk. Next, discover the most interesting features of this product.
Belkin USB 3.0 hub features
Blazing fast transfer speeds
While the vast majority of USB hubs do their job, the Belkin hub not only gives you reliable USB ports but also transfer speeds of up to 5Gbps, so you can transfer large files seamlessly with USB 3.0 ports.
USB 2.0 compatible
You should know that USB 3.0 ports offer you significantly faster transfer speeds. You should have no problem with this, the vast majority of computers include USB 3.0 ports, but some of you may still have a laptop or PC with USB 2.0 ports. You don't have to worry, this USB hub is fully compatible with USB 2.0 versions and best of all, you'll have great performance.
4 USB ports
So, you can connect all your peripherals hassle-free, and 4 USB 3.0 ports are included, which should be enough to connect everything you need. Note that you will need to use an AC adapter (included) for the hub to work properly, so you should have an outlet available near your desk.
The Belkin USB 3.0 hub is undoubtedly a great solution for those who need more ports to connect all the peripherals they need. You can connect external hard drives, headsets, mouse, keyboards, and much more without any problems. Remember that you will need to use the included AC adapter.
You can buy this item here at Walmart
My name is Joel! I love to read, I go to university like most people my age.
In my free time I usually train boxing, I love music, I also know how to play the guitar and the harmonica.