We are influencers and brand affiliates.  This post contains affiliate links, most which go to Amazon and are Geo-Affiliate links to nearest Amazon store.

Virtual tour is a simulation of the real world through viewers' digital screen. With a 360 virtual tour, people can enjoy the environment of real places without actually being present there.
With the advancement of technology, more and more people are rushing towards a world where they can get access to information without much effort. People want such mediums that can save them time and yet fulfill their goals at its best.
A 360 virtual tour can give viewers a modern and simple presentation of the desired location. It allows viewers to choose between multiple scenes and let them navigate through the entire place according to their free will.
Virtual tour, in fact, saves their time and extra hassles which we face when going through the collection of entire photo galleries manually.
According to a statistic, having a virtual tour can increase the possibility of client engagement up to 5-10 times longer on your website.
The WordPress community has extended the opportunities to create 360 virtual tours for your website with several unique plugins that have been developed to help you create amazing virtual tours for your WordPress website.
Today I will share 5 Best 360 Virtual Tour Creator Plugins in WordPress using which you can easily create brilliant virtual tours for your WordPress website and strengthen the portfolio of your business profile in no time.
Advantages of Using Virtual Tours:
Let us look at a few vital points why you should consider integrating 360 virtual tour to your website.
Virtual Tours save a lot of time and effort. Viewers can get an overall idea about your entire place rather than making assumptions through photos. Hence, they will be more excited to take a visit.
For people who have Real Estate Business, 360 virtual tour is a blessing. It saves realtors from conducting regular time-consuming visits to properties with different people who might reject the property due to its outlook..People who will take a 360 virtual tour, will get a better visual of the place. Hence, them wanting to visit will mean that they found the property to be suitable for them and the visit will just be for confirmation.According to a study, virtual tours integrated on realestate.com.au has reached up to 400,000 hits. There is no denying that virtual tours can easily increase the attraction of your website to a great extent.
Virtual Tours let your clients be in full control. They can move about through different rooms, switch back and forth in different areas of a location and get a clear picture of how the location stands. This will create a positive connection and will allow them to take decisions easily. Hence, your website conversion will soar.
As for hotel owners, virtual tour boosts up the booking rate and helps to increase their ROI in no time. Travelers and businessmen are highly attracted to hotels that offer a clean and clear presentation of their facilities and features.Whether a person wants a beautiful relaxing vacation or conducts serious business affairs, people are interested in spending their money only when they find that a place looks brilliant and is suitable to visit. And the best way to present it is through a 360 virtual tour. According to a report, virtual tours increase conversion from hotel websites by up to 67%.
Virtual Tours also have its influence over Architectural Interiors, School-College or Campus for generating worldwide reputation and also for Art Galleries and Museums. You can easily connect with your targeted audience and create interest in your business using virtual tours.
5 Best WordPress Plugins To Create 360 Virtual Tours:
Many influential people out there have shown great interest in the potential of using VR Contents such as Virtual Tours.
Here is what Matt Rowell, the founder of 360 Labs, has to say:
"Every time you watch it you'll see something you didn't notice last time."
He believes virtual tours allow viewers to get an in-depth idea about a location which is vital for people to take decisions on visiting the place.
The potential of virtual tours are immense, and hence the enthusiastic community of WordPress has also made their contribution by developing a brilliant collection of WordPress plugins that create amazing virtual tours.
Here is a list of 5 best WordPress plugins for creating an embedding 360 virtual tours on your website.
1. WP VR – 360 Panorama and virtual tour creator for WordPress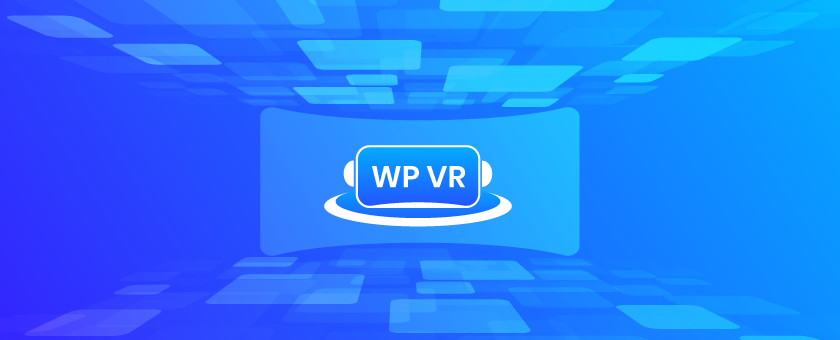 WPVR is an amazing 360 virtual tour creator plugin. It has already drawn the attention of many property owners who rely on their WordPress website to attract clients.
Let's take a glance at the features WPVR offers:
Easy user interface and simple to use
Previews 360 degree panoramas in equirectangular style virtual tour
Virtual Tours generated by WPVR is responsive in all devices
Creates a Gutenberg block to embed virtual tours on your website, and generates shortcodes to embed virtual tours on other page editors
Create multiple hotspots and scenes
Add different media contents such as photos, videos, text or URL links to your desired hotspots so that you can highlight your place in details
Link between multiple scenes via hotspots and create an amazing virtual tour where clients can travel to-and-fro from one area to another
You can zoom in and zoom out, and go to full-screen mode on the virtual tour
The support team is prompt and reliable
Fresh, clean documentations and several tutorials are available for users to be able to use the plugin without any confusion
WPVR is the latest virtual tour creator plugin for WordPress. Compared to other such plugins, WPVR has the simplest user interface and generates high-quality virtual tours. Users do not need to be experts or know any coding. This plugin makes it easy for anyone to create amazing virtual tours in no time.
Get either the free version or the premium version here.
2. iPanorama 360: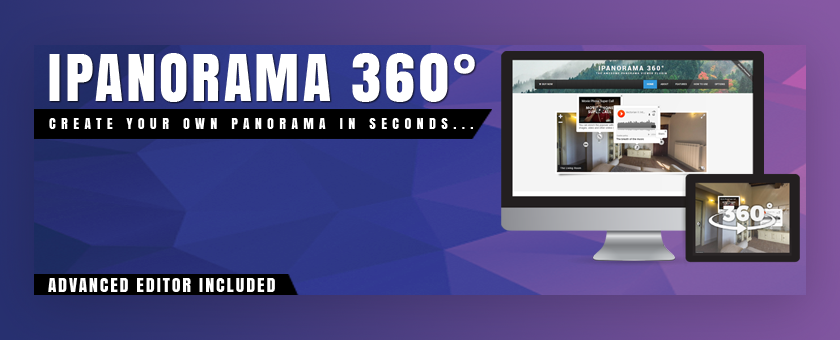 iPanorama is a convenient virtual tour creator plugin. You can create wonderful virtual tours of your place and easily embed them on your web page. Let's take a look at the important features iPanorama has to offer:
It provides you three types of panoramic view: cube, sphere, and cylinder.
You can enhance the hotspots with text and other media contents by using their in-house built tooltips
Travel through one scene to other using hotspots
Virtual tours created by iPanorama is supported by all modern devices and fully responsive
It is fully compatible with Gutenberg and generates shortcodes to embed the virtual tours on the web page
It is available in three versions: Free Version, Lite Version, Premium Version.
Enriched with a powerful API that comes with over 45 options to work with
Provides two predefined themes. You can also customize your own theme.
Allow full-screen mode and compass on the virtual tours
iPanorama offers a lot of tools and features which you can use to create interactive maps, tours, and presentations for your WordPress website easily. Due to a lot of features being available, the user interface is a bit complicated but their support team is always available for assistance.
The good thing is that you do not need to pay a hectic amount and buy the whole plugin. You can purchase only the features that you need at reasonable assigned prices.
You can check out the plugin here.
3. MV 360 Tour Plugin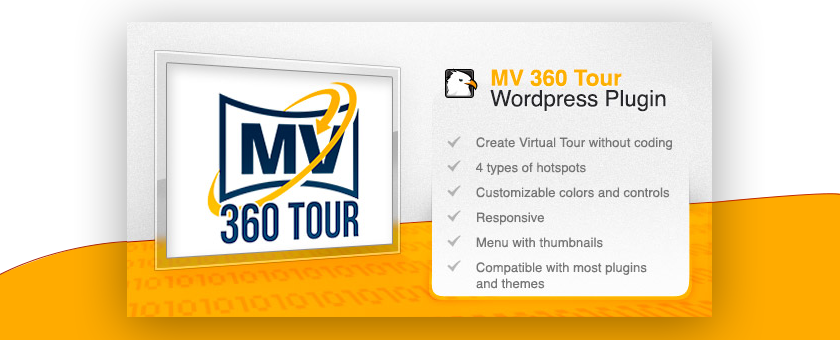 MV 360 Tour Plugin is another great plugin to create virtual tours in WordPress. This plugin is simple to use and it doesn't require any solid set of skills of coding to create an amazing 360 virtual tour.
Let's take a look at the features MV 360 Tour Plugin has on the plate for us:
It is simple to use and operate and ideal for beginners
You can add multiple hotspots. You can get previews of multimedia contents (such as text/images and etc) through these hotspots
MV 360 Tour Plugin has a complete responsive design. The virtual tours created by MV 360 Tour Plugin can be accessed from any device
It is synchronized with popular page builders such as Visual Composer, Divi, and WPML with RTL support.
Their quick response team is always ready to pay attention to any issue raised while using the plugin.
You will be able to create and embed virtual tours with almost no compatibility issues
This plugin is only available in premium version
What most users seek while using a virtual tour creator plugins is easiness and no compatibility issues. MV 360 Plugin comes handy in both of these cases. This is why MV 360 is suggested if you want simplicity and get your job done quickly. However, they are yet to provide Gutenberg block support.
You can check out the plugin here.
4. Flat 360-Degree Panoramic Image Viewer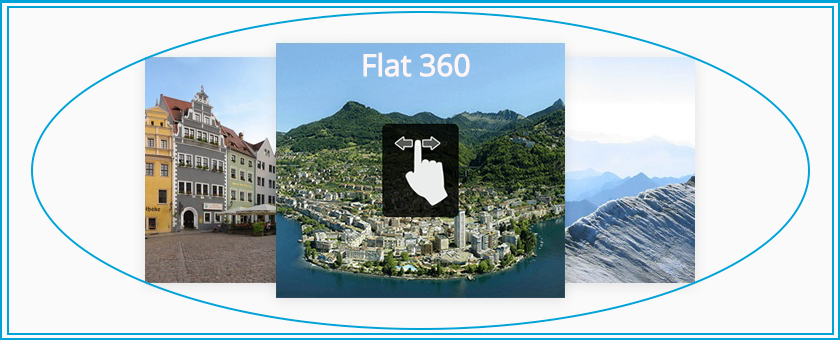 Flat 360 is an alternative to a complete interactive virtual tour. It rather creates a lightweight panoramic viewer and allows to add contents or other panoramic images to switch to-and-fro using hotspots. Thus, it gives a virtual tour feel with panoramic images.
Here are the features of Flat 360:
Gives viewers a 360 degree horizontal panoramic view. You can only drag the panorama left and right, but no vertical motion
Compatible with any screen ratio
You can add hotspots by linking a <map> element to your image
You can preview different media contents (such as text/image/other 360 panoramas) to your 360 panorama via hotspots
This plugin is Gutenberg Compatible through media blocks
You can navigate your virtual tours via different touchpad devices
Creates a simple and lightweight virtual tour on your website
Simple user interface
You can also take the help from a third party plugin Responsive Lightbox and Gallery to edit hotspot icons.
What Flat 360-Degree Panoramic Image Viewer does is not what we ideally call a 360 virtual tour, but it creates a lightweight version of such which loads faster and makes it more easy for customers to inspect the location bit by bit. It is easy to use even without any guidance.
You may check out the plugin here.
5. WP-Pano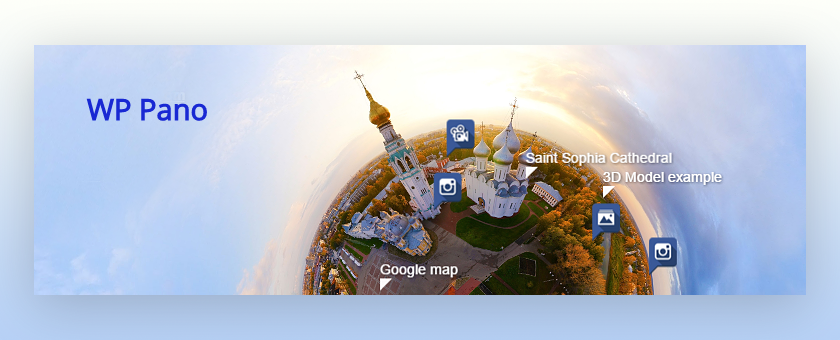 WP-Pano is great WordPress plugin for editing virtual tours created using krpano. This plugin is built for managing contents for krpano projects. ( FYI: krpano is a flexible and high-performance panoramic image viewing software that supports all types of panoramas and interactive virtual tours.) Here are the features of WP-Pano:
WP-Pano focuses on inserting different media contents (such as text, galleries, videos, and other panoramas) into one main panorama
Viewers will be able to enjoy a single panoramic virtual tour with other 360 panoramas inserted within the main panorama via hotspots
Edit your 360 panorama, change the hotspot styles and embed different informative contents according to your requirements
Allows you to use PHP, JavaScript, and HTML within the plugin to add or edit your contents
WP-Pano is quick and smart when you go through the manuals.
WP-Pano is a smart plugin that helps you easily manage the contents of the virtual tours that you create using the krpano software. But you will need to have coding skills to embed the virtual tour on your site. Using krpano and WP-Pano together will generate quality virtual tours although these are a bit complex for beginners.
You may check out the plugin here.
Conclusion
Personally, I would suggest WPVR if you wish to create quality virtual tours with less time and effort.
However, all the five plugins mentioned here have their own unique advantages and you need to check them out and decide which suits you more.
The pathway to achieve success in today's world is very competitive. Hence, whether you are a real estate agent, run a good university, own an art gallery or run a top class hotel, you need to adapt to innovative ways to match the mentality of modern consumers if you wish to create interest in them to take a visit.
Virtual Tours act as the next generation influence. and these plugins are just a start in the WordPress community that allows you to embrace virtual reality easily.
Author Bio:

C Shakhawat Sultan works at RexTheme as BDM. He is a professional with a passion for WordPress. He is highly motivated and skilled in marketing and loves using WordPress. You can follow him on Twitter: @SultanRoyal1 and LinkedIn.
We are influencers and brand affiliates.  This post contains affiliate links, most which go to Amazon and are Geo-Affiliate links to nearest Amazon store.
This is the Dragon Blogger Guest Bloggers account for author's who want to submit articles and only have credit in the post instead of having to manage their own WordPress profile.