So, some of us need a bit bigger of a chair due to having a bigger build than most others. Especially when it comes to a high-quality gaming chair and with a name you can trust. Look no further than the DX Racer Boss Series gaming chair. DX Racer is a brand that I have used in the past and their chairs have always had such an absolutely high quality as well as an insane amount of durability that I simply have not seen in many other gaming chairs that I have used. For those of you that do have a bigger frame such as myself and need maximum comfort, DX Racer has made the chair for you.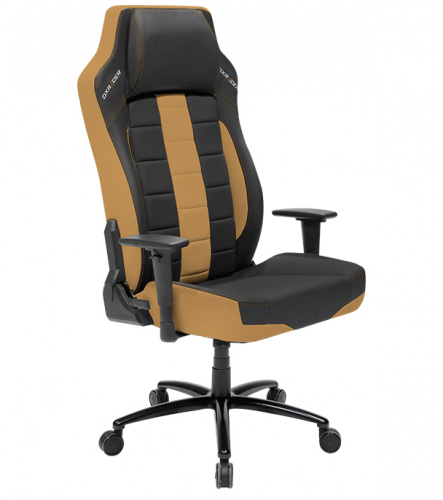 The DXRacer Boss Series gaming chair is one that you will thoroughly enjoy. Made specifically for the big & tall gamer, this chair is going to give you all the comfort that you are looking for without needing to make multiple adjustments. The chair itself comes in a black & brown color scheme and comes with a higher headrest due to being built for those that are taller. The chair comes with a 2-year warranty on accessories and a lifetime warranty for the frame. Like all other DXRacer gaming chairs, the Boss Series has a very thick and sturdy chassis for durability as well as for flexibility. The pillow is very big and DXRacer claims it is very comfortable and will provide comfort for any big & tall gamer.   It also sports a very heavy duty gas lift and one that I have never had any issues with on any DXRacer chair that I have used.
All-in-all, the Boss Series is perfect for those of you that are big & tall and are looking for a very comfortable chair that won't feel so tight nor gives you any sort of discomfort. You can purchase this chair right now over at Champ Chairs for a very low price of only $589 and it comes with free shipping. This chair will be a great gift for that gamer that finds themselves not feeling so comfortable while gaming and believe me, being comfortable while gaming is very critical in any gaming scenario.
Product Specifications:
| | |
| --- | --- |
| Style Name : | Boss Series |
| Chair Type : | Office Chair |
| Foam Type : | High-Density Mould Shaping Foam |
| Foam Density : | 54 kg/m³ |
| Frame Color : | Black |
| Frame Construction : | Metal |
| Chair Cover Color : | Black and Coffee |
| Chair Cover Material : | Leather Style Vinyl |
| Adjustable Armrests : | 3D (SP/0145/N) |
| Armrest Pad Size : | 9.8″L x 3.5″W |
| Mechanism Type : | Heavy Duty Tilt (SP/0204/N) |
| Adjustable Tilt Angle : | 3~18° (SP/0204/N) |
| Tilt Lock : | Yes |
| Tilt Angle Lock : | No |
| Gas Lift Class : | 4 |
| Chair/Seat Back Style : | High-back |
| Adjustable Back Angle : | 120° |
| Adjustable Lumbar Cushion: | Yes |
| Adjustable Headrest : | No |
| Base Type : | 5-star Wide Aluminum Base (SP/0409/N) |
| Caster Size & Material : | 3″ Caster/PU (SP/0704/N) |
| Assembly Required : | Yes |
| Seat Size : | 22.5″W(Front) x 20.5″W (Back) x 21″D |
| Maximum Seat Height : | 22.5″ |
| Minimum Seat Height : | 18.5″ |
| Maximum Arm Height : | 31″ |
| Minimum Arm Height : | 24″ |
| Backrest Height : | 36″ |
| Backrest Shoulder Width : | 25″ |
| Warranty Length : | 2-year for Accessories, Lifetime for Frame |
| Weight Capacity : | <450 lbs / 204.1 kg |
| Height Limit : | <6'4″ /1.93 m |
| Recommended Weight : | 400 lbs / 181.44 kg |
| Recommened Height : | 6′ / 1.83 m – 6'2″ / 1.88 m |
| BMI of Recommended User : | <30 |
| Recommended Body Types : | Athletic, Above Average, Large Build |