We are influencers and brand affiliates.  This post contains affiliate links, most which go to Amazon and are Geo-Affiliate links to nearest Amazon store.
A few weeks back my friends over at Wowoto sent me their new H8 Android video projector to test and review. I have had two other in the past from other companies. So I jumped on the opportunity to test and review this for you. This Android Projector comes with 1 GB DDR and 8 GB ROM. The CPU is quad core Cortex A7. It has the marshmallow 4.4 Operating system.  Let dig on into this device and show you the box and items that come along in the package.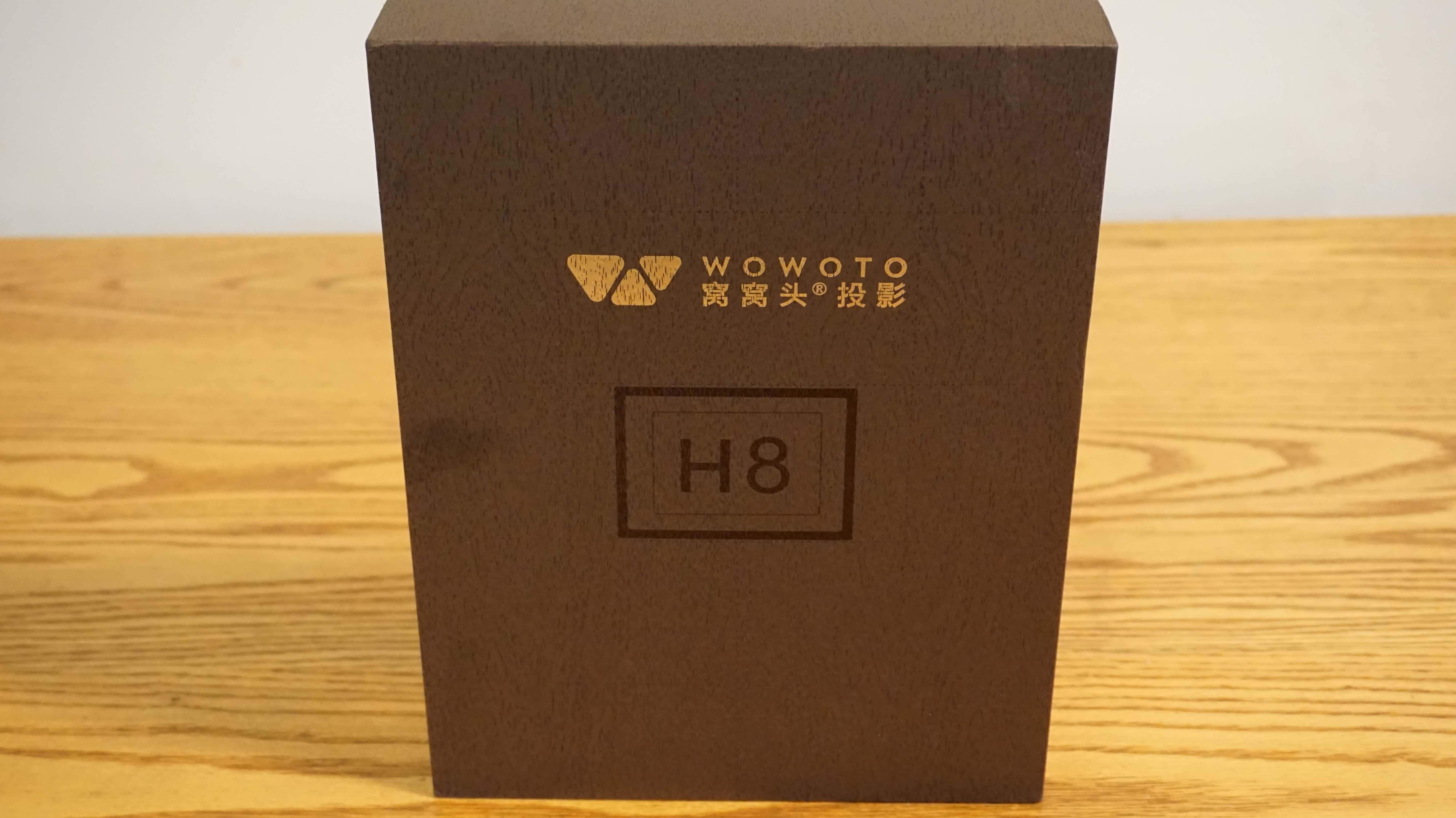 The box is plain with their logo in gold and a large H8. This is good means your not paying for packaging.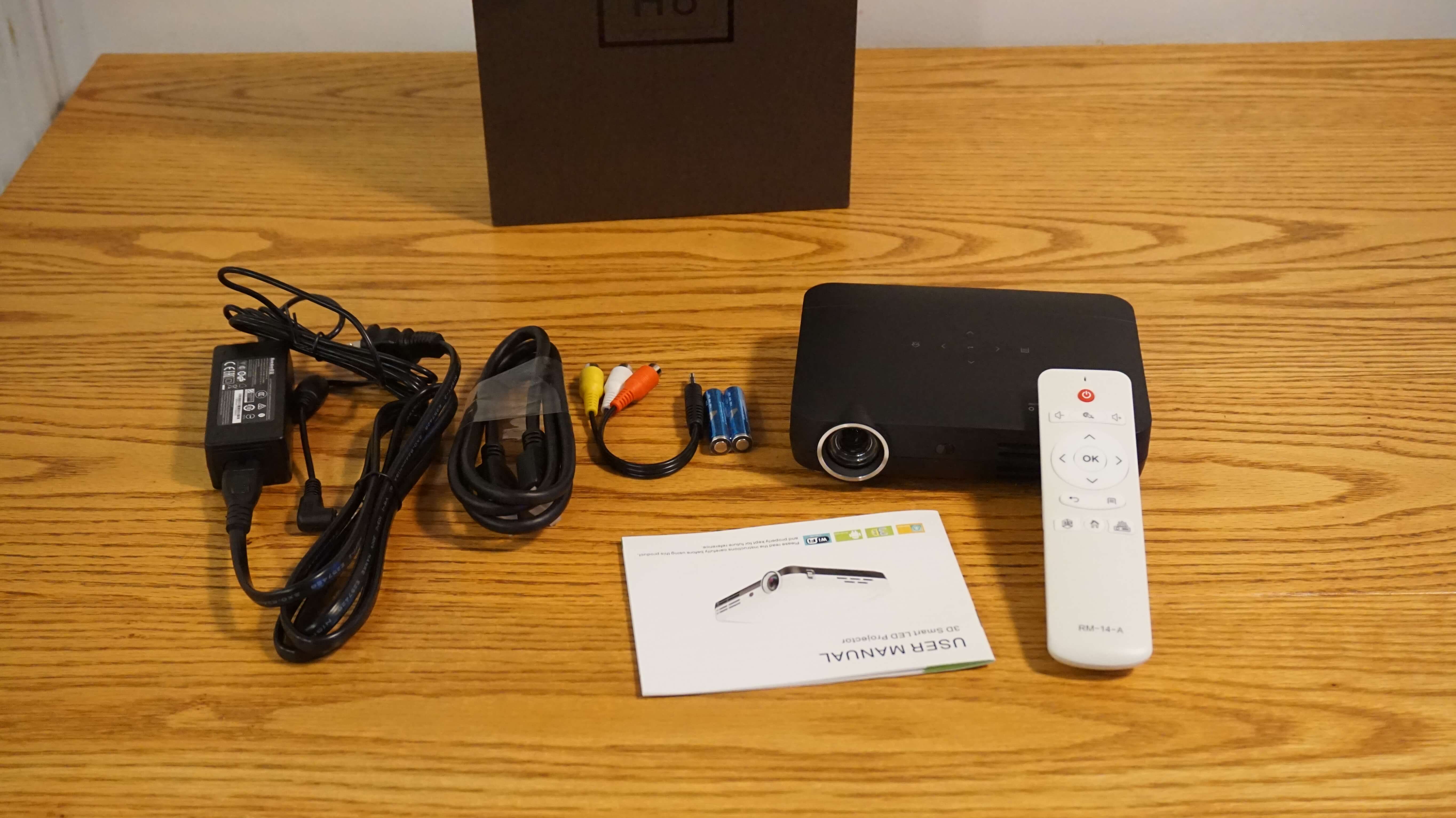 Inside the box, you get two triple A batteries, one remote, the user manual, one 3.5mm jack to triple RCA, an HDMI plug, and the charging code. The last piece in the box is the very small projector. We will get more into the projector itself in a few. The batteries are off brand Asian made batteries. The seem to be lasting so I don't see no issue with them.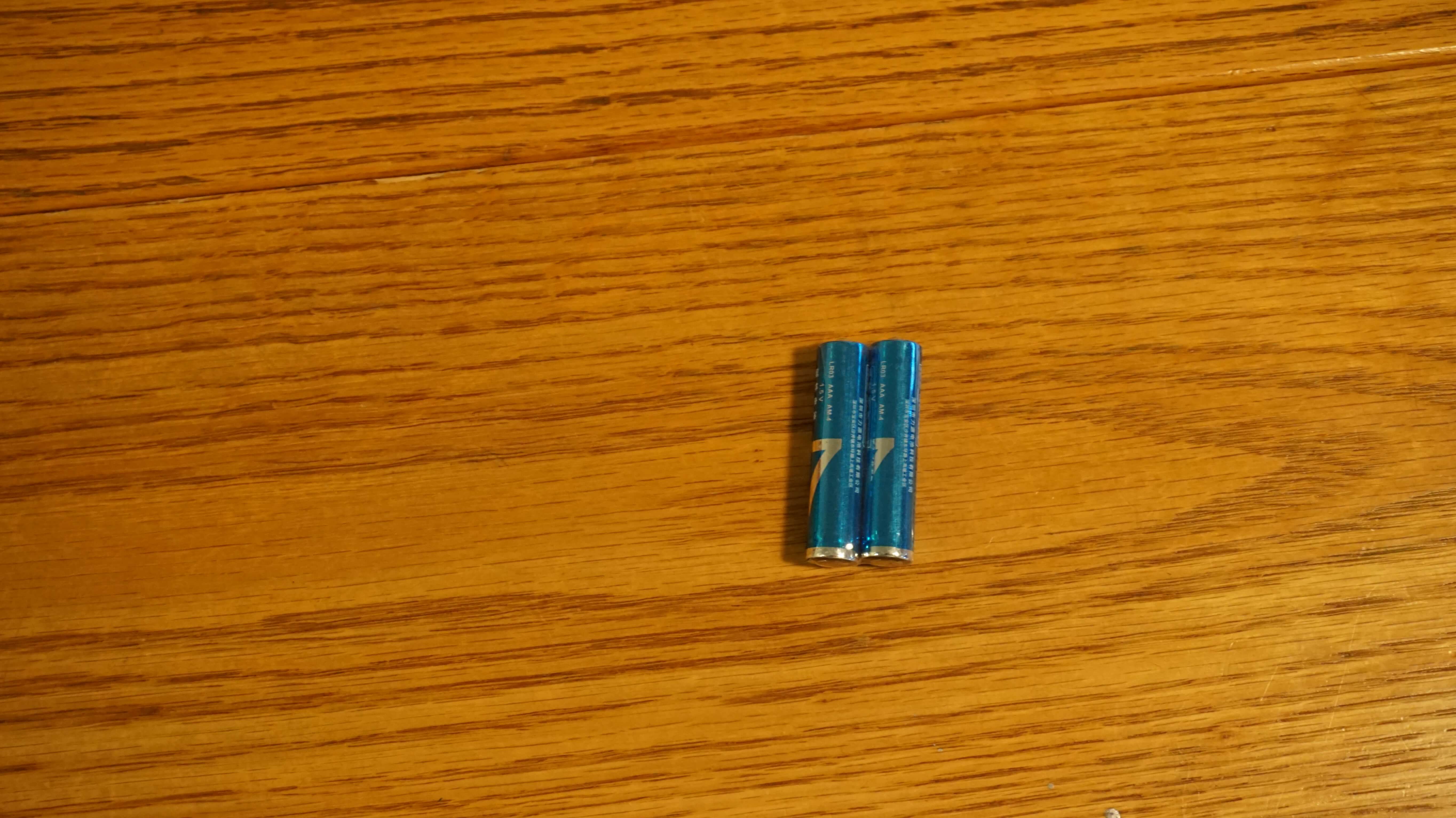 Check Out My Unboxing Here!
The Remote!
The remote itself has several buttons. The buttons range from the power button, settings,3d mode, volume, return button, mouse button and a few more.  The mouse button is a nice touch just in case you don't have a wireless mouse. This gives you the option of using your arrow keys and the mouse cursor. Pressing the home button will return you back to your home screen from any screen your on. The 3d mode button lets you pick from a side by side mode and a few other 3d modes. Most of you will probably use side by side mode. The last button is setting buttons. This button will pop up your setting and let you go through all your settings. You can get to all these setting from your home page also.
Check out my Operating System Walkthrough Here!
The Projector!
The projector itself is small. It is 153*120*31mm. The size of the new Nintendo switch. Or there about's.  Very decent size. The Wowoto H8 projector has many ports. These ports are HDMI port, USB 2.0, USB 3.0, Ethernet port, AV, SPDIF port, and micro SD slot.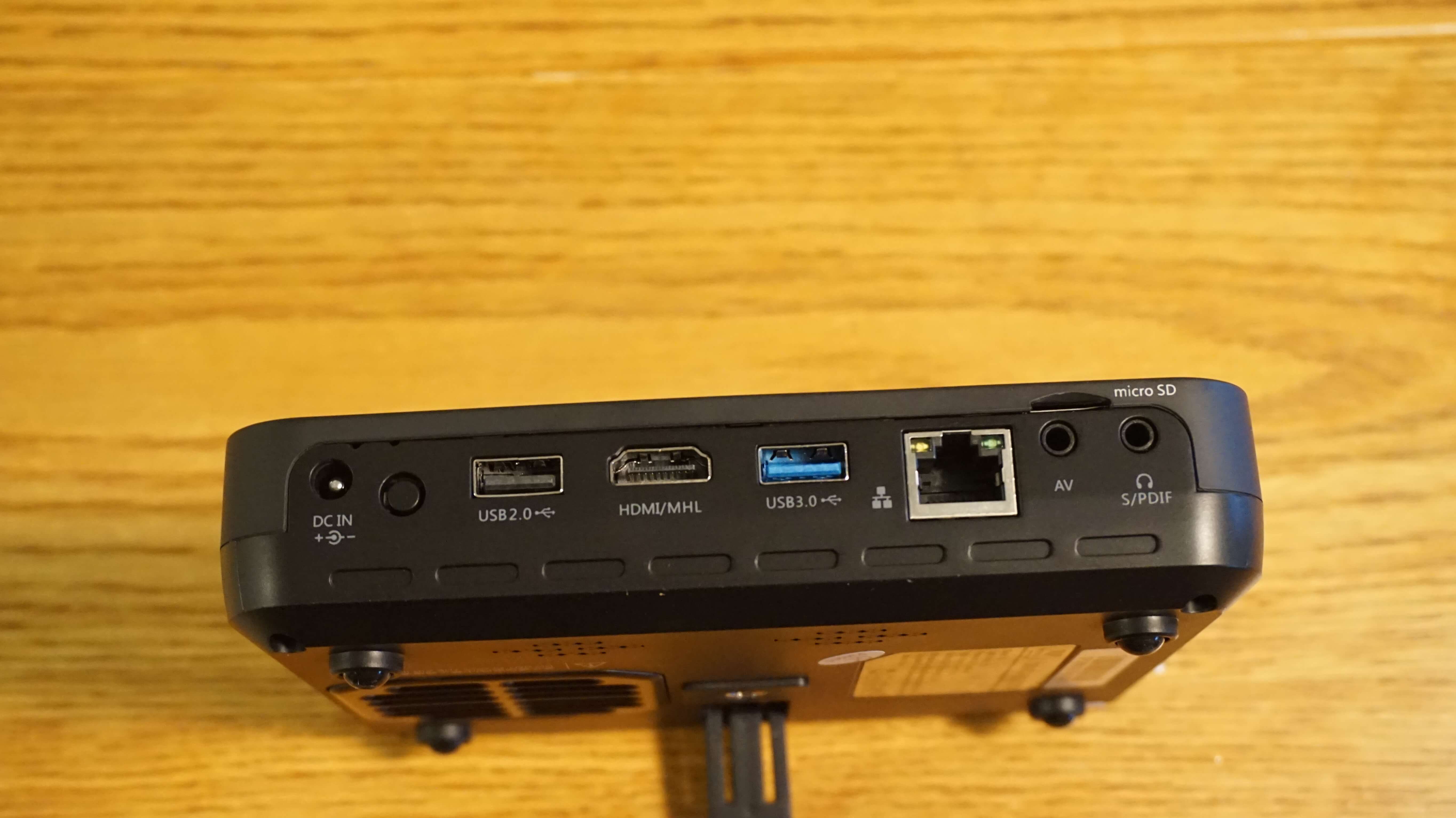 On the other side, you have a focus scroll. The scroll button will help focus the screen. This will come in handy if you move the screen around a good amount.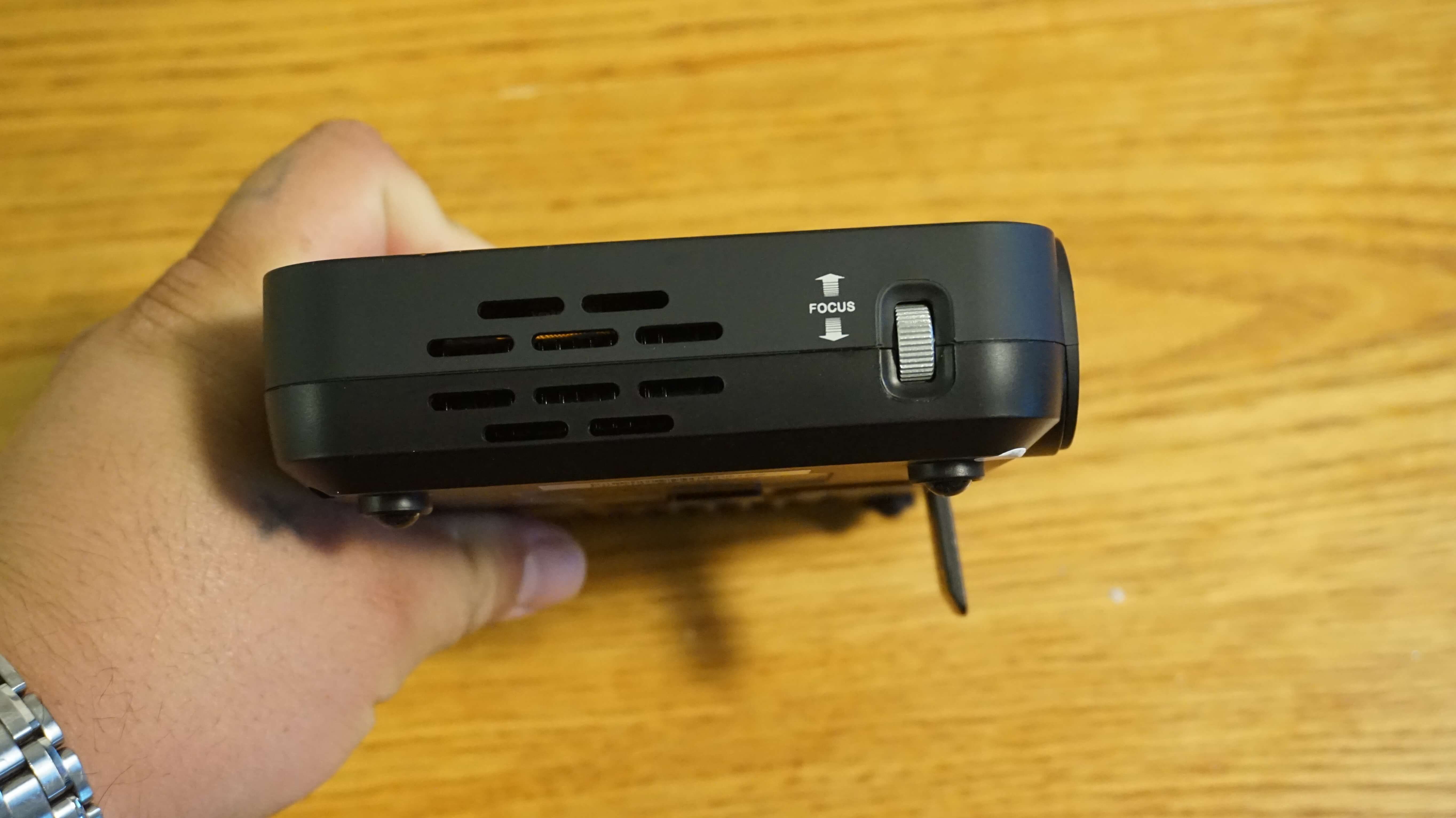 The opposite side you have the power button.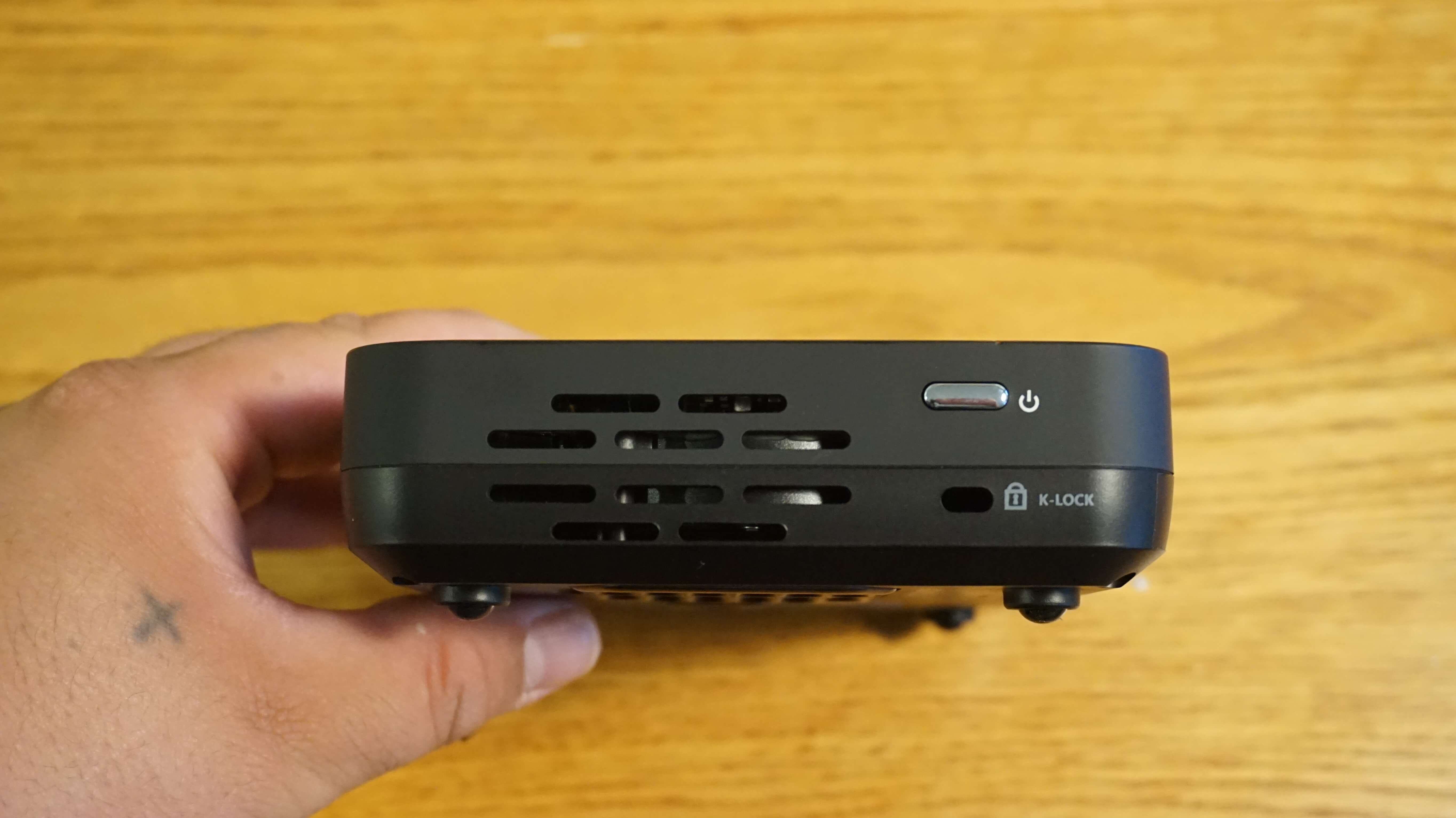 The one thing you will notice on both of these sides are the air vents. This is to help keep it cool. This work in conjunction with the fan on the bottom.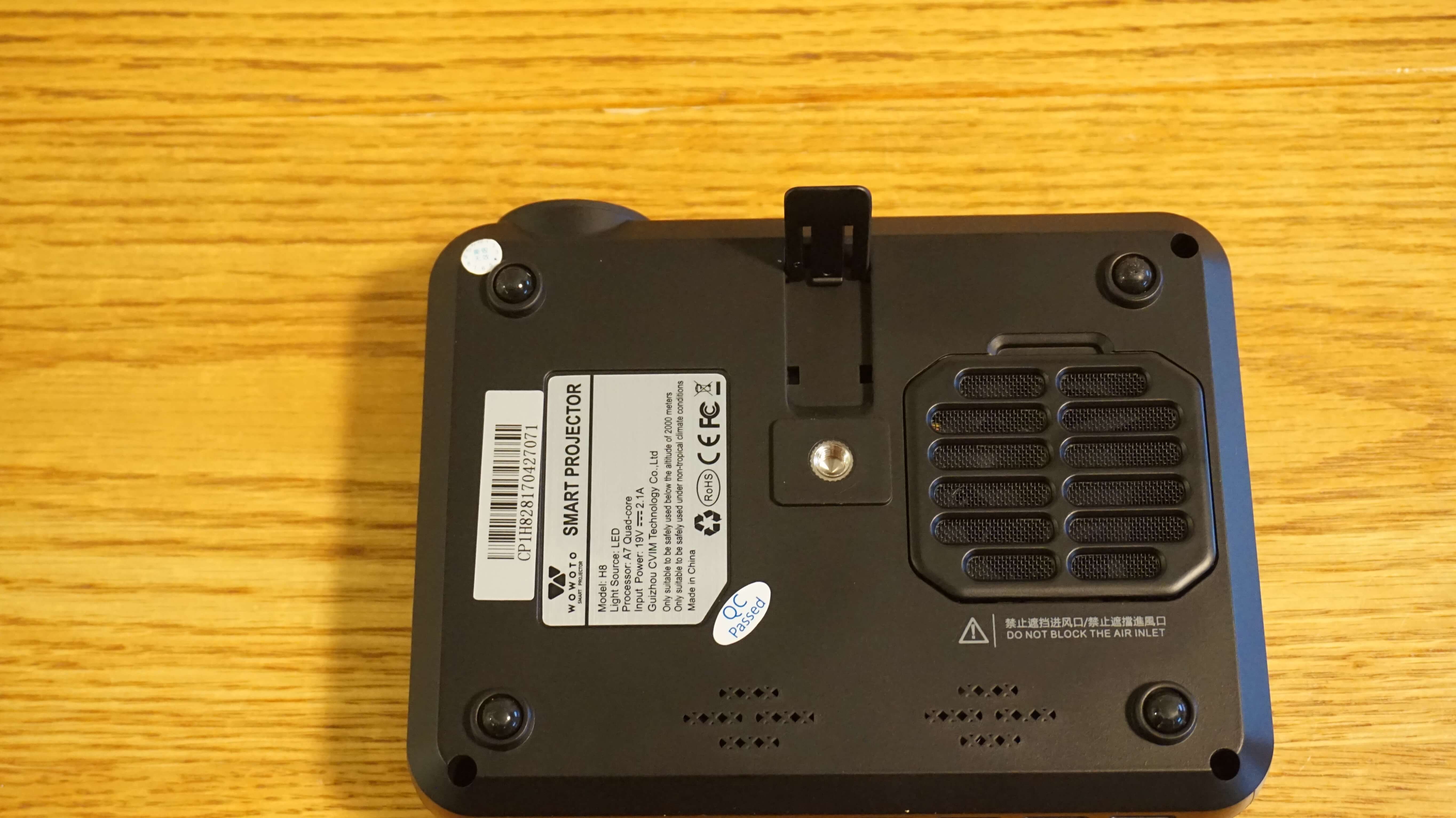 The bottom is also where you will find the tripod screw and kick stand.  The top of the device is where you will find the touch buttons. These buttons work the same as the remote. The do light up blue when powered up.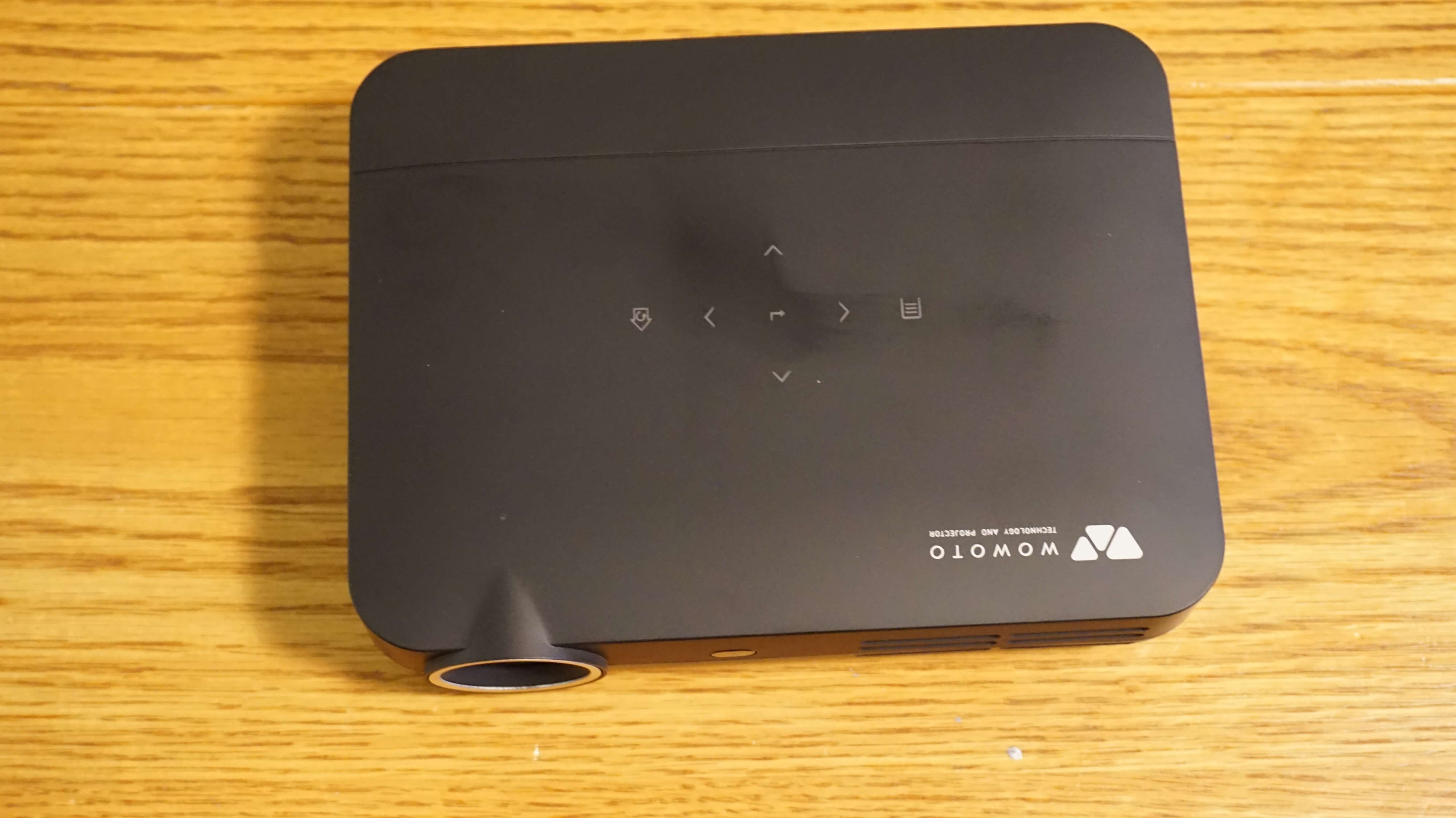 The front of the device is where you will find the IR receiver and the Lens.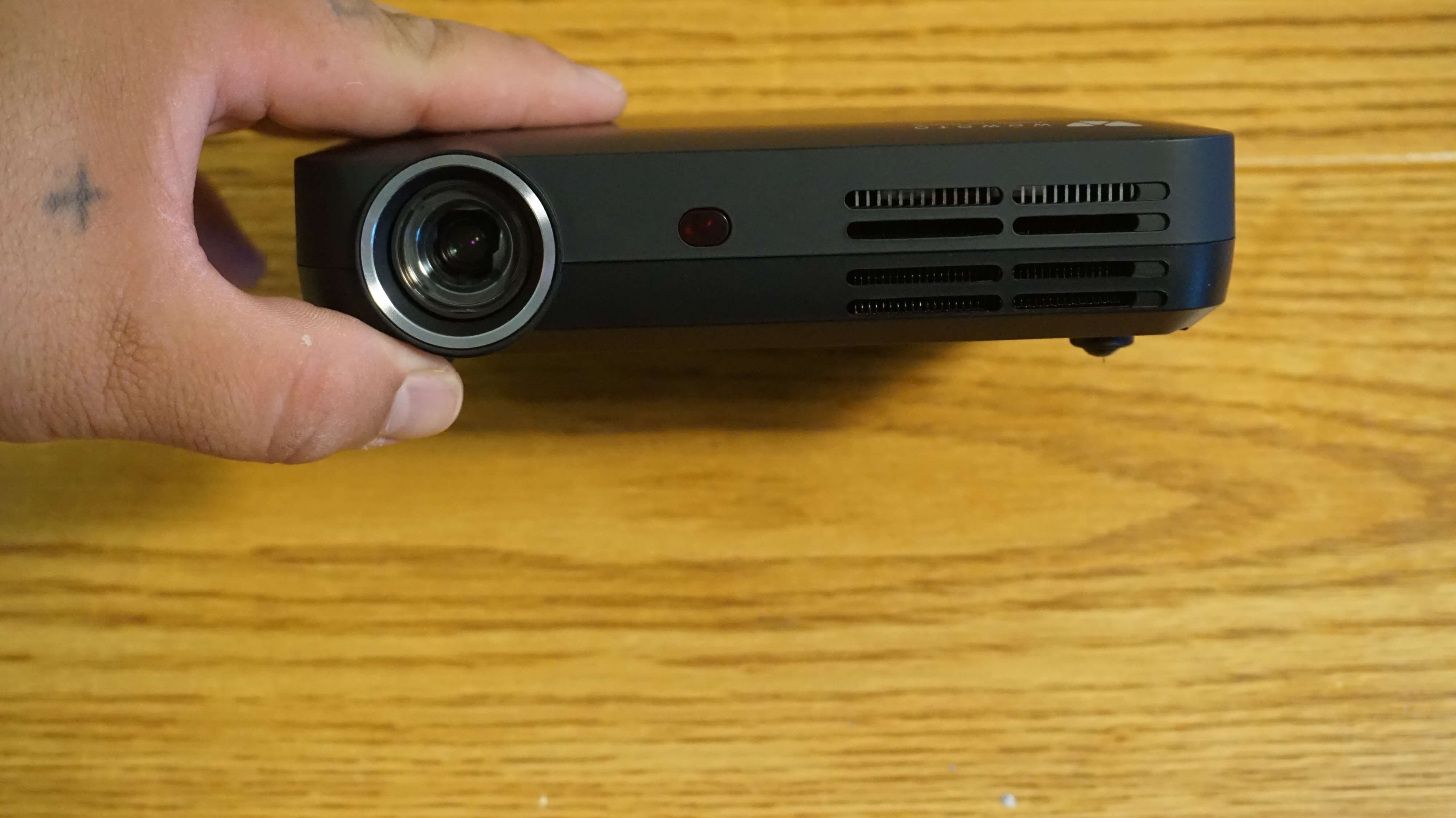 The lens puts out 2000 lumens. This makes the screen viewable in daylight. I do suggest cleaning the lens at least once a month to keep the dust cut down.
The projector itself will go from the 20-inch screen all the way up to 300 inches. Now I suggest staying around 180 to 200 inches or so. This will give you your best quality screen. You can use this in daylight or with the lights on. I do however suggest darker settings make it that much more enjoyable.  I enjoyed hooking up my Nintendo switch and gaming in large screen. This work great at 1080p. You can see some of my game plays below.
Watch My Game Plays Here!
As you can see the camera was not angled well. This made it look like the projector was offset.
To play movies on the Wowoto H8 you will need to go to File Explorer. This will work in conjunction with movies on USB drive or SD card. In there you can go on whatever device you have your movies on. Now this will be easier if you have Netflix or Hulu or another of the popular movies services out there.
Watch My How To Play Movies Here!
Watch My How To Play 3D Movies Here!
The Wowoto H8 does have a built in speaker. This speaker will work in low volume rooms. If you want to add more volume I suggest adding a Bluetooth soundbar. Since this projector has Bluetooth built in you can connect very easy. You could even use a bluetooth headset. I added a Vizio sound bar to mine. This gave me a room filed of sound when gaming or watching movies.
Final Thoughts!
With the advancements in TV's and projectors in the past few years, I think everyone should at least try a projector. It really helps if you don't want to see that large screen tv. As long as you have a nice large white wall your golden. The Wowoto H8 is very bright and very clear. I have had no issue with the device except the slow mouse on the remote. The way around that is using a wireless mouse and keyboard like I did. With the led light and the 30,000-hour life span, you shouldn't need to replace this device. You could always just change the bulb out if needed.
With the compact size, you can hide this almost anywhere. Including book shelves or floating shelve. You will need to hide the cords.  I think this device scores nice on the rating and works well. You will need to putt out a few bucks for it but in my book well worth the money. This device runs around 450 to 500 dollars on Amazon.( I know Shocked Face. You can buy a new tv for that price.)
Disclaimer: Wowoto sent me the H8 1080 Projector to test and review. All opinions are mine and mine alone!
We are influencers and brand affiliates.  This post contains affiliate links, most which go to Amazon and are Geo-Affiliate links to nearest Amazon store.
Hi everyone I'm James Braga. I was born in Oregon and moved to New Hampshire a few years back. I love most things that have to do with video games and electronics, It doesn't matter if it for a car or a house, if it has electricity in it i will love it . I'm also in school for Information Systems Technology.