With Microsoft's recent push to further bolster their partnership with ESPN on the upcoming Xbox One, it comes as no surprise that the Magic Kingdom itself would enter the spotlight. On Tuesday, Disney released the "Best of Disney" app for fans of the Mouse to enjoy their favorite Disney content on Xbox 360 consoles. Typically such apps feature trailers of future releases or limited snippets of popular shows at best. Disney on the other hand, aims to provide a richer and fuller experience by offering a mix of movies, shows, and shorts.
What to Expect from the "Best of Disney" App
While the web series releases will probably draw in younger audiences, such as Disney Where's My Water? Presents Swampy's Underground Adventures, Blank: A Love Story, and Digitales, it is the nod to the classic animated shorts that will most likely bring in the nostalgic crowd. Naturally, Disney XD and the other Disney channels will not be neglected and clips will be curated from them on a regular basis. At this time however, the main focus of the app appears to be serving as a launch pad for series like the ones mentioned above and providing a good environment for Disney Interactive to test their new creative direction.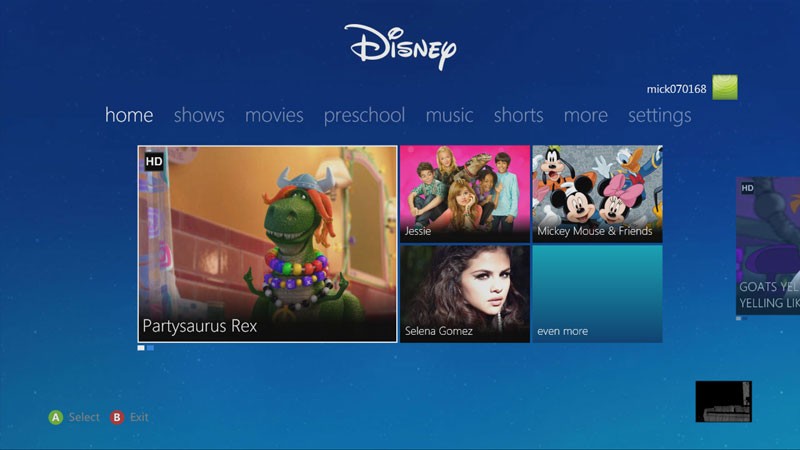 Disney does not just seek to limit this effort to the Xbox 360 though. In an official news release on Xbox.com, the following was stated in the opening paragraph.
The Disney app for Xbox 360 furthers Disney Interactive's goal to bring quality Disney videos and experiences across all platforms and devices.
Considering that Disney Infinity, Disney's upcoming video game release that utilizes collectible figurines, will be a multiplatform offering it is certainly possible that PlayStation 3 users will also be treated to the "Best of Disney" app.  There is a PS3 sitting on the top of my desk that certainly hopes that this will be the case.