We are influencers and brand affiliates.  This post contains affiliate links, most which go to Amazon and are Geo-Affiliate links to nearest Amazon store.
Hello, again, my friends. It has been quite a long time that it has been since I've written to you. We've come a long ways here at DragonBlogger and today I would like to bring you something that is a far cry from my original posts.
Let me ask you a question, how comfortable are you right now? Perhaps you're laying down, perhaps you're standing up, perhaps you're sitting in
a ungodly uncomfortable chair. One more question, okay? Have you heard of gaming chairs? Probably, considering you've found yourself stumbling into
this post. They're just like office chairs; with a twist. Most of them have aggressive designs, random cutouts, modular pillows, reclining seats, and sometimes even foot rests. Highly recommended.
Today, we are going to be taking a look at a chair from a company called Blitzwolf.  If you've already googled gaming chairs, you probably wondered into territory of multi-hundred dollar chairs. Nothing wrong with that all, honestly. However, if you're not looking to dish out the hard-earned cheese for something you'll only sit in, stay here because this chair might surprise you and the GC2 model which is newer with more features is only $105.99 when you use coupon code BGUSGC2 at checkout from Banggood, valid only until 8/31/2020.
First things first, let's talk about WHAT makes this chair so cheap, relatively speaking. Take a look at the picture below this paragraph and then return up here, you cannot really distinguish this "cheap" chair from others that look like it, right? You might have to look closer. See it yet? Thin. You will notice that the chair is thin. Blitzwolf opted out of intense padding and plumped up components to be able to bring you a chair at this price. The saying goes, you get what you pay for, but in this case that is not necessarily a bad thing. One other thing I have noticed that could have a say in why the chair is so inexpensive is the weight of the chair. The BW-GC1 only weights around 45lbs. Comparing to other, more popular brands (which I will not name solely for the intention of focusing on this chair), the BW-GC1 comes in nearly 25-30lbs lighter. Lighter could be pushed both ways. On one hand it is easier to maneuver and move. On the other hand, it might feel flimsy or just not solid, if you are still following me. That is all I can reason on this matter.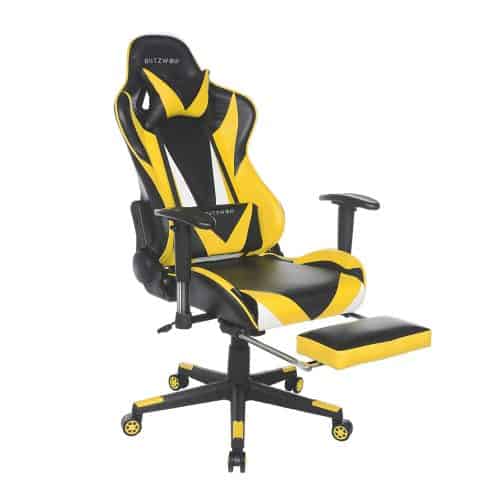 Enough on that though, let's talk about DESIGN. Name ONE other thing that looks this cool at $110. Wrong. End of story, nothing does, I win. In all seriousness, the chair looks incredible for what you pay. I personally like the OG style gaming chairs. You know, the ones that look like you ripped it out of a super fast Lamborghini and put some wheels on it? Just me? Okay. Blitzwolf did a great job on their color scheming. They balanced out the two-tone color pattern well so you're not flooded with one color more than the other. Although, the highlight colors are very vibrant and colorful. The yellows are YELLOW, the blues are BLUE, and the reds are RED, and so on. The addition of the footrestThe even included accents on the wheel base which some other higher end gaming chair companies just do not. Great job on the design Blitzwolf.
Here are some other stills taken from my video, below:
Now, on to QUALITY and COMFORT, shall we? Let me completely transparent with you, the quality could be better. I understand the price point and that it is not going to get you into the comfort or quality of a $400 gaming chair. I get that, but there are a few things I would like to touch on. Disclaimer: a lot of what I am about to talk about is better demonstrated in the video I have on YouTube, which you'll find on the bottom of the post. First things first, the control handles. The seat has two handles that work independently of each other. One is for the raising/lowering of the chair for height adjustment. The other is for reclining the seat backwards and forwards. With the reclining handle I have found that whenever you recline the seat it will stay there until you once again hold the handle. Not only does it not go forward once you hold the handle in, you have to hold the handle in and manually grab the chair to move it forward. It does budge a tiny bit forward when you hold the handle in but nowhere near enough to bring it back to a proper upright position. Check out my video, I demonstrate it near the end. Secondly, is the comfort of the walls that come up near your thighs. I wouldn't complain about this if I didn't think I can't be the only one who noticed it. Where these walls come up, the metal supports inside of them of very obtrusive, and will put an uncomfortable pressure on your legs, making you have to basically sit with your legs smashed together. The footrest helps, because it makes you to not sit wide in the chair. Okay, last thing I have to bash, if I haven't scared you off by now, IS the footrest. It really isn't a footrest, it is more of a calfrest. Whenever I, an averaged height man, put my legs on it, my calves naturally fall at the edge of the footrest which eventually causes my legs to fall asleep. I just ended up not using it.
OKAY, WHEW. I'm done complaining. The chair has great comfort and quality features. Such as, the material. The material is very soft and keeps cool so you're not sweating just from sitting in the chair. The padding on the seat and backrest is plush so it sits nicely. The pillows, I have to give a big shoutout to the pillows. They are so soft and cozy. One sits naturally at the curvature of my back and one sits at the curve of my next and they're very soft. Big plus for the pillows. If only they were a little bigger, I think I'd replace them with my pillows on my bed.
To finish up, I would like to throw in some other minor things. Take a look below:
Building the chair is very straightforward. Instructions were clear and concise. They gave you a one-size-fits-all allen key to build the chair with.
The chair isn't huge and operated well. I was able to scoot out and in from my desk easily and had no trouble pushing it out of my way.
The "leather" is very strong. I torture tested it a little bit by physically trying to stretch it and I couldn't.
Shipping was fast, after receiving confirmation on shipping, I received the chair in a week.
It's on SALE! Check out the link at the bottom to snag this chair!
In conclusion, I believe this chair is absolutely great for the price. It was a huge upgrade from my waiting room style chair I was sitting in. I highly recommend you consider the Blitwolf BW-GC2 gaming chair if you're looking to save some money but upgrade your sitting experience.
That's all for my today guys! Check out my review on YouTube below, and I will see you guys next time!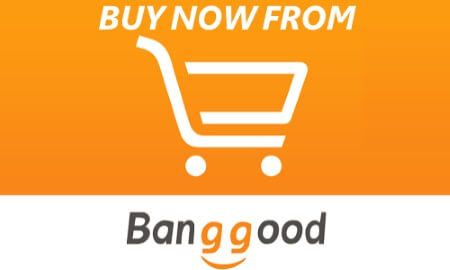 Remember to use COUPON CODE BGUSGC2 before 8/31/20 to get this chair for $105.99.
We are influencers and brand affiliates.  This post contains affiliate links, most which go to Amazon and are Geo-Affiliate links to nearest Amazon store.
Hello all. Glad you could be here. My born year is 1995 and I have been raising hell ever since. By raising hell, I mean that I love to work on cars, computers, play video games (currently UFC 2), spend time with my family, and simply enjoy the little things. I love what I do and I do nothing else.
Onward!