We are influencers and brand affiliates.  This post contains affiliate links, most which go to Amazon and are Geo-Affiliate links to nearest Amazon store.
Having a secondary monitor can greatly increase your productivity. With a dual monitor setup, you can get your daily work done on one monitor, while on the other, you can have Slack, Zoom, or Skype open and stay in touch with your office peers at all times. Or if you are a game streamer, you can play your games on one screen and interact with your viewers on the other monitor. While normal monitors can get the job done just fine, you can further increase your productivity by getting a portable monitor. In this article, we will be checking out Lumonitor, a 4K portable monitor. Before that, here's a little background of the guys that brought Lumonitor to life.
About Lumonitor Labs
Lumonitor Labs is an audio-visual innovator and product development company founded by engineers and entrepreneurs in the audio-visual field with a background in monitor manufacturing. Their first project, Lumonitor was first introduced on Kickstarter, a popular crowdfunding website in July, and with a backing of over 1400+ supporters and funding of $500,000+ at the time of writing this article, they are way past their initial goal of $9,676.
Lumonitor Features
4K Display
Lumonitor comes with a 15.6″ 4K Ultra HD IPS display. A 4K display has much better depth and quality when compared to a traditional Full HD display. True LED Backlight provides vivid colors and deep blacks with a 100% sRGB color range. With a portable monitor like Lumonitor, you can fully enjoy the 4K experience wherever you go. Lumonitor also has a 1080p Full HD variant which gives the buyer the freedom to choose from depending on their requirement.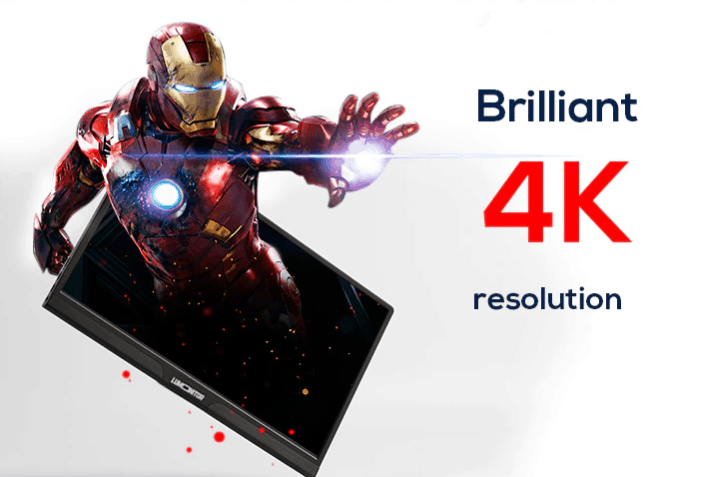 Full Touchscreen Display
Lumonitor comes with a touchscreen display which is a huge plus point of having a portable monitor. Lumonitor is equipped with a brand new PinPoint touch technology that provides accurate touch response. Having a touchscreen monitor just gives the user more control over their work.
Plug and Play
With Lumonitor, there is no hassle of doing any setup or installing anything to get the monitor up and running. Simply connect the monitor to your device and voila, you are done. Since Lumonitor has an inbuilt battery, it will always remember your device preferences.
Compatible with any device
Yes, you heard it right. Lumonitor has universal compatibility, which means that you can connect the monitor with basically any device be it a smartphone, gaming console, Chromecast, desktop, or laptop. Lumonitor's ports include HDMI, 2X USB-C, Micro USB, and 3.5 mm AUX.
Inbuilt Battery and Stereo Speakers
While other portable monitors leech the power off of the device it is connected to, Lumonitor is the opposite. It comes with 2x 4000mAh batteries that provide 4 hours of screen time which is more than enough to get your job done without any interruption. Not only is Lumonitor self-powered, but it can also charge other devices such as your smartphone.
With inbuilt HiFi stereo speakers, Lumonitor eliminates the need for an external speaker. With dynamic audio and deep bass, you can watch movies, TV series, and play games with crystal clear sound.
Thin and Light
No one wants to carry a big and heavy monitor with them, which is why Lumonitor was designed to be as light and slimmer as possible. Lumonitor is only 6mm wide and weighs just 1.3 lbs. This makes it much more portable and easier to carry around.
Gaming Ready
Plugin your console/PC, hook up your controller, and enjoy 4k gaming with an ultra-fast 10ms response rate that provides zero lag. For the mobile gamers, go ham playing on a 15.6″ touch screen display that ensures great precision thanks to the PinPoint touch technology.
Final Thoughts
From all the information provided on the Kickstarter page as well as on the Lumonitor website, Lumonitor is a really good option to consider if one is looking to purchase a portable monitor. Lumonitor has a 15.6″ IPS 4K Ultra HD monitor that weighs only 1.3lbs and runs on a built-in battery. Right now, you can grab the 4K variant at a discounted price of $325 which is 35% off its retail price, while the 1080p version can be purchased for $225, which is 44% off its retail price. The pricing will change once the Kickstarter ends, so go ahead and grab yourself a Lumonitor.
We are influencers and brand affiliates.  This post contains affiliate links, most which go to Amazon and are Geo-Affiliate links to nearest Amazon store.
Hi my name is Rohan Jadhav. I am a guy who loves to play games and a tech lover. I like to be updated on all the tech stuff. I enjoy watching movies and I am currently doing a specialization course in VFX.