We are influencers and brand affiliates.  This post contains affiliate links, most which go to Amazon and are Geo-Affiliate links to nearest Amazon store.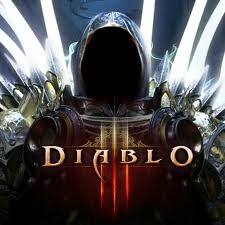 "Two decades have passed since the demonic lords, Diablo, Mephisto, andBaal, set out across the world of Sanctuary on a vicious rampage, twisting humanity to their unholy will. Yet for those who battled the Prime Evils, the memory fades slowly" Diablo III
BlizzCon 2010 attendees erupted when it was officially announced that Diablo III (D3) Beta will be available sometime in 2011…to only 1,000 participants. So it came as no surprise when Blizzard's CEO Mike Morhaime confirmed that an "external beta" testing opportunity is targeted to launch sometime in the "3rd quarter of this year." So this means that sometime in July 2011, those lucky thousand will get their hands on the most anticipated RPG in history!
Also during Activision's First Quarter CY 2011 earnings call, Morhaime confirmed that the D3 beta will be available sometime this year, but no confirmed release date is set for the full game release. It was definitely clear that the full game will be released when "everything" is ready.
Activision's Publishing highlights in the call included that in the US and Europe across platforms (XBOX, PS3, PC) that Call of Duty: Black Ops became the "best selling video game" of all time–with Black Ops being the #1 game title overall* and for Microsoft XBOXLive –Black Ops DLC "First Strike" shattered download records–a whopping 1.4 million downloads in the first 24-hours!**
Other Activision 2011 Highlights
Company wide internal testing has begun.

Targeting Q3 launch for external beta testing–this is where the luck thousand will be in on the 2011 Beta testing.

Do not

have an official release date or window yet, but driving hard to launch Diablo III this year.
My note to Blizzard:  take your time. We all appreciate developers who take stock on the importance of such a game release is to fans. We will be here when you are ready.
What is Diablo III?
Diablo 3 is a continuation of the action RPG series. The game takes place on Sanctuary, a world of dark fantasy. Unbeknownst to most of its inhabitants, Sanctuary was saved some twenty years ago from the demonic forces of the underworld by a few brave and powerful heroes. Most of those warriors directly faced Hell's armies — and were fortunate enough to survive — went mad from their experiences. And most of the others have buried their haunted memories and pushed the horrors from their thoughts. In Diablo III, players will return to Sanctuary to confront evil in its many forms once again.
Players have the opportunity of selecting/creating a hero from the five distinct classes:

Wizard
"The wizard is a wielder of the elements and a master manipulator of time, who combats the hordes of the Burning Hells by launching environment-

shattering lightning bolts, channeling explosive arcane energies, and creating pockets of space outside of the normal flow of time."
Witchdoctor
"The fearsome witch doctor hails from the terrifying Tribe of the Five Hills of the legendary umbaru race. The witch doctor is equipped with spells and alchemical powers; can summon mongrels, locust swarms, and zombie armies; and hurls fiery concoctions to annihilate any demon foolish enough to trifle with the powers of the umbaru."
Barbarian

"One of the stoic guardians of Mount Arreat. Retooled with powerful new abilities and moves, this plate-wearing savage wields ferocious weapons to annihilate the demonic forces threatening the world of Sanctuary."
Monk

The monk is a skilled warrior of unparalleled dexterity. Armed with speed, holy fervor, and a quest for physical and spiritual perfection, the monk becomes a deadly apparition in the heat of battle, moving faster than the eye can follow to strike down enemies with a barrage of lightning-fast blows.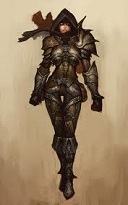 Demon Hunter
The demon hunter has a sole purpose in life: to track down and destroy every last demonic being that dares to threaten humanity. Lithe and notoriously deadly with a pair of dual crossbows, the demon hunter brings an entire arsenal of arcane gadgets and mystical traps to the battlefields of Sanctuary.

Diablo III will be a fitting sequel to Diablo II, with the easy interface, fast-paced action, and visceral gameplay that Diablo players have come to expect and enjoy. It will also include many new features that will take the Diablo action-RPG experience to the next level.
Features:
Five powerful character classes to choose from, including the barbarian, witch doctor, and wizard
Brand-new 3D graphics engine enhanced with spectacular visual effects and Havok physics
Numerous indoor and outdoor areas detailing new regions in the world of Sanctuary
Interactive environments with dangerous traps and obstacles, and destructible elements
Randomly generated worlds bolstered by scripted events for endless and dynamic gameplay
Vast assortment of fiendish monsters, with unique attack patterns and behaviors
New quest system and character-customization options for the ultimate action-RPG experience
Multiplayer functionality over Battle.net with support for cooperative and competitive play
In order to become a potential selection for the beta testing for Diablo III, an account with Battle.net is manditory–and your account settings must be set to 'opt-in' to allow beta testing. Remember–only 1,000 beta testers will be randomly selected.
Good Luck!
Note*
*In the U.S. and Europe, in $'s across 360, PS3 and PC, according to NPD, GFK/Charttrack
**Microsoft estimates and company estimates
Image credit and character and game description: Diablo III
[easyazon_block asin="B00178630A"]
We are influencers and brand affiliates.  This post contains affiliate links, most which go to Amazon and are Geo-Affiliate links to nearest Amazon store.
When AIDY isn't writing poetry, she likes to write film reviews. If she is curious about something she seen or heard, she'd maybe write about that, too.