Earbuds tangle and get twisted too easily and if you have kids like me then you will find them just haphazardly tossed on desks, book shelves and stuffed in backpacks.  There is a better solution especially for kids and teens who may use their earbuds all the time in their bedrooms.  You can pick up the Brainwavz Krudal Duo Earphone Hook system and this system comes with 2 specific hook styles so that you can make sure to hang your earbuds wherever it is most convenient.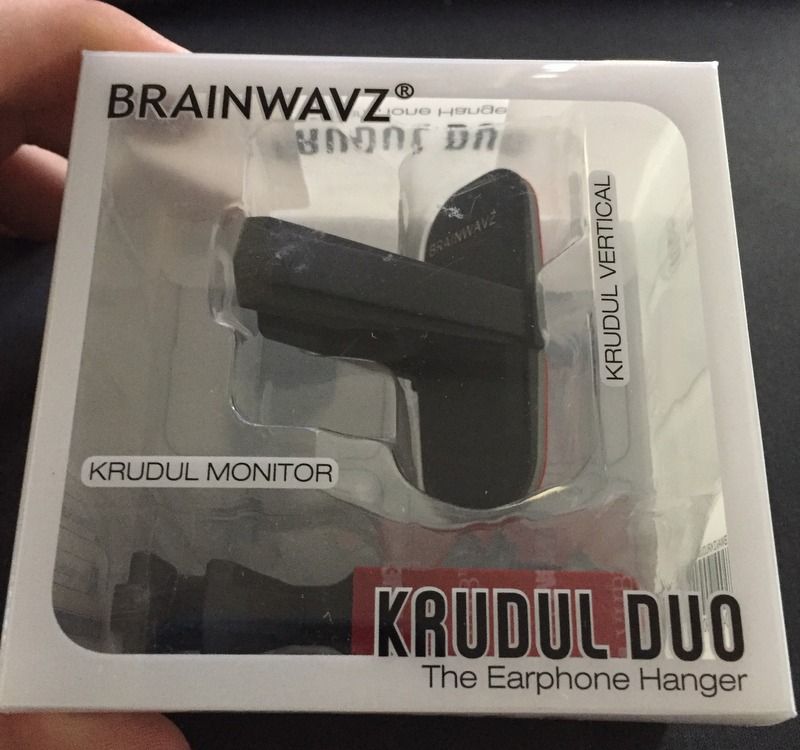 Brainwavz Krudal What You Get
Earphone hanger for vertical surfaces, back of monitors, screens etc

Two separate earphone hanger solutions in one package

Made with die cast aluminum, light weight and durable

Held in place by powerful 3M VHB tape, the Krudul will be to hold even the most heavy earphones.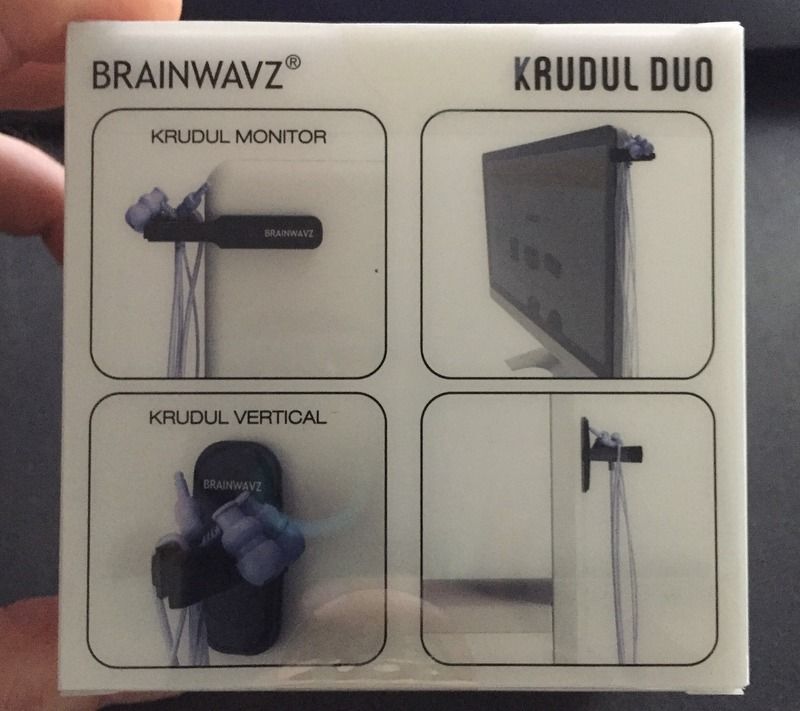 You get both types of earbud hangers in the box which are the Krudul Monitor and Krudul Vertical.  Both have a very powerful adhesive sticker which holds fast and does not come off easily so make sure you want it to be virtually permanent to where you want to hang them.  Clean the area to avoid any dust sticking too and weakening the adhesive backing but other than that these things will stick and they are strong.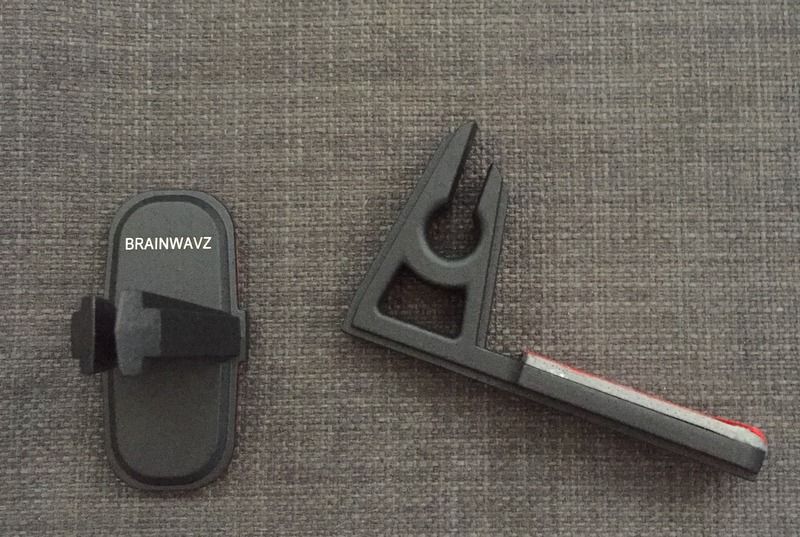 The Krudul Vertical is mean't for a wall or the back of a monitor where you can hide the earphones out of sight or off to the side.  The adhesive is extremely strong and it allows you to curl the earbuds and tip so that they are held for easy access.  They paired nicely to hold my Brainwavz B200 Earbuds which I have hanging on them now.  These have the T-100 foam tips installed on them for excellent noise cancellation and blocking.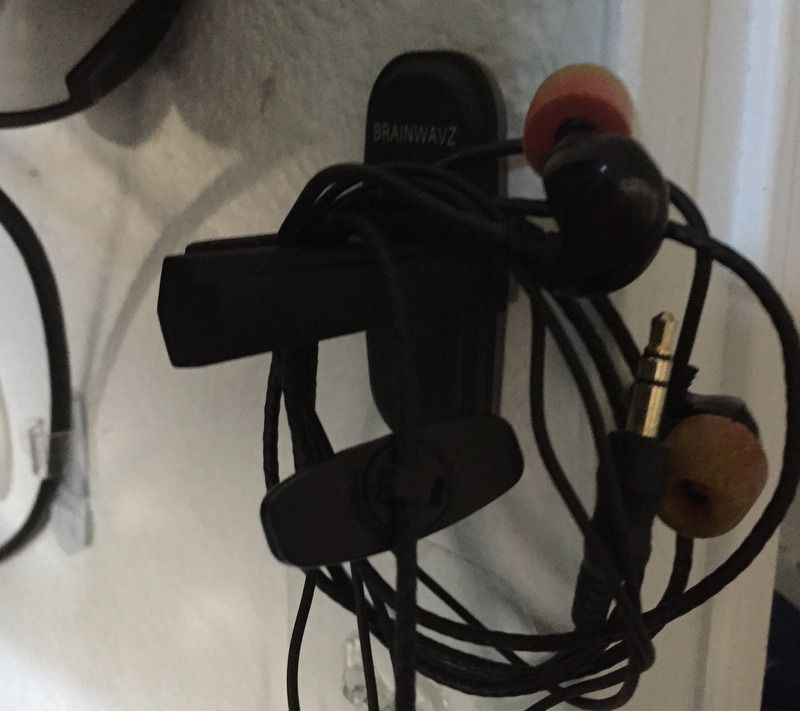 Now I didn't have any monitors ideally to place the Krudul hook that hangs on monitors, so I decided to see if it would work for say a protruding wall that angles out and when I reversed it it worked out well in that fashion.  Now in the pic below those aren't Brainwavz earbuds but I am using them just to demonstrate how they hold the earbuds.  Normally this would probably be installed on the back of a monitor so that the clip hangs just off the side of a monitor.  I didn't want to attach it to a laptop cause it does add that extra width edge and I was worried it would break off if I put it in the laptop bag.  I have been using the other Brainwavz headphone hanging products like the Hooka and Truss Dual Headset Hanger and they have stayed in place for over a year.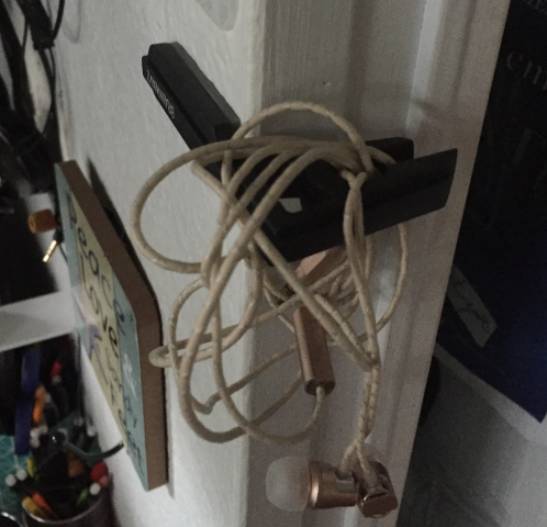 Either way for the price you are getting a good set of earbud hooks that hang and keep your earbuds arranged than using a generic wall hook.  The one that hangs off the side of the monitor is particularly cool at keeping it right at your fingertips when you are doing using earbuds.