Note: Episode review contains minor spoilers.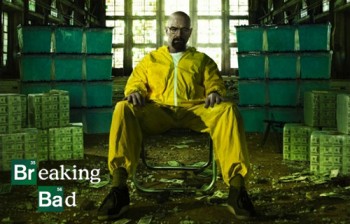 Happy fifty-first birthday Heisenberg, make a wish.
If you thought Heisenberg was gone for good, you were dead wrong.  Like Samson growing his hair back, Walt (Bryan Cranston) was truly reunited with the one thing that made his bid for drug lord supreme…the black fedora hat.  This development of course slips by poor Walt Jr. (RJ Mitte), who is unfamiliar with daddy's line of work, and is ecstatic to get his hands on a new set of wheels.  Meanwhile, a dangerously withdrawn and hollow-eyed Skyler (Anna Gunn) continues careening toward the deep end, literally!  Before we get into the meat – or should I say bacon – of what made this episode of Breaking Bad so good, allow me to remind the uninitiated to read about the main plot details in one of our earlier reviews.
My goodness are the writers finding ways to totally Rowling us!  Eagle-eyed viewers may recall the small insignificant detail of Walt spelling out the number 52 with his bacon during the season opener.  Since the first episode, I have been hopelessly trying to stitch together a timeline with little success.  Wouldn't you know it, the writers finally decide to rub it in our faces and show Skyler with little enthusiasm grant Walt his beloved birthday bacon tradition by spelling out 51.
Time was really the focus in this episode.  You had the constant flashes of clocks, watches, and dialog referring to it.  While this struck me as odd at first it was clear with the revelation of Skyler's master plan what it meant.  We even have the metaphoric time bomb of Lydia (Laura Fraser).  Mike obviously does not have patience for risks that are just waiting to happen.  So obviously Lydia's time may soon be up if Mike's not appeased quickly.
Of course I cannot wrap this review without taking notice of Hank's (Dean Norris) recent promotion.  Once again I feel the writers are successfully toying with us.  Whenever Hank's career flourishes, he ends up on the worse side of any situation.  I just hope beyond hope that has the wits to get himself out of it.  That's the thing about Hank.  I really appreciate the Columboesque air they give him.  He acts as if he's just your average Joe-six pack but in reality has a lot going on in that super sleuth brain of his.
Well if this episode showed us anything, it would be, that bad times are on the way courtesy of Walter "I am the Danger" White.
Mitra Faridian first joined the site in 2011 under the handle "Persian Poetess." Her gaming and entertainment taste is very eclectic and she's always open to a fun new virtual adverture. Email her at the following address: mitra [at] dragonblogger.com