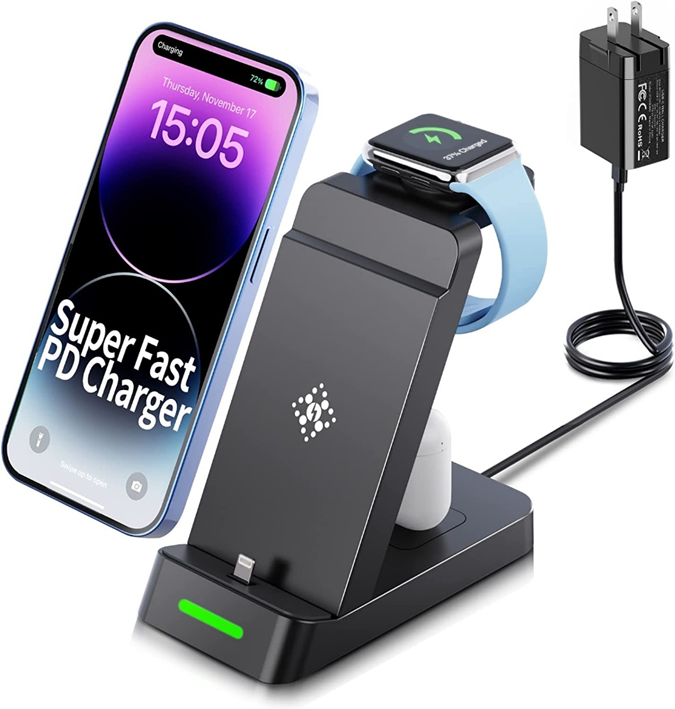 Looking for an efficient charging station to decrease the number of cables in your home?
Charging our devices no longer has as many problems as it happens in the past and I mean the fast charging that is popular among all brands. Something surprising to many is how well wireless charging works, you can charge many devices in this way and it is great because you do not need to use many cables, but I think for many it can become complicated when we want to charge 3 devices at the same time without occupying many cables and although you can buy more adapters, a 3 in 1 charging station seems a much more useful idea.
The 3-in-1 charging stations are designed so you can charge your devices in one place, saving you money by buying adapters and cables. There are many brands and some are designed for Apple and Android devices. Even though a 3-in-1 charging station can recharge the battery of 3 devices at the same time they usually offer amazing fast charging power, and you can get the same charging time as with most chargers (they can probably do it much faster compared to a common adapter).
The TYCRALI 3-in-1 charging station is a great option to consider if you're looking to charge your Apple devices in one place (iPhone, AirPods, and Apple watch). It offers great power and security so that all your devices are always protected. It's available at a great price, so it's a great way to save money as well as decrease the use of wires in your home. Next, discover the most interesting features of this product.
Features of the TYCRALI 3-in-1 charging station
If you are tired of having your house full of cables, then the TYCRALI 3-in-1 charging station is what you need. The main feature of this charging station is that it offers a fast charging speed of up to 27W (PD charging up to 33W), this allows you to charge 50% of an iPhone in just 30 minutes, which is much faster than some standard chargers. Forget about having to use 3 adapters and a bunch of cables, that's very annoying and uncomfortable, instead of doing that, you can use the 3-in-1 charging station to keep all your Apple devices in one place. The TYCRALI charging station is designed so that you can charge your iPhone using the cover (maximum thickness of 6mm), you can slightly adjust the charging station to increase comfort while charging your devices. The power cord is 4 feet long enough that you can plug the adapter into the power outlet without any problems. PD Smart IC technology ensures that each device receives the power it needs, plus this 3-in-1 charging station has protection against overheating, short circuits, and any electrical problems, this ensures that your devices are charged safely. The led light tells you if your cell phone is charged, it is also designed not to disturb you while you sleep.
You can buy this item here on Amazon
My name is Joel! I love to read, I go to university like most people my age.
In my free time I usually train boxing, I love music, I also know how to play the guitar and the harmonica.