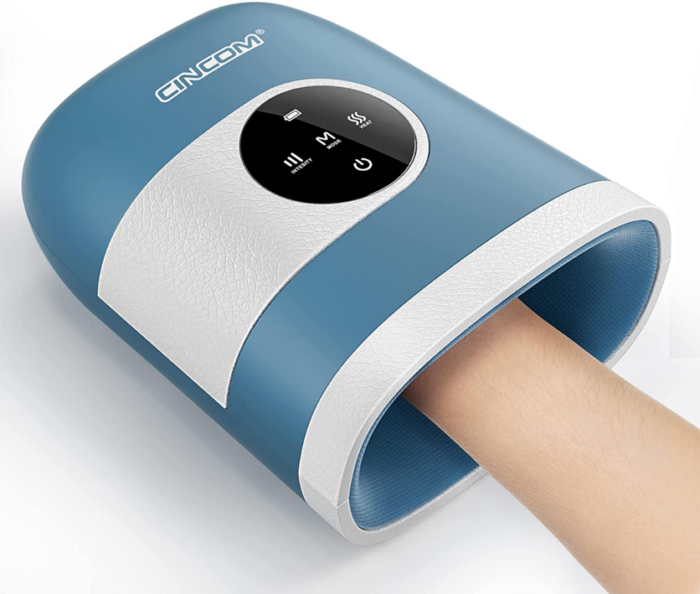 Tired of the pains in your hands caused by intense work? A hand massager will surely help you reduce the annoying pain
If you usually work for many hours a day, you have probably experienced severe pain in different parts of your body, which is normal in most people. People who play sports or go to the gym also often have discomfort in their hands caused by a bad movement or a blow. Many people prefer to endure pain and other people prefer to spend hundreds of dollars on a masseuse, but I think that most of you do not know one of the best products designed to reduce annoying pains in your hands and I mean hand massagers.
Hand massagers are designed for people suffering from arthritis or pain caused by an accident. They are also designed to offer a relaxing hot massage, which improves circulation and decreases swelling and pain in a much faster way. They are easy to use and best of all, it works wirelessly, which means you don't need to rely on an outlet to use a hand massager, most hand massagers run on rechargeable batteries, so you can carry them around during trips and enjoy a nice massage on your hands.
The CINCOM hand massager is a great option to consider if you are tired of suffering from annoying aches and swellings in your hands. This hand massager offers relief in your hands, so it will surely help you reduce the pain in your hands much faster. The rechargeable battery gives you great performance. Next, discover the most interesting features of this product.
Features of the CINCOM hand massager
If you are looking to relieve the pains in your hands caused by work, then the CINCOM hand massager is what your life needs. The main feature of this hand massager is that it offers a recuperative massage thanks to the 7 airbags which are compressed to improve the circulation of your hands, this significantly helps to reduce pain and swelling. To achieve all the above the CINCOM hand massager can heat to a temperature of 93° F up to 110°F (temperature can be adjusted). The hot massage next to the air pockets will relieve most of the pain, so you will get quick relief. Another feature of the CINCOM hand massager is the 2500mAh rechargeable battery, a full charge will offer you up to 5 hours of use, which is very useful if you use the hand massager away from home. You can activate the 20-minute timer (recommended) to get a full massage. Forget about those intense pains in your hands, this hand massager will help you feel better so you can have the best performance in your daily activities. A great product for all types of people and ages.
You can buy this item here on Amazon
My name is Joel! I love to read, I go to university like most people my age.
In my free time I usually train boxing, I love music, I also know how to play the guitar and the harmonica.