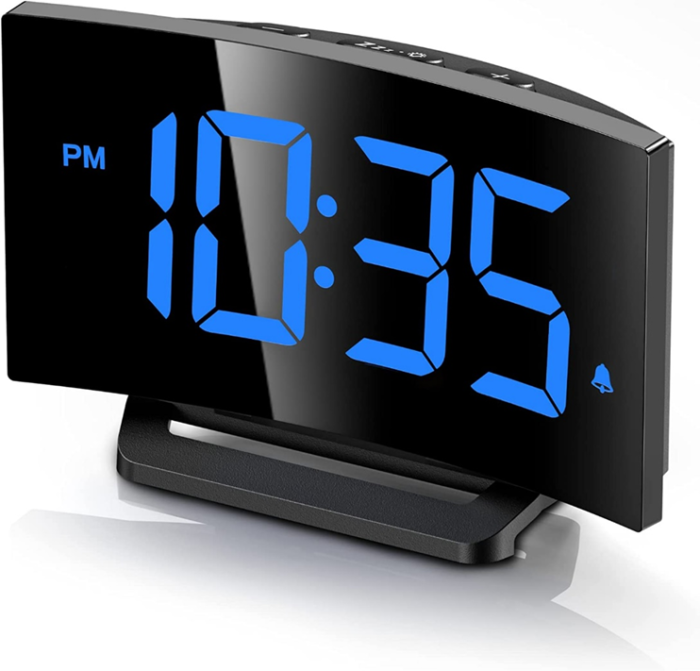 Do you usually have a heavy sleep and are worried about falling asleep on an important day? A digital alarm clock will surely be of great help
I think that someday we have all been late for work, college, school, an important meeting, or anywhere, we are not perfect, but many times we do not realize that time can pass very quickly. Let's face it, no one likes to wait longer than agreed and it's certainly disrespectful not to be punctual, so using an alarm clock will surely allow you to wake up without worrying about being late for an important meeting, work, or anywhere you plan to arrive on time. I know that our cell phones have alarms, but a digital alarm clock will surely be something more reliable.
Digital alarm clocks are designed to be easy to use, as well as create a good habit of getting up early not only in adults but also in children. Cell phones include alarms which can be useful, but you may sometimes forget to charge your cell phone and that can be a big problem. Many people forget to set the alarm when they return home tired, so an alarm clock will wake you up accurately so you can get up and get anywhere on time. Digital alarm clocks are very cheap, for less than $ 20 it is possible to get a good quality one.
The GOLOZA digital alarm clock is a great option to keep in mind if you're tired of waking up late, it's easy to set up so you won't be late anywhere anymore. Best of all, it's available at an incredible price, so there's no excuse for tardiness. Next, discover the most interesting features of this product.
Features of the GOLOZA digital alarm clock
If you are tired of tardiness, then the GOLOZA digital alarm clock will be of great help for you to start being a more punctual person and avoid some problems. The main feature of this digital alarm clock is that it plays a loud adjustable sound from 75 to 85dB, this ensures that you can wake up without worries, and the volume can be easily adjusted. Another feature of this digital alarm clock is that you can adjust the brightness of the hour between 6 levels, which is useful if you need to rest during the night without discomfort. The GOLOZA digital alarm clock has a sleek design and a curved screen to give your room a better look. You can also choose from 4 screen colors (the color is unique in each alarm clock). Something you should know is that this alarm clock does not need batteries to work, you only need to use a USB cable and adapter (included). You can also set the time format (12 and 24 hours), so you can choose the most convenient time form for you. Forget about being late again to work, this digital alarm clock will wake you up on time every day.
You can buy this item here on Amazon
My name is Joel! I love to read, I go to university like most people my age.
In my free time I usually train boxing, I love music, I also know how to play the guitar and the harmonica.