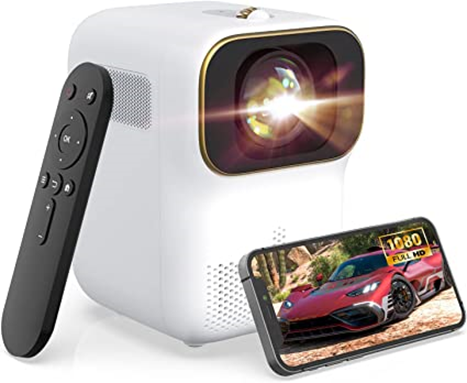 Looking for a compact projector to enjoy your favorite movies or series?
Having a cinema in your own home is surely the dream of many people, but making that dream come true can end up being very expensive. The good news is that at present you don't need to buy a giant, expensive screen to watch the movies in cinema mode. Projectors are the best alternative if you want to display content in "cinema" size. Projectors have been evolving for many years and today you can find compact models such as the WEWATCH for a very affordable price. It is important to choose a good quality projector to get a sharp image. Most cheap projectors offer a lousy image and you will surely be disappointed. That's why I took it upon myself to look for a compact projector that is capable of playing HD content. That's why I'll talk about WEWATCH, a high-quality compact projector ideal for having a good time with your friends or family. If you are looking for a projector with these features you would surely like to know more about this product.
Features of the PROJECTOR WEWATCH C015FGN-Lite
The WEWATCH is an incredibly compact projector ideal for playing content in high definition. The main feature of this projector is its small and compact size. The size is even smaller than most compact projectors on the market so you can carry this projector in a backpack, it is also easy to carry. It is spatially built to be stored anywhere in the home. Its compact size makes storing the projector an easy task. Another feature of this projector is its native resolution of 1080p which allows you to obtain sharp images, unlike most projectors. Note that 1080p is the maximum quality of this projector, but this quality is enough to display content. Another useful function of this device is that it can be connected by Wifi or on the contrary, it can use a wired connection (HDMI). If you are looking for a fast and smooth connection it is recommended to use the wired connection. The manufacturer recommends using a projector stand to prevent the image from moving, if you do not have a stand, you can use a table. You can connect this projector to a cell phone using a 3.5 mm cable or using a wireless connection. You can get a maximum projection of 120 inches which is enough to get a "cinema" experience. You can use the USB port to play hard drive content or external storage. The noise level has been significantly reduced to avoid annoying noises caused by the fan. Includes a remote control so you can set up the projector without getting up from the chair (does not include batteries). It also includes a power adapter and a manual.
Summary
If you are looking for a compact projector surely the WEWATCH is what you need. It is a small projector ideal for playing content in 1080p. You can get a maximum projection of 120 inches. Note that the manufacturer recommends using a projector stand, but you can use a table if you want to get a stable image.
You can buy this item here: Amazon.com: Mini Projector, WEWATCH WiFi Native 1080P Portable Projector, Outdoor Video Projector Built-in 3W Dual Speaker with HDMI for TV Stick, iOS, Android : Electronics
My name is Joel! I love to read, I go to university like most people my age.
In my free time I usually train boxing, I love music, I also know how to play the guitar and the harmonica.