The Choetech Qi Wireless Charging Station allows you to just set your phone on the dock and walk away leaving it charging. This is a wireless charging stand for your phone and will hold it vertically and glows green to indicate it is charging the phone. You get wireless charging if your phone is Qi compatible and with a QC 2.0 port you can get much faster wireless charging results.
For those of you who don't have a Qi compatible phone you can get a case that offers that capability, for the purposes of this review all charging and tests were done with the Samsung Galaxy S7 Edge with the Choetech Wireless Fast Charging Stand.
So what you get is simply a phone stand that is wide enough so you don't have to worry about your phone falling over, it even tilts back enough so you can simply just drop your phone on it and let it start charging.  As mentioned and you can see in the picture below the Choetech fast wireless charging stand has a light at the bottom that glows green when your phone is placed and charging.  The charging will start and one thing I will point out is that it makes a difference in charging speed if you are using a plain USB port compared to using a QC 2 quickcharge USB port, it charges much faster if you are using a Quick Charge AC outlet charger or USB port on a Charging Station that supports QC 2.0.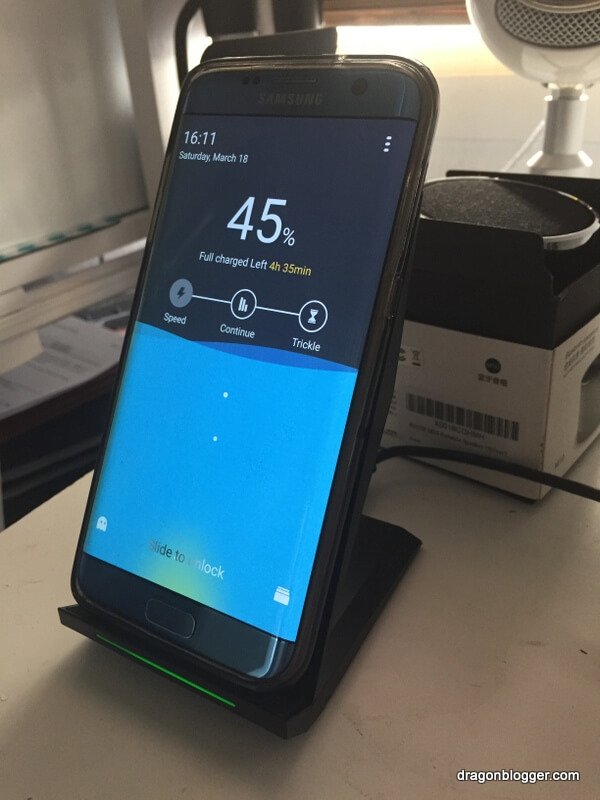 Either way Qi Wireless charging even with the Choetech wireless charging station is not as fast as doing direct QC 2 USB connection for charging, but it is ideal for setting your phone to charge overnight where you may not want to fuss with trying to plug in a MicroUSB cable in the dark or have to yank out a cable in the morning or middle of the night.  It is a good end table charging stand to have next to your bed or on your desk.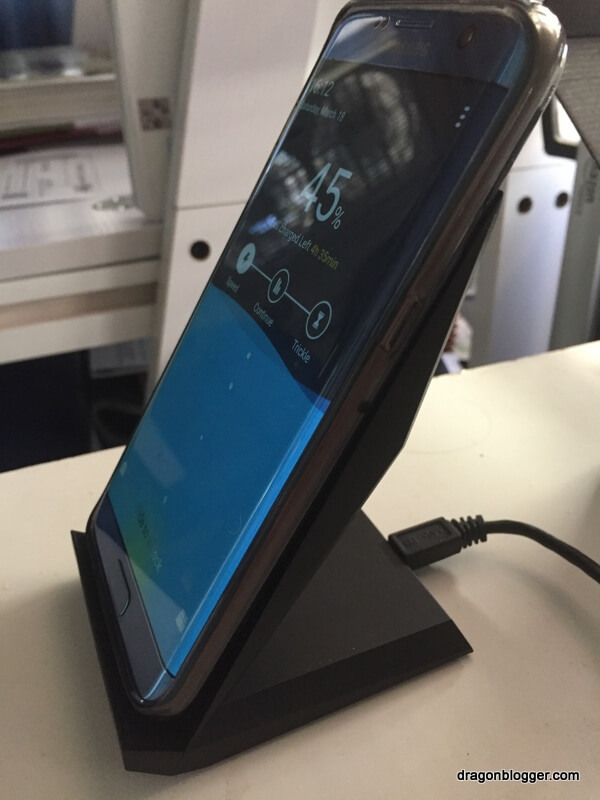 Here is the video review of the Choetech Fast Wireless Charger
All in all I give it a solid 4 stars, I think it would have been nice if they included a Quick Charge 2 AC plug head with the charging stand, but they are assuming you already have one if you have a Quick Charge capable device, still you could always use an extra or more of them for different rooms so I thought it could have been included.  I would recommend this if you have a phone that supports Quick Charge and prefer one that holds your phone vertical instead of those flat discs you set your phone on it's back on.