The name PCDecrapifier says it all. This software will help you remove unwanted crap from your PC so that you run more efficiently and streamlined. It is ideal for people who purchase a brand new computer that comes with a pre-installed operating system which has tons of vendor software that is "bundled". The program is 100% Freeware for personal use, so you can download PC Decrapifier and start using it today.
When you download the software, it doesn't even need to install it just starts analyzing your programs right away. The first menu will show you what you can/should remove from your "windows boot" and it quickly wanted to remove my java update and quicktime startup scripts. A new PC may have a dozen taskbar items that startup or more, so this should be run on any new OS installed PC or laptop you purchase.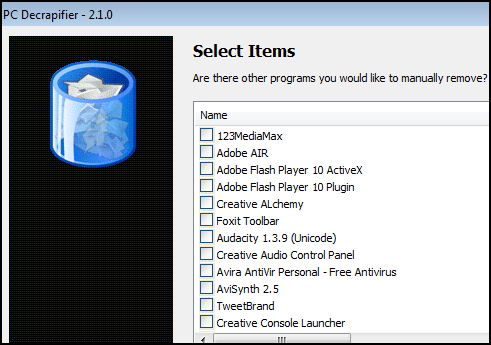 Then the 2nd Menu shows you your entire program list and lets you manually select anything you want to remove, though this part shows you essentially what is in your Control Panel "programs" folder, it runs faster and uninstalls can be done at a faster pace by selecting multiple applications and uninstalling. This cleans them up in popup windows that take you through the dialog boxes and is faster than the one at a time manual removal from the control panel.
So if it has been a while since you cleaned up the software on your PC, or you just bought a new PC or laptop with a pre-installed OS, check out PC Decrapifier and clean up some of the auto starting programs in your task tray and remove unwanted software that was bundled without your knowledge.
For the future I wish this program would also cleanup your Windows registry, expand the 'Decrapify" name and remove bogus registry entries, cache and maybe some other stuff as well but free is free, and it is always cool to find programs that provide decent functionality for free.
-Dragon Blogger