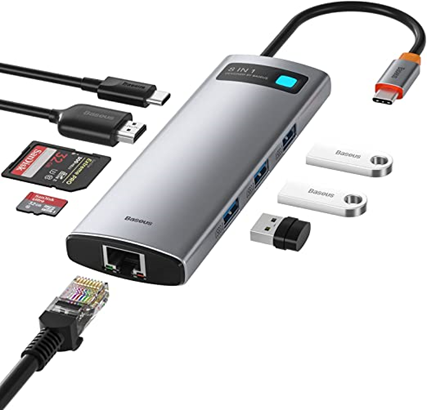 Tired of the lack of space to connect more devices on your MacBook Pro?
If you have a MacBook Pro, you've probably had trouble connecting more devices at some point. If you usually work in the office or if you are a person who uses several USB sticks at once it is likely that you have been frustrated by not having enough space to be able to connect more USB devices. You might think that there is no solution to fix this problem, but you will be surprised to know that you can connect up to 8 simultaneous devices on your MacBook Pro using a USB C hub, so surely this could fix the problem. Best of all, you don't need to spend a lot of money to have a USB C hub.
When you buy a USBcenterer you must make sure that it can offer security to avoid data loss, you must also make sure that it offers a long service life. Among many USB C hubs, the Baseus 8-in-1 looks one of the best. For less than $40, you can connect up to 8 different additional devices to your MacBook Pro. If you are looking for a reliable concentrator you would surely like to know more about this product.
How does a USB C hub work?
A USB C hub expands the number of ports you can use, so instead of just using the ports on your MacBook Pro, you can use external ports to increase the number of devices and peripherals you can connect.
Features of the Baseus 8-in-1 USB C Hub
With the amazing Baseus 8-in-1 hub, you won't have to worry about a lack of ports on your MacBook Pro, Surface Pro, or iPad Pro. The main feature is that you will be able to connect up to 8 devices simultaneously, from USB ports to ethernet cables, which means you will be able to connect different peripherals. Another feature is the 5 Gbps data transfer which allows you to transfer movies quickly as opposed to a USB 2.0 port. The Baseus 8-in-1 can transfer up to 10 times faster than USB 2.0 ports. In addition to the USB ports, a 4K HDMI output is also included to enjoy the content on the TV or monitor in high quality. Not only can you use USB sticks, but it also includes ports for SD / TF memories so you can also view the information in this type of memory. The RJ45 Ethernet port ensures a better connection, so you don't have to worry about failures caused by instability. The Ethernet port will also be used for local file transfer. The Baseus 8-in-1 ensures high levels of safety. An advanced chip is included that prevents overcurrent, guaranteeing the protection of all your devices and peripherals. The manufacturer offers a response in less than 24 hours in case of any problem.
Summary
The Baseus 8-in-1 is the best way to connect more devices or peripherals on your MacBook Pro. From USB 3.0 ports to 4K HDMI output. Available for less than $40 is an option to consider.
You can buy this item here: Amazon.com: Baseus 8-in-1 USB C Hub Docking Station, USB C Adapter with 4K HDMI, 3 USB 3.0, TF/SD Reader, Ethernet, 100W Power Delivery Compatible with MacBook Pro, Surface Pro, iPad Pro and Other Type C Devices : Electronics