Magnets are cool. Wireless charging is also cool. Together they're super cool. I mean really, what better gift for yourself or a technophile friend than a magnetic portable wireless charger? It's a power bank in your hand that you don't have to worry about unplugging from your phone. Scrap the cords, you don't need 'em unless you're charging the power bank itself. It's recommended for iphones, but if you have something else that can charge wirelessly, the VRURC Magnetic Wireless Portable Charger would probably also work on that device as well.
Don't worry about losing your power bank or having the charging capability stop working because the connection port is messed up from repeatedly plugging in and ripping it out. Forget about the hassle of a big piece of junk you have to lug around just because your phone is about to die. Not a big deal any more. This power bank is literally attached to your phone, so you don't lose it. You probably won't even know it's there after a while because of how compact it is: 0.42 pounds and 0.68 inches. That's only just a small bit thicker than most phones. Wowzers.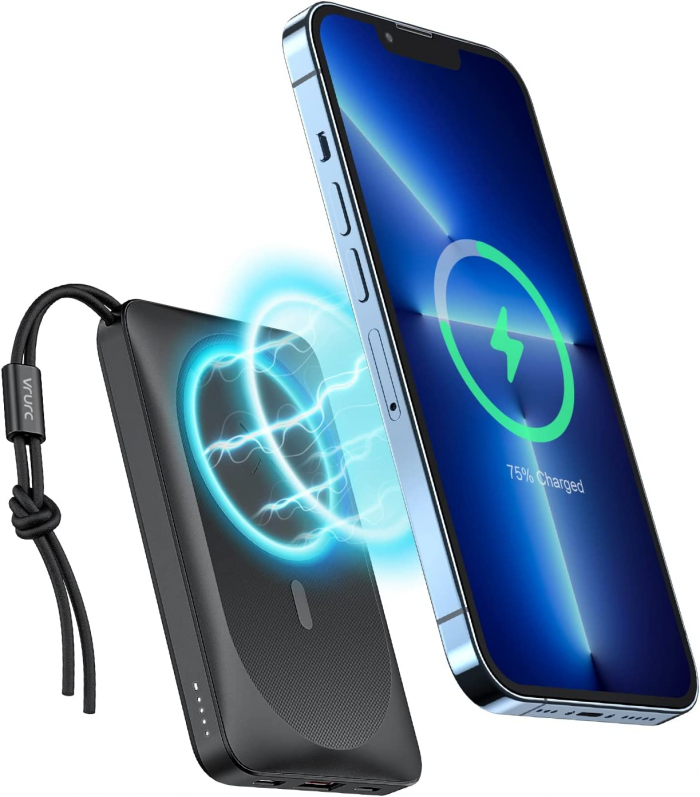 For the magnet to stick, you'll probably need a magnetic case of course. But even if you don't (and if you can't use the magnetic function or attach the magnetic plate included to your phone case or something), and you can't jury-rig it, there's a few ports for you to plug into. If you're just looking for a power bank and you don't care about all the frills, this will work just fine as well. Depending on the situation, you can use the USB and USB-C output ports for wired charging. And to charge the power bank itself, just plug a sufficient current in to the other USB-C input port. Wireless charging goes up to 7.5 Watts for the iphone and other wireless-charging-compatible devices, but if you want to plug it in because you're just that sort of person, it can reach up to 22.5 Watts. And note, this battery has a capacity of 10,000 mAh and 38.5 Wh.
To be honest, even if I do get this, I would probably use the wireless charging as a backup in case I break the wired charging. There's more electrical loss in a wireless connection, but it's always good to have an alternative in case something goes wrong with your wire or you lose the USB cable. Be honest: It happens to all of us at one point in our lives. Regardless, when you buy this thing, you'll get a myriad of tools at your disposal: the power bank itself, a USB-A to USB-C cable, a magnetic plate, a phone holder, a mesh pouch, and a user manual. If anything is missing, be sure to reach out to VRURC and they'll resolve any issue you might have. As an added feature, it's short enough for you to still take pictures, as it doesn't interfere with the lens of the camera on most phones. Oh and, if you're worried about the battery heating up as it wirelessly charges, don't worry at all: This is within completely normal range. Any questions other than that should be directed to VRURC. So, are you interested in checking this product out yourself?
Pick up this power bank on Amazon you won't regret it!
Thanks for reading.
Roxie out.