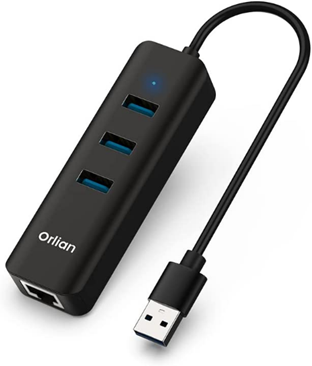 Need to connect more peripherals to your computer, but have a limited number of ports? Then you need a USB 3.0 hub
As you know, having a computer means that you will have a lot of devices connected in the ports, so it is reasonable to think that sometimes we will not be able to connect all our peripherals. Some laptops and computers include a limited number of ports, which can be frustrating if you want to put in an extra hard drive. The good news is that you don't need to break your computer to connect more peripherals, all you need is use a USB hub, they allow you to expand the number of available ports using only one USB port, so using a USB port on your computer, you can triple the number of USB ports (some hubs include ports other than USB, which can be useful.)
There are different types of hubs, but the most popular ones work with a USB-A and USB-C port, both works great, but as you know, only cell phones and some laptops include a native USB-C port, so the USB-A hub is the best option if you are looking to use it on a Windows computer. You should also know that there are hubs with more than 10 ports, which seems great, are you really going to use all 10 ports? They will surely take up a lot of space on your desk, so I would recommend a hub with 4-6 USB 3.0 ports.
The Orlian 4-in-1 USB hub is a great choice for those who need to plug in a few extra peripherals into a computer or laptop. Best of all, it's available for less than $20, which is a great price, so don't miss this great deal. Below, discover the most interesting features of this product.
Features of the Orlian 4-in-1 USB hub
3 UBS 3.0 ports
So, you can connect a controller, keyboard, hard drive, webcam, or headphones, the Orlian hub has 3 USB 3.0 ports, which offer incredibly fast data transfer speeds. You can get a transfer speed of up to 5gbps, which is amazing and useful if you plan to transfer games, music, or large files to an external hard drive or flash drive. Don't worry if your peripherals work with USB 2.0, you can use them without problems in this USB hub.
Internet speed up to 1000mbps
Whether your Ethernet port is damaged or has problems, you don't need to worry, the Orlian USB hub includes a high-speed Ethernet port, which means you can get an internet speed of up to 1000mbps, which is amazing, so you can download large files quickly. Forget about the interruptions caused by the wireless connection, the Ethernet port allows you to get a stable and much faster connection.
Plug and play
You don't need to install drivers or make strange configurations, just plug in the USB hub and you can start using all your peripherals quickly. It is compatible with the most popular operating systems (Windows, macOS, Linux, Chrome OS). The compact size allows you to use it without taking up a lot of space on your desk, allowing you to keep it tidier. Connect anything that works with USB-A, certainly a great product that everyone should have.
You can buy this item here on Amazon
My name is Joel! I love to read, I go to university like most people my age.
In my free time I usually train boxing, I love music, I also know how to play the guitar and the harmonica.