Many of you know that I have been using Rafflecopter for most of my contests on DragonBlogger.com for a while.  Rafflecopter is great for getting users to like and follow you on social media accounts, but doesn't have integration easily for a mailing list signup yet.  For bloggers and website owners that are looking to really ramp up their mailing list subscribers there is a plugin called Contest Domination.
Why Contest Domination
Contest Domination does something unique in that it drastically rewords people for sharing the article on their social media networks and blogs, it gives a custom referral link and gives bonus entries directly for those people sharing the article.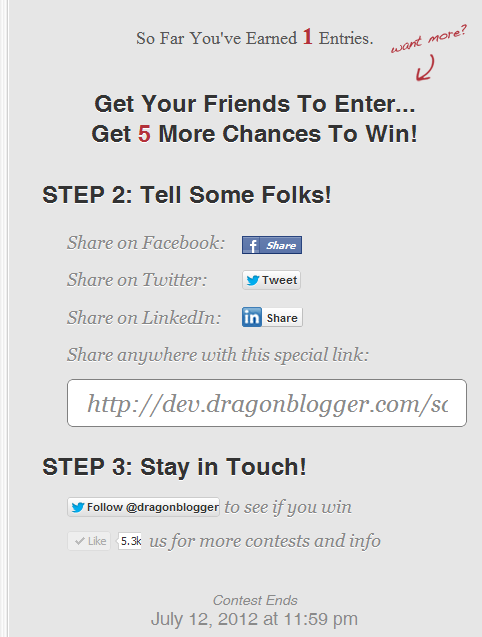 Unlike Rafflecopter, Contest Domination is your way of rewarding the most dedicated of readers and the winner is the reader who earns the most entries rather than being randomly chosen which is a nice feature to have for a change (but it could backfire if you give away a large prize and have a small blog reader and social media base, so be careful!).
Mailing List Contest Entry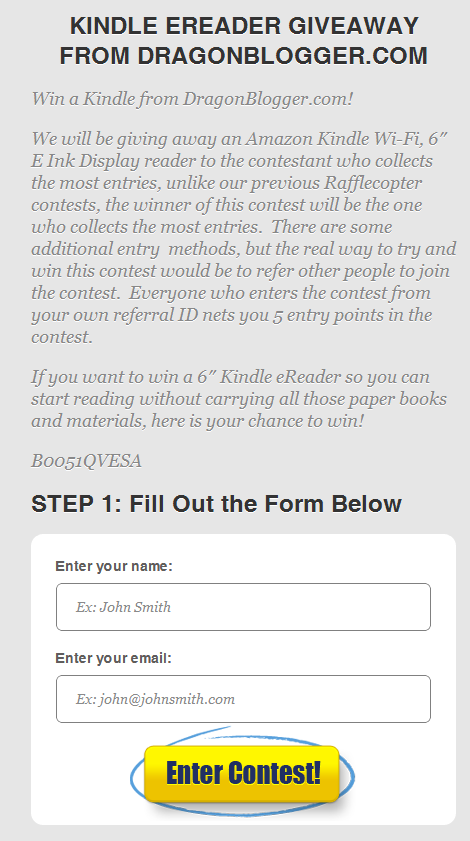 The mailing list contest entry is the biggest selling point, if I would have used Contest Domination to giveaway my iPad 3 I probably would have had 3,000 people join my mailing list in 30 days if not more.  The key is that the reader has to join your mailing list to enter the contest, then the more they share and get others to join the mailing list the more entries they earn.  If you have a very desirable prize and a large enough fan base you can potentially reach many new readers and members.
It is because of this I am about to kick off a Kindle eReader giveaway from DragonBlogger.com leveraging the Contest Domination plugin.  I may even use this for a larger prize if the responses turn out well.
Configuring Contest Domination
After you install Contest Domination for WordPress and activate it, you first setup some default contest parameters.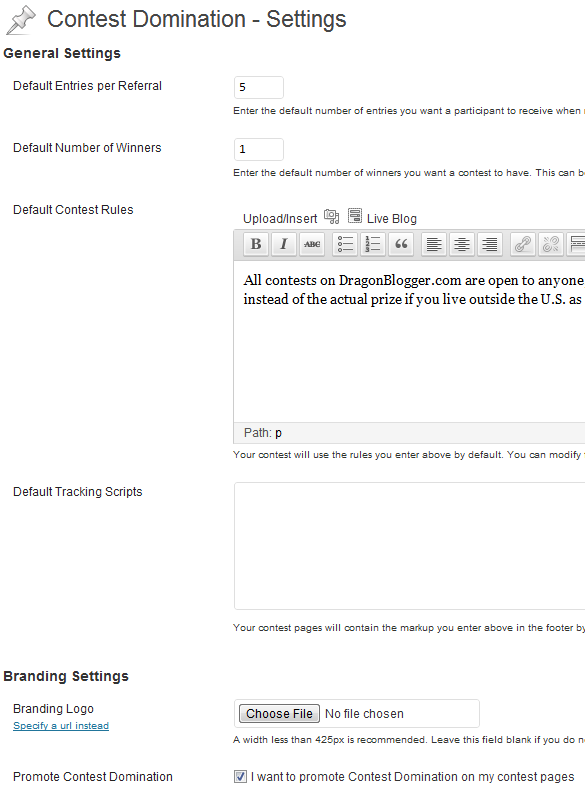 You start with default contest rules (you can change for specific contests) a generic branding logo and some default settings for how many entries per referral and number of winners.
Then you just configure your Social Accounts and mailing list to link the Contest Domination too.  The good news is you can either have a user like your fanpage, or subscribe to your public user profile (instead of fanpage) but you can't list multiple fanpages as entries.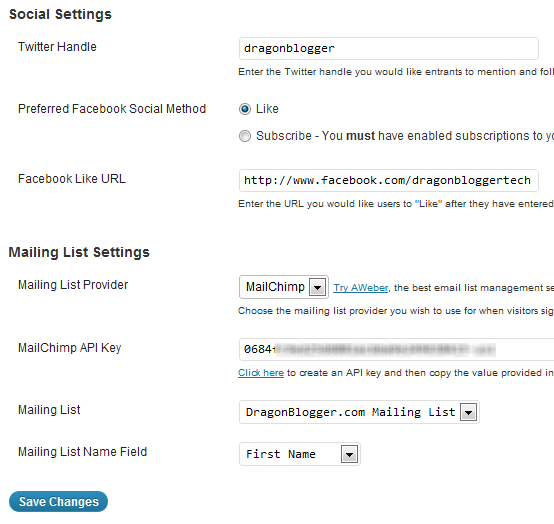 Unlike Rafflecopter contests, users don't get entries from sharing your article, retweeting it, liking it, following social media accounts…etc. Instead they only get entries by sharing your contest with their referral link and getting people to sign up for your mailing list and enter the contest themselves.
This is a huge benefit for boosting subscribers to your mailing list, if you run a newsletter and can drastically increase your subscribers and potential mailing list revenue stream. Don't forget, readers can join mailing lists and just as easily unsubscribe, so make sure you provide quality content and don't just try to sell stuff to your readers.
Improvements for Contest Domination
There are improvements coming to Contest Domination as well, I spoke with them and told them many bloggers do collaborations with contests and there needs to be a way to list sponsors social media accounts…etc as entries.  I also mentioned that many bloggers run multiple fan pages and need more flexibility.  So there will be improvements coming in the future.
In the meantime, if you want to boost your social media following then Rafflecopter does a great job for that.  If you want to boost your mailing list subscribers through contests then you should really consider giving Contest Domination a try.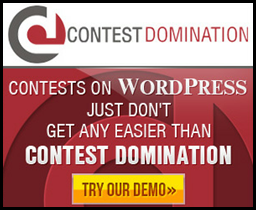 -Dragon Blogger