We are influencers and brand affiliates.  This post contains affiliate links, most which go to Amazon and are Geo-Affiliate links to nearest Amazon store.
BOSTON, April 23, 2014 /PRNewswire/ — For the first time in its 41-year history, NOVA––the most popular science series on American television––is inviting audiences not just to learn about scientific discovery, but to take part in it. The latest initiative in the growing NOVA Labs citizen science platform––an RNA Lab available free online at pbs.org/nova/labs––utilizes puzzles from Eterna, a game that allows players to design RNAs, tiny molecules at the heart of every cell in our bodies. Featuring a series of animated videos that explain the science behind the game as well as tips that teach novices how to play it, the Lab aims to expand the community of participants while giving students and science enthusiasts an engaging way to explore important concepts in the life sciences and engineering.
By playing the NOVA version of Eterna, players will discover that molecular RNA "machines" carry out a wide variety of essential functions in our bodies, from producing proteins to fighting viruses. They'll learn why the way an RNA molecule folds in three dimensions determines what it does (hint: in biology, structure equals function). And they'll get help to become RNA engineers, so that someday––if they get skilled enough at playing Eterna––they might help scientists design powerful new therapies for fighting viral infections, cancer, and more.
"We're thrilled to be partnering with NOVA, because nobody is better at making complicated science accessible to everyone," says Carnegie Mellon University computer scientist Adrien Treuille, co-creator of Eterna. "They've produced a media-rich experience that will help teachers, students, and curious people of all ages learn more about our game and the exciting world of RNA research."
A New Way to Do Science. The NOVA RNA Lab brings together the most trusted brand in science media with leaders in the emerging field of "games for science," creating a new type of virtual science lab. "Teens say they want learning experiences that relate to the real world," notes NOVA Labs Editorial Director David Condon. "When they play Eterna, the puzzles they're solving simulate actual molecules, and by joining the community they're helping researchers gain new insights. That's a powerful motivator."
The crowdsourcing of cutting edge research through public games is a relatively new phenomenon. As a post-doc, Treuille founded the team that launched Foldit, the first open, online game that lets untrained amateurs speed up vital research simply by solving fun visual puzzles. Since its debut in 2007, Foldit has engaged over 500,000 players who have logged millions of hours helping scientists understand how proteins fold into the intricate shapes that allow them to perform so many functions essential to life.
In 2011, Treuille joined with colleagues at Carnegie Mellon and Stanford to launch Eterna, a game that not only challenges players to design important RNA molecules, but also lets them compete to have their solutions physically synthesized in a laboratory. Once again, humans proved more adept than computers at solving complex molecular puzzles, as described in a recent paper published in the Proceedings of the National Academy of Sciences. Armed with new insights from Eterna players into the folding of RNAs––chemical cousins of DNA that are capable of performing a much wider variety of tasks––biomedical researchers hope to design new therapies that could benefit millions.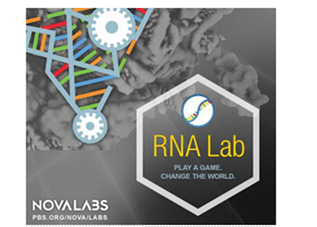 Thanks to games like Foldit and Eterna, the line between citizen-gamers and scientists is being blurred, to the benefit of all. This makes them a natural fit with NOVA Labs, the mission of which is to connect young people––the science literate citizens and STEM workers of tomorrow––with the excitement of scientific discovery.
Lauren Aguirre, NOVA's Director of Digital Media, says the Labs fit squarely into NOVA's broader mission of encouraging science literacy and creating lifelong learners. "By supporting real-world problem solving with the visual and storytelling techniques that drive NOVA's broadcast productions, the Labs are designed to maximize the potential for learning about science by actually doing it."
About NOVA Labs (pbs.org/nova/labs). The RNA Lab is the latest in a series of free, online STEM projects for teens and lifelong learners, called NOVA Labs, which first launched in April, 2012. Each Lab focuses on a different area of active research. But all of them illustrate key concepts with engaging and informative videos, and guide participants through activities that foster authentic scientific exploration. For example, the Sun Labbrings the feed from NASA solar telescopes to users, to help them understand and try to predict space weather that can affect us on Earth; the Energy Lab challenges them to design renewable energy systems for major cities based on realistic data models; and the Cloud Lab leverages NASA earth science satellites to help users understand clouds and their role in weather and climate. Coming up next: a game-based Cybersecurity Lab in which players must defend their fictional company from a series of realistic cyber threats. Supporting content for each Lab helps teachers incorporate it into their classrooms, fosters collaboration between users, and helps users make connections to the broader world of STEM learning and careers.
About WGBH Boston. WGBH Boston is America's preeminent public broadcaster and the largest producer of PBS content for TV and the Web. Television channels include WGBH 2, WGBX 44, and the digital channels World and Create. WGBH Radio serves listeners across New England with 89.7 WGBH Boston Public Radio; 99.5 WCRB; and WCAI, the Cape and Islands NPR® Station. Find more information at wgbh.org.
NOVA's use of the Eterna game engine courtesy of Carnegie Mellon University
Funding for the RNA Lab provided by the Argosy Foundation
Press Contact:
Educator Contact:
Jennifer Welsh
Scott Asakawa
WGBH Boston
Outreach Coordinator/NOVA Education
617.300.4382
617.300.4316
SOURCE NOVA Labs; WGBH Boston
We are influencers and brand affiliates.  This post contains affiliate links, most which go to Amazon and are Geo-Affiliate links to nearest Amazon store.
I have been obsessed with computers, tech, gadgets and games since the early 1980's having grown up on the Commodore 64 and Amiga computers.
By day I work in the IT Security Industry and have been in IT for over 20 years. On my spare time I am a Vlogger, Blogger, Streamer, Gadget Reviewer, affiliate marketer, influencer and entertainer. I am also an avid movie fan, TV Show fan, Anime fan, video game fan and fan of trying anything and everything new.