We are influencers and brand affiliates.  This post contains affiliate links, most which go to Amazon and are Geo-Affiliate links to nearest Amazon store.
Today we are going to take a look at a not so new product, it has been around for a while by now and is also manufactured by one of the well known names in the computer industry and RAM industry in particular. We are going to take the Corsair Vengeance 8GB CMZ8GX3M1A1600C10 RAM to the test bench today. It has been in use by me for a long while now and still rocking like it should have, so I came up with the idea of doing a little review on it but for the review purpose, I had it packed up like it was to start with the beginning.
Before that, here's the spec of the model we are going to review: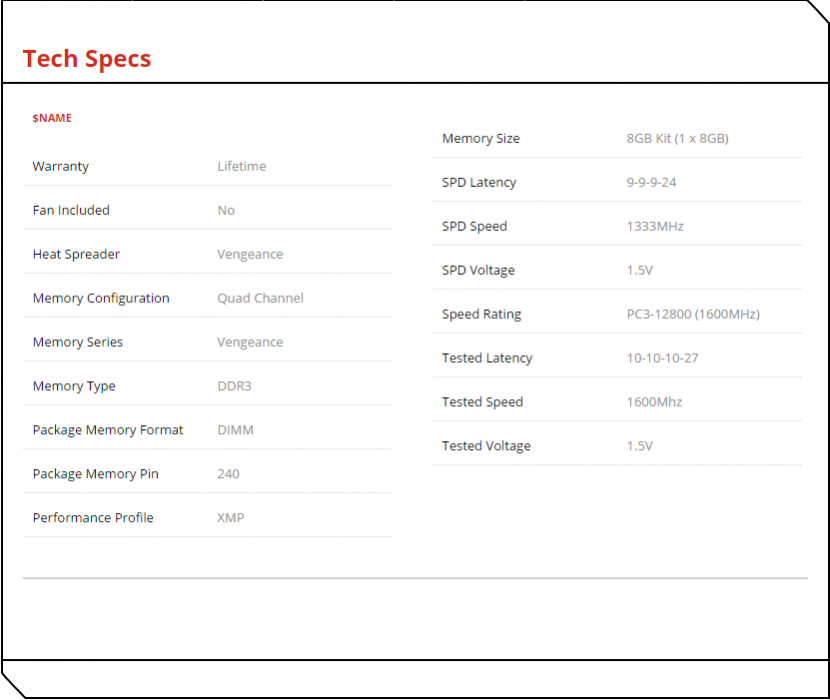 Jumping into the review, let's begin with the unboxing of the item. On front of the box we can see a picture of RAM, giving an idea how the RAM would looks after being installed. We also have a little CPU support list mentioned below ranging from i3 to i7 on Intel's side, and Phenom II and above on AMD side. On top we have the Corsair Logo and just beside that, the capacity and memory type.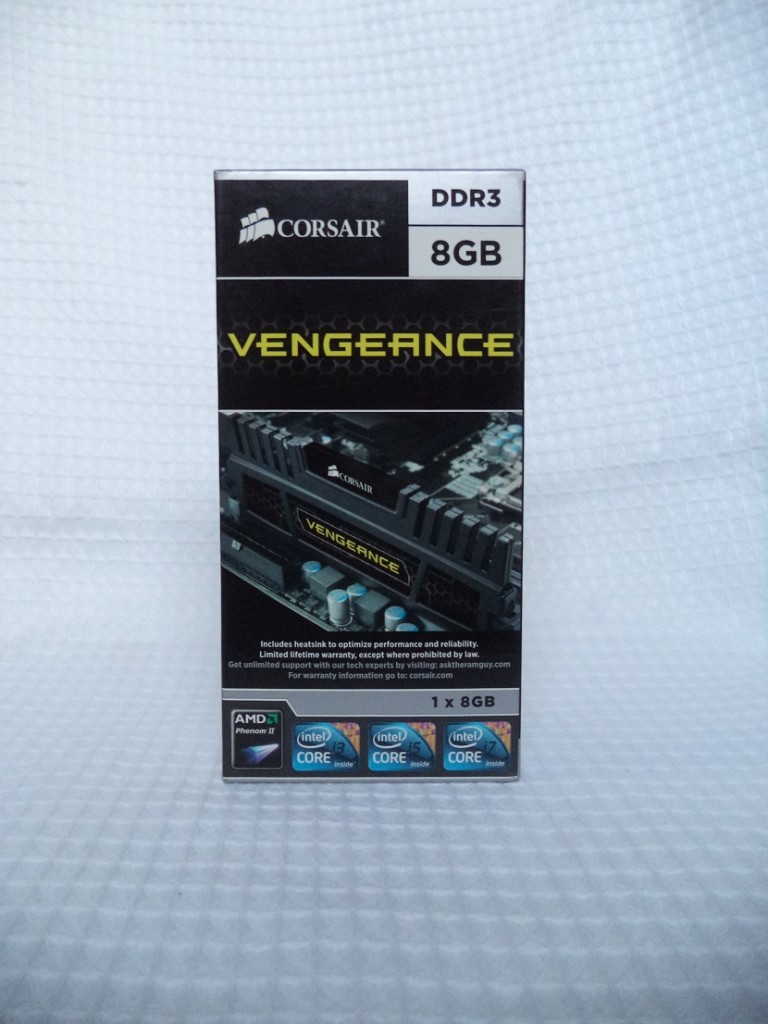 On back of the box there's something written in multiple languages except English (at least in my case) so I don't know what it says, but below we can see the RAM's exact part number and the manufacturer's location. There's also a plastic seal with Corsair logo on both the opening sides of the box.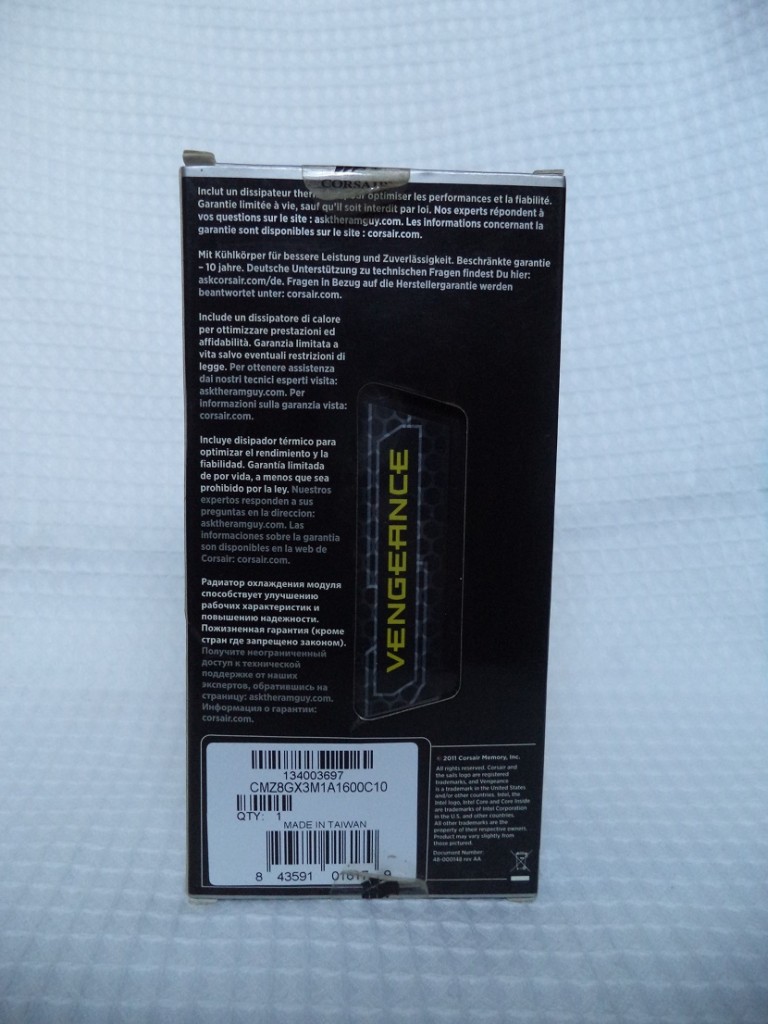 Also there's a cut through at the back of the box making the "Vengeance" written on the RAM visible giving a great look to the back of the box.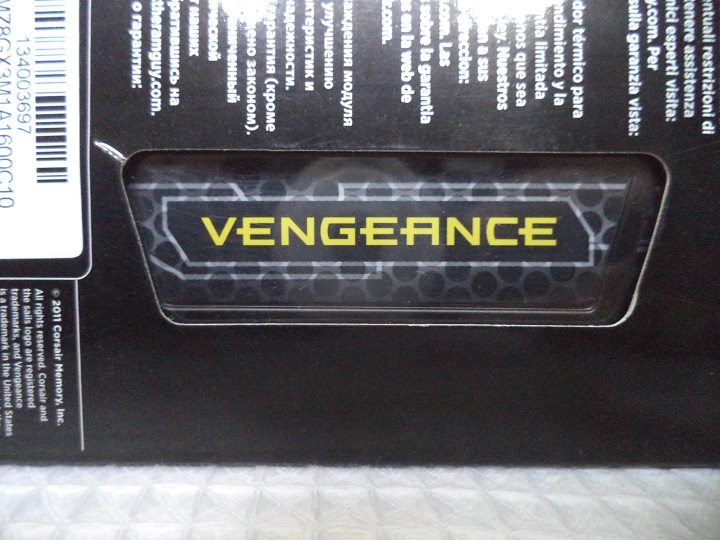 Enough with the box, taking a peek inside, we have a little instruction manual, that pretty much no one is interested in, so moving on.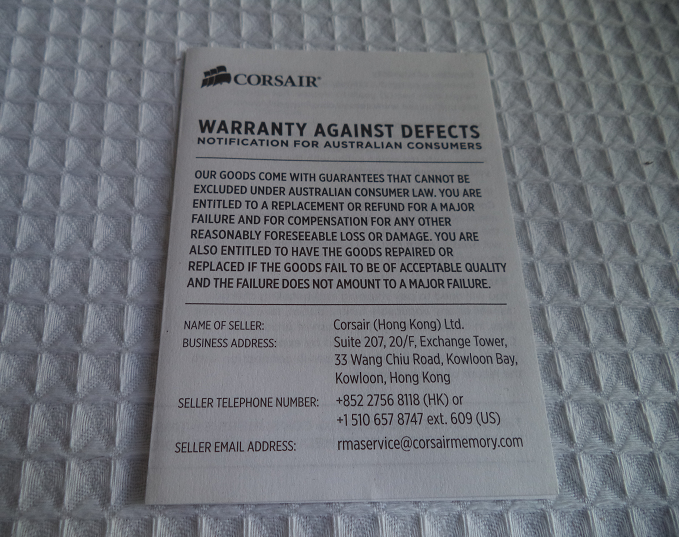 Now taking the RAM out of the box, and we have yet another plastic container holding the RAM inside.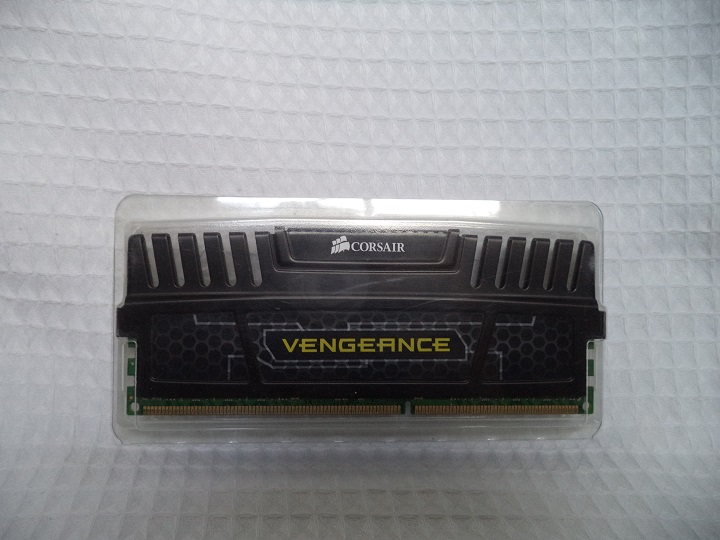 After removing the plastic box, we can take a better look at the RAM itself (not that we can't see it through the plastic container). On front (let's just consider it front) we have nothing much except "Vengeance" printed over it that was visible from the back of the box and a Corsair Logo at the top.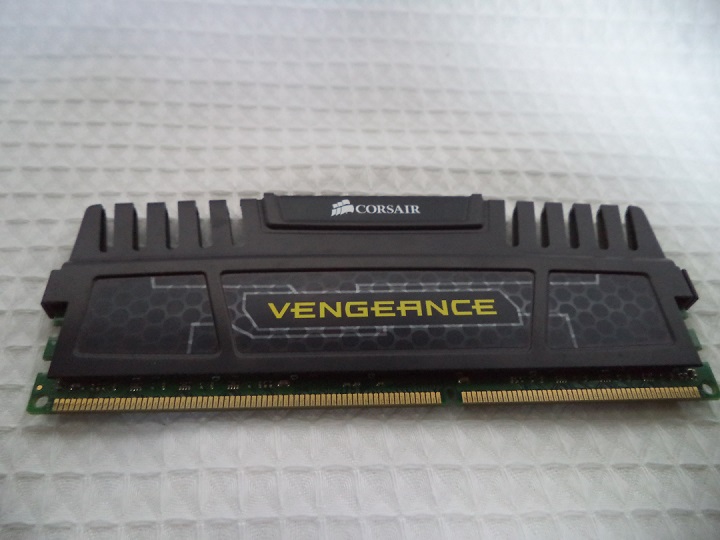 On back side, we have yet again the Corsair Logo on top and some details like RAM model number, capacity, CAS timing and rated voltage.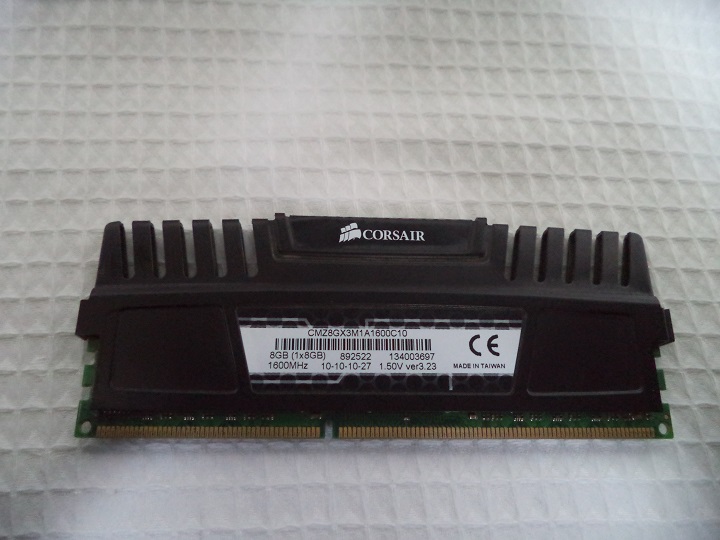 Since it is a pretty old model when black PCBs weren't really common, we have the Corsair Vengeance over the not so loved green PCB. Just ignore the scratches on the gold plating ;) And yes, you can take the red thingy in the image as a teaser for next review ;)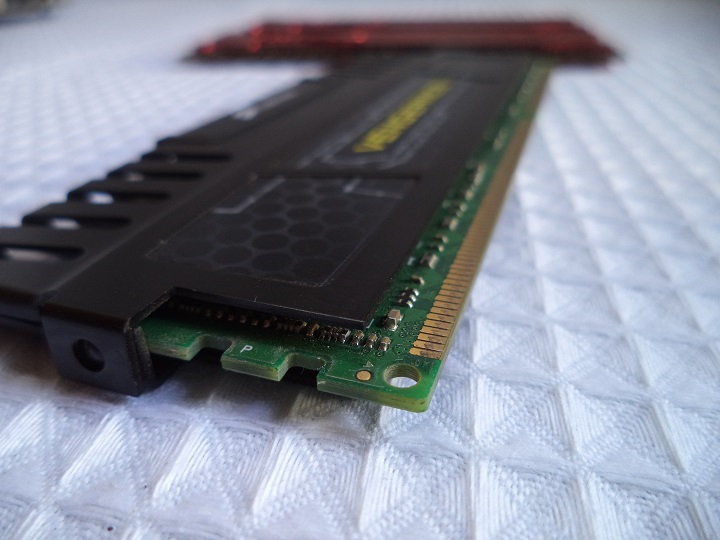 Just a random shot of the RAM installed on a Gigabyte GA Z97-HD3 motherboard. Also in the image below you can notice how large the heat spreader on the RAM is, but using my Deepcool Gammax S40 CPU Cooler with it, I didn't had any problem fitting the RAM in the slot nearest to CPU socket.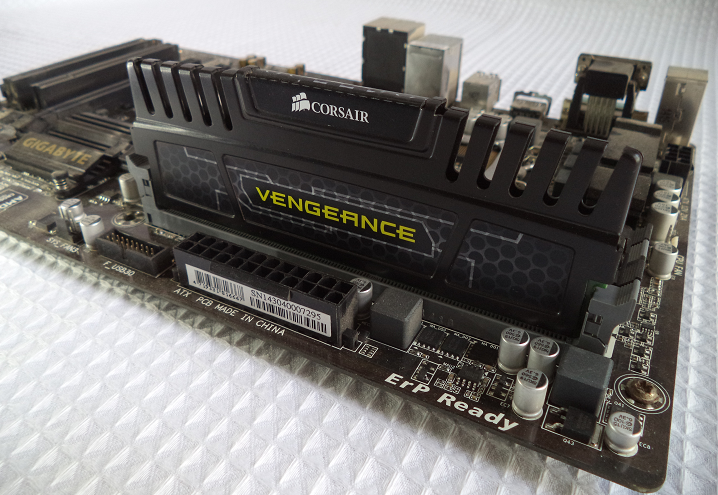 Ok I totally lack in photography skill, just go with what's provided :P
Enough with the pictures, let's get started with the review shall we. Here's the spec of test bench.
| | |
| --- | --- |
| Motherboard | Gigabyte GA Z97-HD3 |
| CPU | Intel i5-4570 @3.6GHz |
| CPU Cooler | Deepcool Gammas S40 |
| HDD | Seagate Barracuda 1TB 7200 RPM |
| GPU | MSI R9 280X 3G |
| RAM |  Corsair Vengeance 1x8GB 1600MHz |
| Case | None, open-setup. |
Hitting the power button, we had no trouble in POST and booted without a problem after the BIOS configured the RAM itself. Even without XMP profile enabled, the RAM was set at 1600MHz so even if you don't play around with your BIOS much you would already be getting what you are promised for.
Methodology:
We are going to run the RAM through some tests like MaxxMem, Aida64 Extreme Memory and Cache test and some games. Then we are going to check the RAM's overclocking capability by increasing the multiplier and leave everything on auto. And then we are going to manually play with the volts and timings to find it's true sweet spot for overclocking. Then run the same tests against the stock and compare.
Before beginning, I have to mention that since we aren't really using an SSD as a primary drive for these benchmarks and also my CPU doesn't have unlocked multiplier, so the scores might be lower then that of other websites's using better hardware, though I hope to be upgrading to an SSD and unlocked CPU by next month.
Test on default settings with XMP enabled.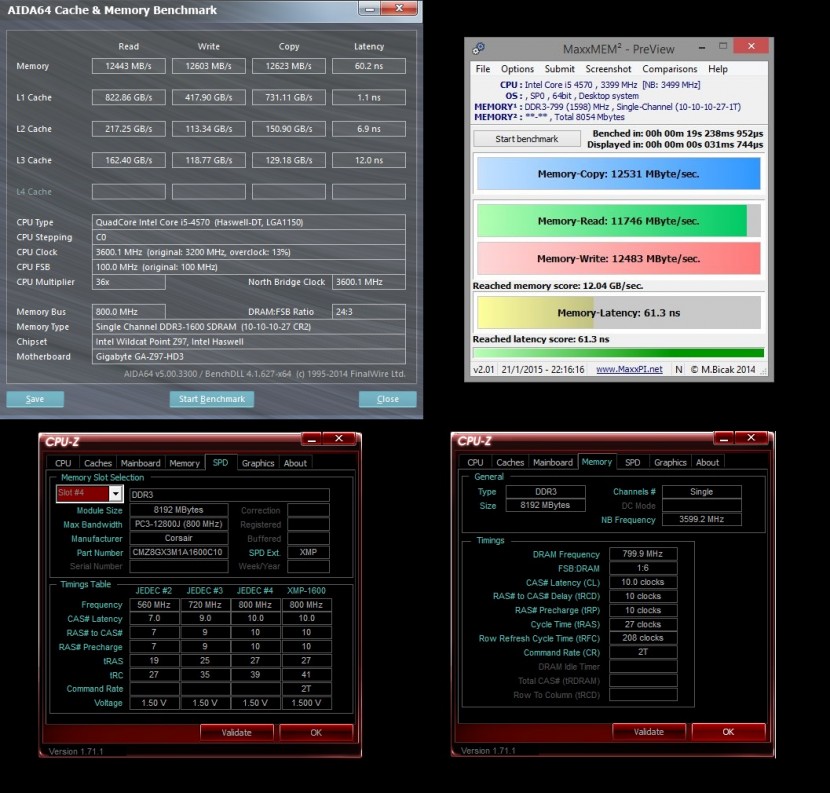 So we can see the RAM at default settings have around 60.2ns Latency as mentioned by Aida Cache & Memory Benchmark and 61.3ns as mentioned by MaxxMEM. Personally I would consider the Aida64 benchmark more accurate, but let's just add in all we can for this one shall we? At stock we also have around 12GB/s Read/Write/Copy speed.
Accounting for some game benchmarks, we ran the benchmark tools on Middle Earth: Shadow of Mordor and Bioshock infinite a few times, and the average is mentioned below.
| | | |
| --- | --- | --- |
| Games | Min FPS | Average FPS |
| Middle Earth: Shadow Of Mordor (720p, Ultra) | 24.83 FPS | 66.01 FPS |
| Bioshock Infinite (720p, Ultra DX11) | 15.2 FPS | 114.56 FPS |
Now this is the part I've been waiting for personally! Lets get into some overclocking and as mentioned in the methodology, first we're going to just increase the multiplier one by one and see how far we can reach without touching the voltages. Then we are going to play a little with the voltages and timings to hit the RAM's sweet spot.
Overclock 1 – 1800MHz @11-12-12-31-2T @1.5V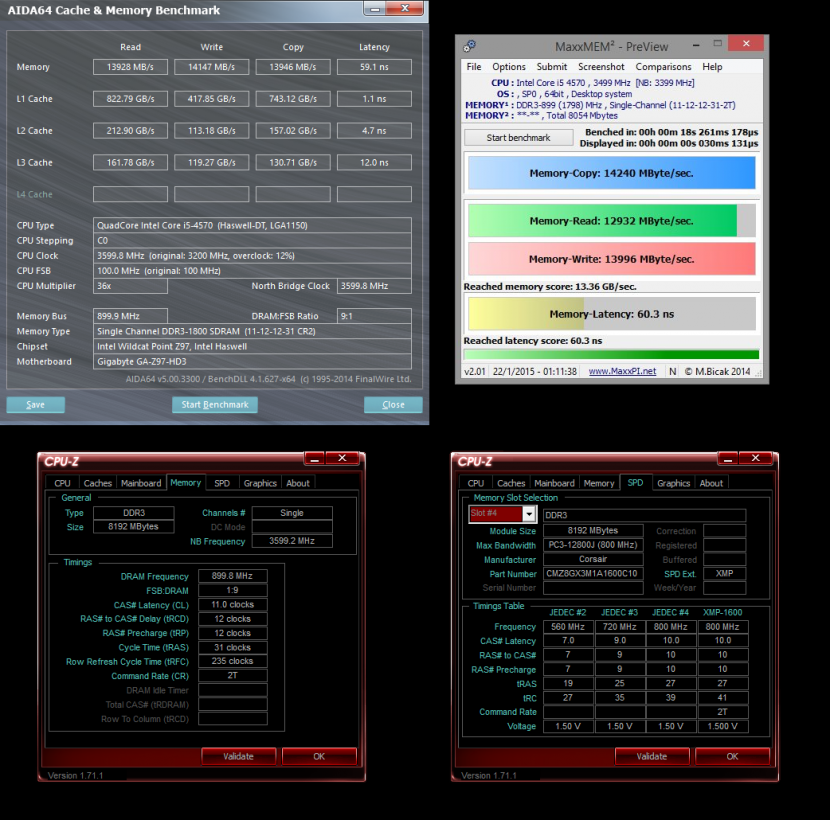 A little decrease in the Latency and around 1GB/s increase in Copy/Read/Write speed.
Overclock 2 – 1866MHz @11-12-12-32-2T @1.5V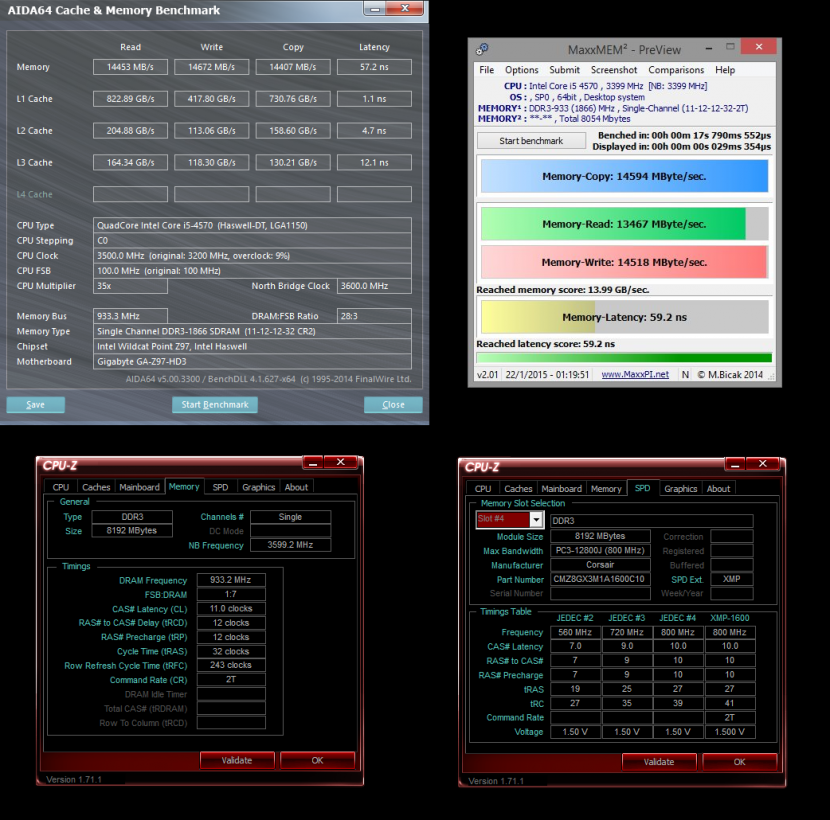 Once again a little decrease in latency, but not that much increase in speed since it's not that big of an OC from previous one.
Overclock 3 – 2000MHz @11-13-13-34-2T @1.5V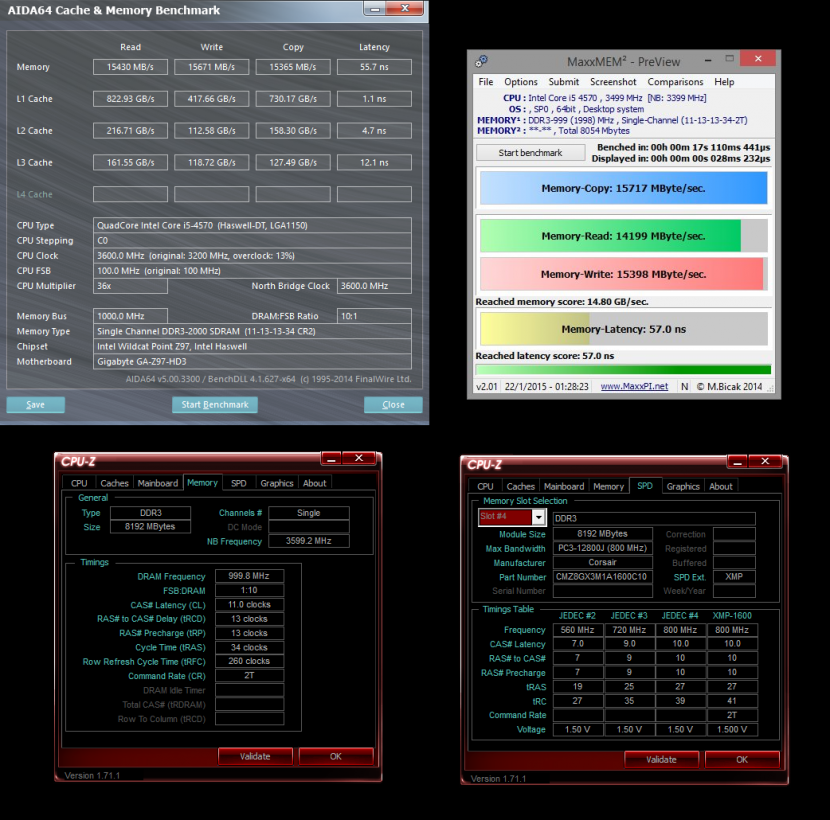 This time the Latency dropped by 2 nano seconds and once again there was around 1GB/s increase in the speed, nice going.
Overclock 4 – 2133MHz @11-14-14-36-2T @1.5V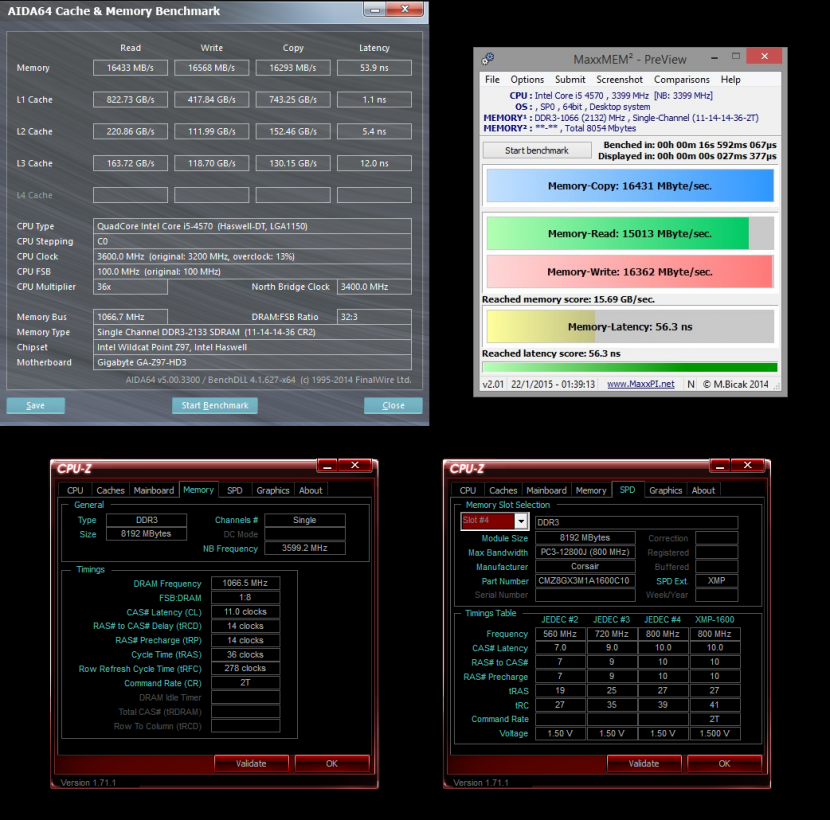 Yet another nanosecond decrease in latency and almost 1 GB/s increase in read/write speed.
Overclock 5 – 2200MHz @11-14-14-36-2T @1.5V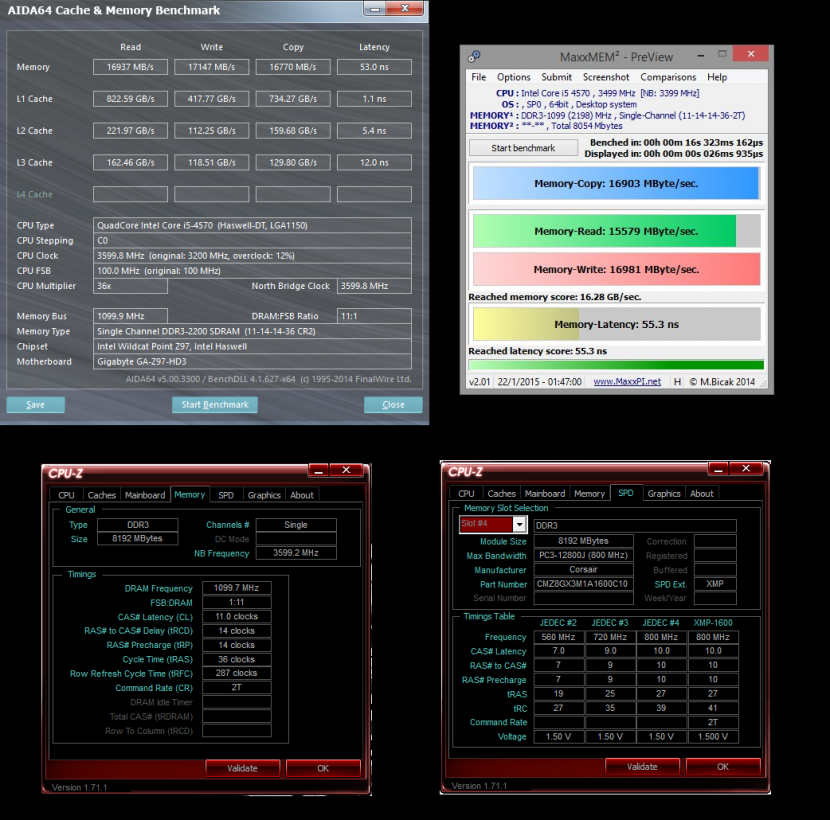 Another difference of 1 nanosecond in latency and almost 1GB/s increase in Speed. This is where we hit the limit of overclocking the Corsair Vengeance 8GB model by just increasing the multiplier. We couldn't reach 2400MHz spot without playing with voltages and timings. We have to admit that the RAM has done great so far, reaching from 1600MHz initially to 2200MHz just by increasing the multiplier and leaving everything else on auto. Those who don't really want to play around with the timings and voltage and risk their hardware or just don't want to get into complicated things, this is definitely something to look into.
Overclock  6 – 2200MHz @11-12-11-32-2T @1.5V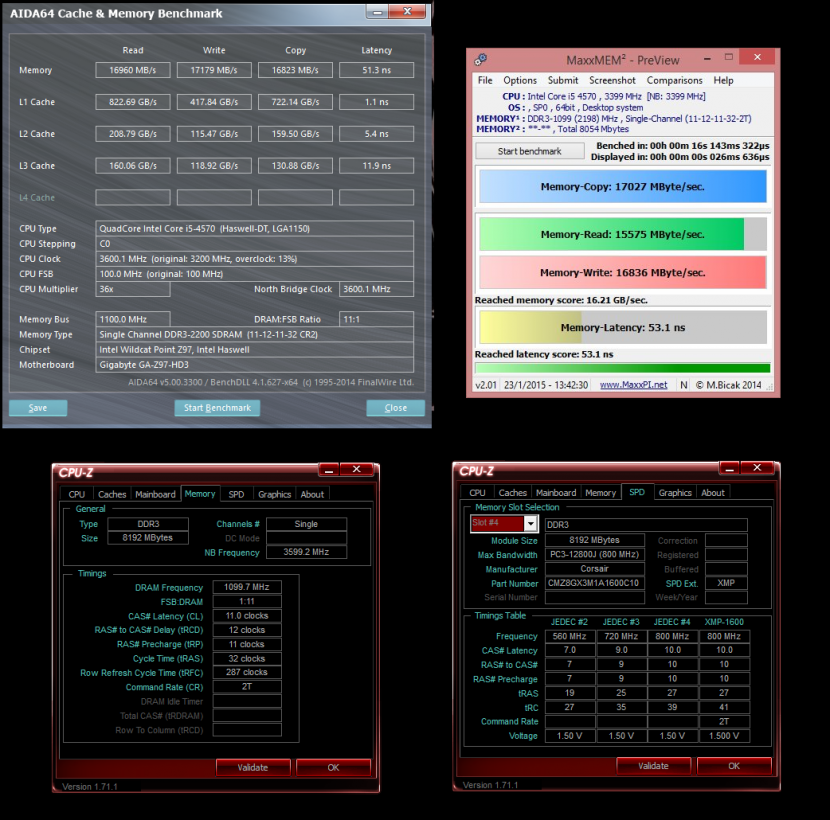 I tried increasing the RAM voltage to 1.7V and the relax the timings to CL14, but had no luck. The system won't boot. Going beyond 1.7V was a bit risky and won't really suggest for 24/7 setup, so I went easy and started to tighten the timings on 2200MHz, and came to the sweet spot of 11-12-11-32-2T that showed a difference of 2ns against the clocking that was set by auto. Also notice there wasn't much gain in the read/write area, but anyways, the lower the latency, the better. After that I started to decrease the voltage from 1.7v by a few volts and unexpectedly came back to where we started from, 1.5V. I could've tried going even lower, but 2200MHz at 1.5 with those timings just seems perfect.
Well just overclocking isn't all there is to it, we also need to know that whether the OC is stable for 24/7 use. Anyways, the country I belong to doesn't know what 24/7 electricity even means anymore so I didn't had to worry much there, but this situation had a drawback. I couldn't use the Prime95 or Memtest86 to stress test the RAM for a long period of time, not only because of the power outage issue here, but because this is the only rig I have at the moment. So instead of Prime95 or Memtest86 I went ahead and used the Stability test in the Aida64 Extreme. Ran it for half an hour and didn't came across any issue. This was also confirmed by the long hours of CS:GO gaming on steam, as I didn't noticed any instability there.
Though here's how the OC from 1600Mhz to 2200Mhz affected gaming performance.
| | | |
| --- | --- | --- |
| Games | Min FPS | Average FPS |
| Middle Earth: Shadow of Mordor (720p, Ultra) | 26.5 FPS | 66.96 FPS |
| Bioshock Infinite (720p, Ultra DX11) | 14.92 FPS | 114.46 FPS |
Almost negligible, since the games are more GPU dependent, we don't really see much difference in the gaming performance. Coming down from a stock clock of 1600MHz and CL10 timing to 2200MHz and CL11, we almost decreased our latency by 9ns and increased our read/write speed by almost 4GB/s. Manually overclocking did make a good enough performance impact on both the latency and speed-wise.
Conclusion: 
Corsair Vengeance series is a fine piece of work with some wide headroom for overclocking. Talking about the particular model I had, run the RAM at 2200MHz OC for a few days without any issues so we can see that it scores almost full points in overclocking capability. Also the RAM comes with life time warranty which is one of the most loved service a company can provide, but if you burn them out of overclocking, I'm not aware what'll happen in that situation.
Taking a look back at the RAM size, this might be problematic for some considering the huge heat spreader it has, as in it might get in the way of heat sink fan of CPU, but if you're going to use them in the slots away from CPU socket, that's something not to be worried about.
Just a negative point in my view would be the read/write speed of the RAM which seems to be pretty low. If you're planning on running a dual channel kit, then the Vengeance 2x4GB CL9 kit would be better in terms of read/write speed and maybe even latency. This product maybe getting old, but considering the time this was from, it sure does the trick at the current price tag of $67.99.
We are influencers and brand affiliates.  This post contains affiliate links, most which go to Amazon and are Geo-Affiliate links to nearest Amazon store.
Hi, I'm Ahmed Kazim and I've been a gaming freak since like 7-8. I'm also a geek-o-nerd who keeps looking around for latest development in hardware/tech/gadget industries so expect some quick news from me. I'm also interested in anime (Japanese animation) and can't stand a day without music and gaming.