Want to access your files in the Linux EXT partition in Windows, if you are using Ext2Fsd you can mount and use Linux Partitions as if they were Windows drives. It simplifies file sharing and syncing between Windows and the Linux Operating Systems running on the same PC.
Installing Ext2Fs in Windows 7
Start by downloading Ext2Fs from here, and after installing it on your computer navigate to C:\Program Files\Ext2Fsd (change drive letter accordingly). Right click on Wxt2Mgr.exe and select Properties. Go to the Compatibility tab and select Run this program as Administrator.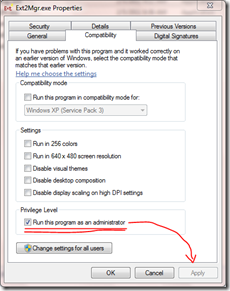 Now launch Wxt2Mgr.exe and you will get an window like this.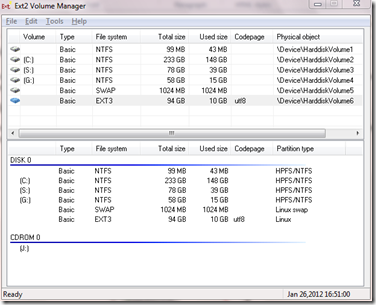 Notice my EXT3 Linux partition at \Device\Harddisk\Volume6. Right click the EXT3 partition and select Show properties.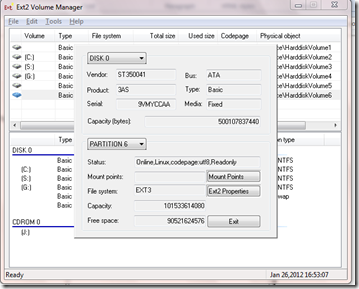 Now select Mount Points and click Add. Now select the Drive letter where you want the Linux partition to be displayed as. Select Create a Permanent MountPoint via Session Manager.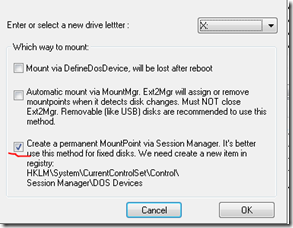 After clicking Done, press F7 and open the Ext2Fsd Service Management window.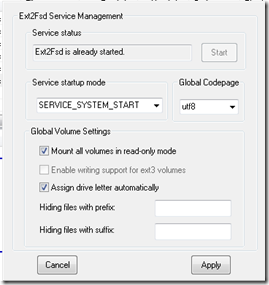 Start the service if it not already started and then select Global Codepage at utf8, if you want to only read the files from your Linux drive, select Mount all volumes in read only mode, however if you want to write files, select Enable writing support for ext3 volumes. Now click on apply. If you do not see your Linux partition, hit F5. Congratulations ! Now, you can get all the files you have stored in your linux partition in Windows.
How many readers out there have Linux/Windows dual boots now?